So sorry for the radio silence.  Oh my, y'all.  If you follow me on Facebook and Instagram, you might know I was at the beach last weekend for a girls' trip… where I was brought down by a nasty stomach bug inflicted upon me by my preschoolers.  Ugh.  I want a DO OVER!
Anyway, I'm back in the land of the living and the petri dish I call a work place… just a tad behind on anything and everything.   Sound familiar? 🙂  Our spring schedule is already ramping up and we're not out of February yet… I'm ready for some nice spring weather, but not quite ready to jump back into the fray of high school sports, meetings, and all the running around that seems to happen between March and May.  Too bad for me, right?  Ready or not, here it comes!
Enough about me, today is my mom's birthday!  Happy Birthday, Mom!  You are one woman I can always count on to tell me the truth, offer support and suggestions, and enjoy a glass of wine and shopping!  You're the best!
Meanwhile, back here at the ranch,  I've been giving my crock pot a workout and it's my "go to" when things are busy around here.  And sometimes even when things aren't so busy.  I just love one dish meals. 🙂  Today I'm sharing my 15 year old's FAVORITE. EVER.  As in, he would face plant into the crock pot if I'd let him.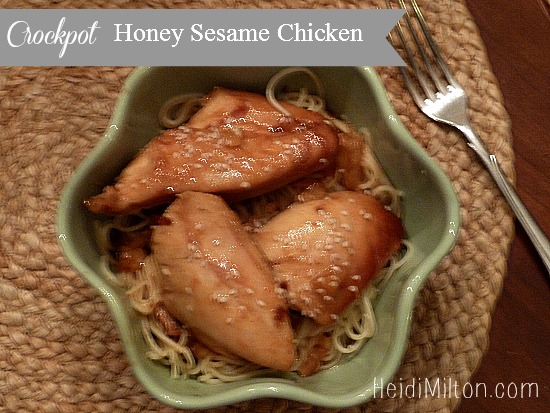 Here's what you need:
6-8 boneless, skinless chicken pieces (breasts or breasts and thighs)
salt and pepper
1 cup honey
2/3 cup soy sauce
small onion, diced
2 tsp minced garlic (or 2 cloves minced)
3 tbsp ketchup
dash of vegetable oil
dash of red pepper flakes (optional)
1tbsp cornstarch
1/3 cup water
sesame seeds
Here's what you do:
Salt and pepper your chicken pieces and lay them into your slow cooker insert.  Combine next 7 ingredients in a bowl, mixing thoroughly.  Pour mixture over the chicken and cook for 4-6 hours.  When the cook cycle is complete, remove chicken pieces and cut apart.  Combine cornstarch and water and add to liquid sauce still in the crock pot.  Turn the crock pot back onto "high" and cook the sauce for 15-20 minutes, stirring occasionally.  This will thicken the sauce.  Then add the chicken back in, tossing to coat thoroughly.  Turn crock pot to "warm" or "off" depending on your crock pot's settings, and let sit for 20 minutes.  The sauce will continue to thicken a bit.  Prepare your white rice or Chinese noodles during this time.  Serve over rice or noodles with a sprinkle of sesame seeds to finish.
This is delicious the next day, too, if there are any left overs.
  This recipe was given to me by a relative several years ago and I've tweaked it a bit over time to fit our tastes.  Just typing this has my mouth watering… think we'll be enjoying this tomorrow night.
Enjoy your Wednesday, y'all!  A Small Space Project update is coming your way on Friday.  Time to get some things done around here!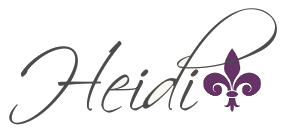 Pin It
&copy Copyright 2014
Heidi
, All rights Reserved. Written For:
Decor & More