Hi friends…  I've been under the weather this week (ugh — who has time for that??) so I'm behind on my front porch progress, of course.  But I've done enough that I thought I'd share a peek at it today after all.
We've had sunny warm weather so at least it's been pleasant while I'm out there, even if it doesn't feel particularly fall-like.  I think the kiddos will be trick or treating in shorts this weekend!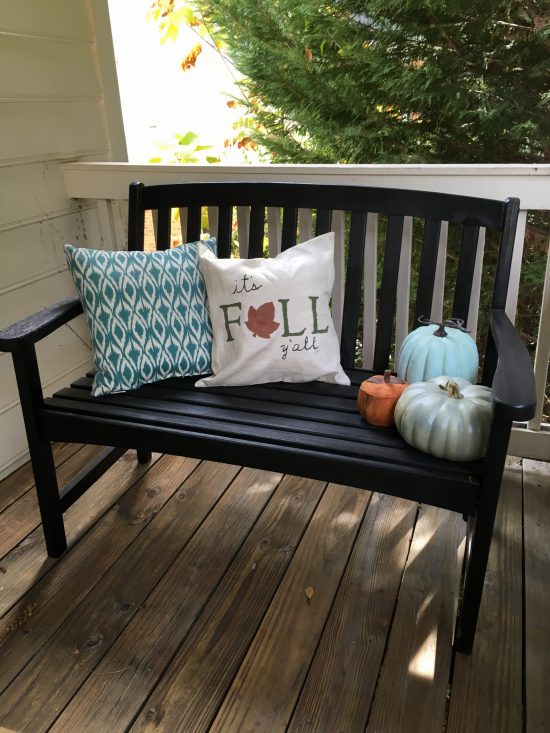 Remember that I spray painted this bench black last summer.  Have to say I have not looked back on that choice!  Love that it anchors this forgotten end of my porch. 🙂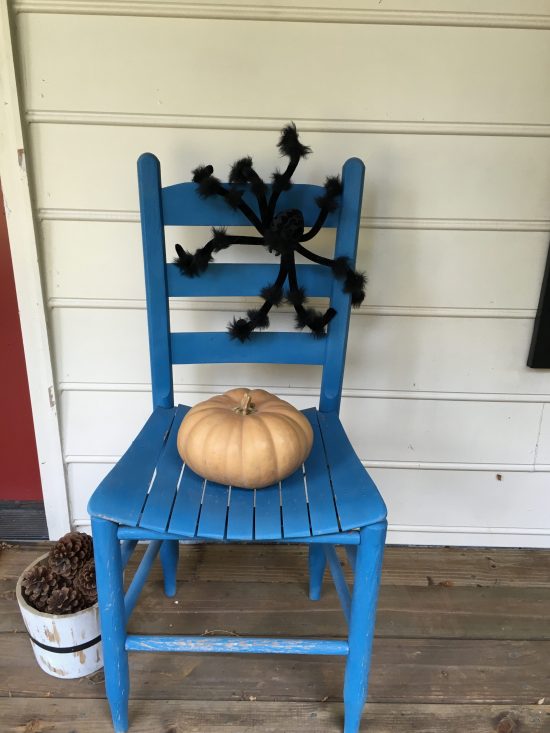 Keeping it simple and of course the blue chair figures in every season. 🙂  You all know I'm not much for Halloween decor, but I do like to have a little fun on the porch and this massive fuzzy spider fits the bill… along with this…
One of my favorite new additions is this "eek" pillow on one of my rockers!  I ordered it from Jane.com (do you shop there??) from a little shop called Crazy 4 Embroidery.  I was so pleasantly surprised when it arrived and the design is done in black velveteen!  I wasn't too concerned when I ordered it, as I knew it was for the front porch, but it's a great quality pillow for the price.  You can get yours here.
You also get a peek at another new addition (see it in the photo above?) I'll share next week with the full porch reveal…
I've got Fall Fun Day at Legacy today — complete with pumpkin patch and a petting zoo!  Sure to be a busy and wonderful day.  Hope you're doing something fun today as well!