Hi gang!  Hope you had a lovely weekend.  We enjoyed some nice cold weather here (and you know I like that!) but had some sunshine along with it.  Winning!  If you missed my interview with Laura from Top This Top That, click here to be totally inspired today!
Last week, I mentioned that February was to be a month of DIYs.  I didn't do many in January… too busy on the home front.  But February is looking good for one big reason.
I hereby designate February as a "no spend" month.
Now, let me qualify that a bit.  I will still be spending on groceries, sports fees and equipment, and all the usual suspects in a busy family.  What I WON'T be spending money on is anything home decor or craft related.  This is one area of my discretionary spending that needs to be put in check.
Just because it does.  Because I'm prone the above when the fancy strikes and the price tag seems right.  And because we're headed on a lovely vacation to St. Thomas in March, and I would really like to have spending money to enjoy it fully. 🙂
I'm actually looking forward to the challenge!
You see, in my past few weeks of uncluttering and getting semi-organized, I realized how many DIY projects I have waiting in the wings — complete with supplies.  All they need is my time and attention.
And clearly some focus. 😉
So I thought if I forbid myself to spend any money on decor and crafting supplies, I would still have plenty of projects I can work on.  Even complete!
And there you have it!  My February challenge.  I'll be posting my projects as I go in February and then you all can let me know how I did.
And my bank account while I'm sunning myself on the beaches of St. Thomas will thank me. 🙂
Just a reminder that Willow House is closing out all of their home decor items.  Click HERE to visit my website and order up some incredible deals.
And now for that burning question — last night did you watch the SuperBowl?  … Or Downton Abbey? 😉  Make it a great day!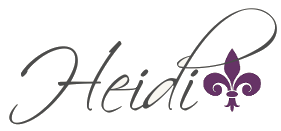 Pin It
&copy Copyright 2013
Heidi
, All rights Reserved. Written For:
Decor & More