Happy Friday!  We're off and running toward another busy weekend — we don't let grass grow under our feet during the summer!  I was working in my booth yesterday and had a customer ask how to incorporate a vintage piece into their decorating and it got me thinking someone else might need similar suggestions.  So today I'm sharing 6 ways to "go vintage"  in your home decor, courtesy of my recent guest room redo!
When I embarked on the guest room makeover a few weeks ago, I had a tight budget and a vision.   I wanted to take a dark, previously teenage boy "cave" space to a bright fresh room that would welcome my guests.  But it had to have character, too.  And one of the best ways to inject character is to incorporate vintage touches.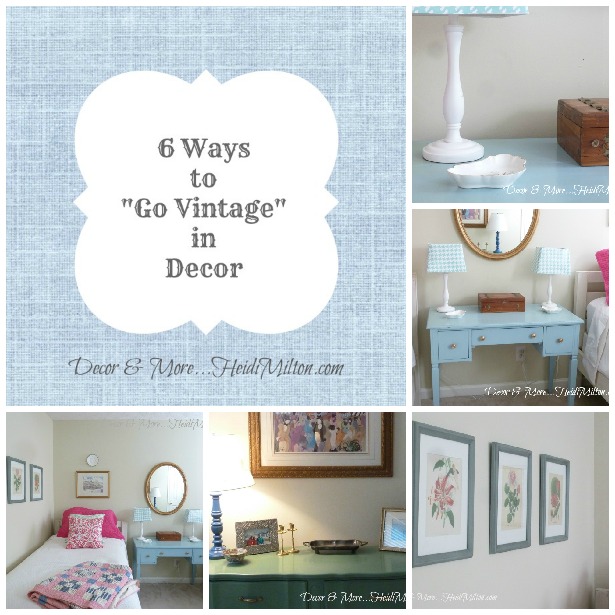 Remember how I started with this…?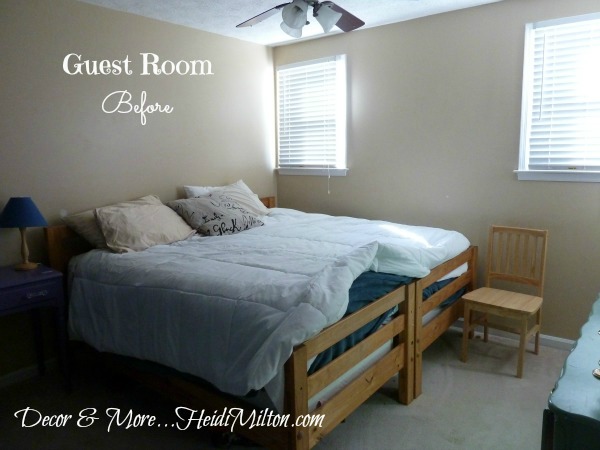 Dark taupe walls, a combination of pine and painted furniture, and mis-matched bedding.  Ugh.
After several weeks of work, I'm now enjoying this light and bright guest space…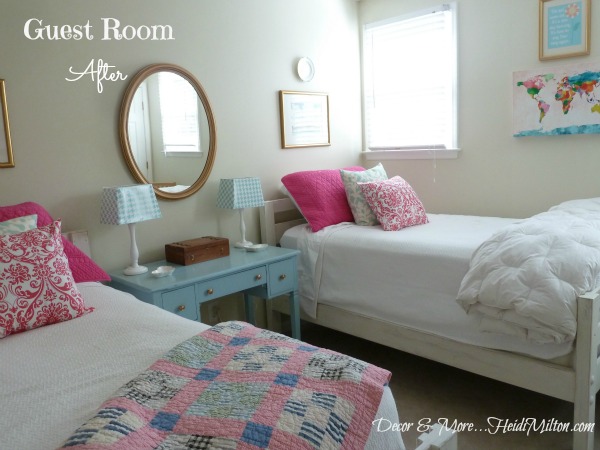 Can you believe it's the same space?
Here's how easy it is to "go vintage"…
1. Find interesting vintage quilts and linens.  Front and center there is one of my favorite vintage touches: a 1950's quilt made by my grandmother.  It had the fresh color palette I was looking for, is in excellent condition and I knew would be a great punch of color against a sea of white and creamy neutrals.
2.  Odd pieces of china take on new life.  These belonged to my other grandmother and I decided to use them two different ways.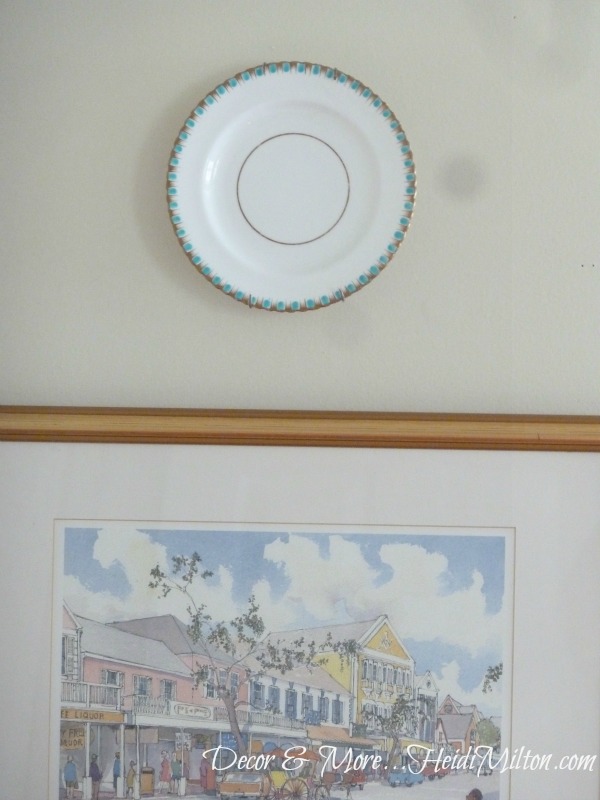 I used some little dessert plates as wall decor above some beloved watercolors I pulled from another room.  Plates are a great way to add three-dimensionality to your walls and the vintage pieces have beautiful colors and patterns.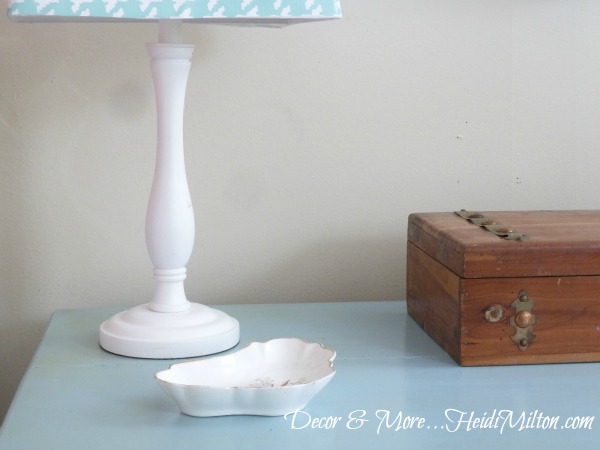 I also love to have little dishes at the bedside, for jewelry or eye glasses.   These little gold-edged pieces (I found two matching) will be perfect for my guests earrings and watches at bedtime!
3.  Wooden boxes add texture and additional storage.  I scored this sweet box a last summer at an antique mall.   I love the tarnished metal and warm wood tones in contrast with the light and bright.
4.  Vintage prints look fresh in modern frames.  While I love vintage framed botanicals, I knew that I wanted a slightly different look in this room.  These lilies and rose prints with the creams, greens, and pops of pink were perfect for this space and best of all — they were free.  I needed to unify them with fresh frames and I found these at HomeGoods.   I love the vintage look in contemporary frames!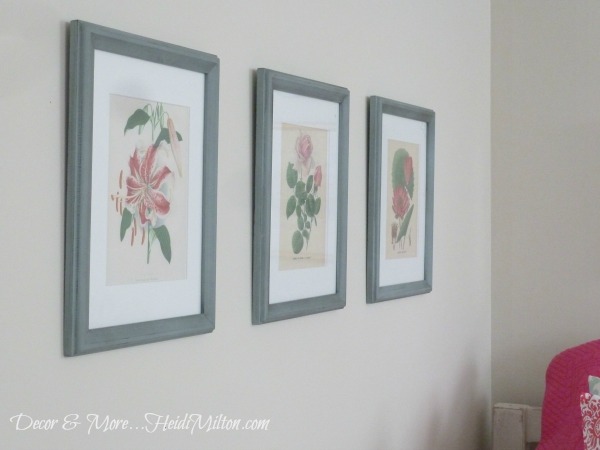 5.  Mixed vintage metals add character, too.  I love mixing my metals, and now that brass is back and tarnished silver is in, I'm in hog heaven.  I used a combination of pieces I'd picked up at antique stores and a few from my grandmother.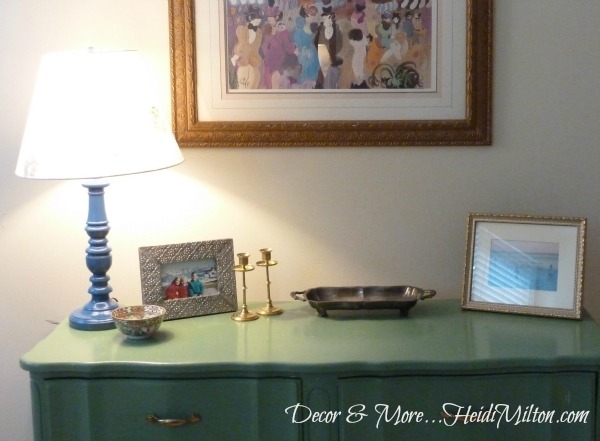 Going vintage means you can mix and match to your heart's content!  I added a couple of family photos in mixed vintage finishes as well.   Lots of places for my guests to corral their belongings on this dresser, too.
6.  Re-envision vintage furniture with a new look.  This is one of my favorite ways to go vintage!   I scored this desk at a thrift store ten years ago, loving it's shape and size.  After a stint in my family room, now she has new life in my guest room, with a fresh coat of blue paint.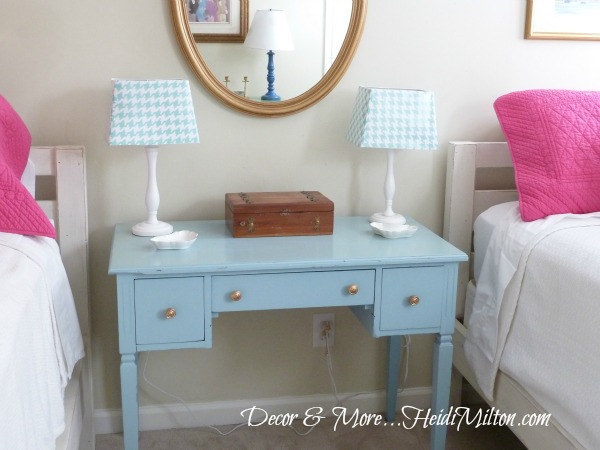 I'm always amazed at how fresh "vintage" can feel.
And now, it's your turn!  What's your favorite vintage piece in your home?  Inquiring minds want to know!  Read more about my guest room here, here, and here.
Enjoy the weekend!