I can't believe I'm already three weeks into my summer and haven't finished my first book! I blame it on being seriously brain dead and also trying to get some things done around the house. Hopefully I'll carve out some good reading time over the next few weeks, now that I'm getting back on top of things at home.
I've been reorganizing (and redecorating) my bookshelves and handling my books has reminded me how much I enjoyed some of them. So I collected a few of my favorites to share in case you could use some summer reading suggestions!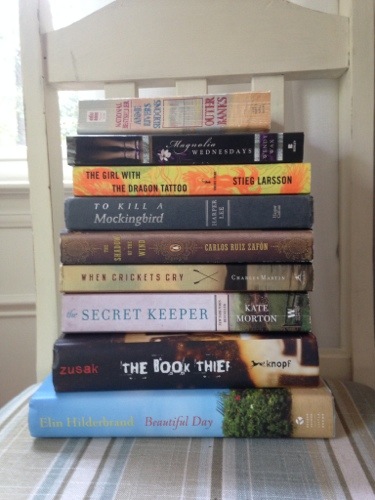 Outer Banks by Anne Rivers Siddons.   This is one I've re-read a couple of times and remains my favorite of hers.  If you're a fan of Southern literature, this is an oldie but goodie.
Elegant Kate, walking a tightrope over an abyss of lies…sensitive, sensible, self-contained Cecie…Ginger, the heiress, sexy, vibrant, richer than sin…and poor, hopeless, brilliant Fig—they came together as sorority sisters on a Southern campus in the '60s. Four young women bound by rare, blinding, early friendship—they spend two idyllic spring breaks at Nag's Head, North Carolina, the isolated strip of barrier islands where grand old weatherbeaten houses perch defiantly on the edge of a storm-tossed sea. Now thirty years later, they are coming back. They are coming back to recapture the exquisite magic of those early years…to experience again the love, the enthusiasm, the passion, pain, and cruel-betrayal that shaped the four young girls into women and set them all adrift on the…Outer Banks.
2.  Magnolia Wednesdays by Wendy Wax.  This is the first one of hers I read and it remains my favorite.  I love that it takes place in my neck of the woods, but the suspense is what I love most about it!
Vivien Armstrong Gray has spent most of her life fighting to make it in investigative journalism, only to have her dream crumble after a bullet lodges in her backside during an expose. Then she learns that she's pregnant, jobless, and very, very hormonal. Maybe that's why she said yes to covering a story in suburban Georgia. During her investigation she digs up her own long buried roots, and finds that maybe life inside a picket fence isn't so bad after all.

3.  The Girl With the Dragon Tattoo by Steig Larsson.  Oh my gosh.  I read this with my book club a few years ago and I didn't want to like it because it's dark, but it is so well-crafted I literally couldn't put it down.  If you saw the movie, you won't be disappointed in the book.
An international publishing sensation, Stieg Larsson's The Girl with the Dragon Tattoo combines murder mystery, family saga, love story, and financial intrigue into one satisfyingly complex and entertainingly atmospheric novel.
Harriet Vanger, a scion of one of Sweden's wealthiest families disappeared over forty years ago. All these years later, her aged uncle continues to seek the truth. He hires Mikael Blomkvist, a crusading journalist recently trapped by a libel conviction, to investigate. He is aided by the pierced and tattooed punk prodigy Lisbeth Salander. Together they tap into a vein of unfathomable iniquity and astonishing corruption.

4.  To Kill a Mockingbird by Harper Lee.  I re-read this last year when it appeared on my high schooler's syllabus for Lit class (hooray!) and was transported back to the first time I read it in middle school.  Probably my all time favorite.
6.  The Secret Keeper by Kate Morton.  I talked about this book last winter — it is captivating.  Breathtaking.  So masterfully woven, you will be entranced… and surprised.  Love, love, love… if you only read one book this summer, choose this one.
During a summer party at the family farm in the English countryside, sixteen-year-old Laurel Nicolson has escaped to her childhood tree house and is happily dreaming of the future. She spies a stranger coming up the long road to the farm and watches as her mother speaks to him. Before the afternoon is over, Laurel will witness a shocking crime. A crime that challenges everything she knows about her family and especially her mother, Dorothy—her vivacious, loving, nearly perfect mother.
Now, fifty years later, Laurel is a successful and well-regarded actress living in London. The family is gathering at Greenacres farm for Dorothy's ninetieth birthday. Realizing that this may be her last chance, Laurel searches for answers to the questions that still haunt her from that long-ago day, answers that can only be found in Dorothy's past.
Dorothy's story takes the reader from pre–WWII England through the blitz, to the '60s and beyond. It is the secret history of three strangers from vastly different worlds—Dorothy, Vivien, and Jimmy—who meet by chance in wartime London and whose lives are forever entwined. The Secret Keeper explores longings and dreams and the unexpected consequences they sometimes bring. It is an unforgettable story of lovers and friends, deception and passion that is told—in Morton's signature style—against a backdrop of events that changed the world.

7.  The Book Thief by Markus Zusak.  Another selection by my book club, and one for which I was extremely grateful.  I read this a few years ago, before the movie, and haven't seen the movie to know if it's true to the book.  Either way — read this book.  A true winner told from a unique vantage point.
It is 1939. Nazi Germany. The country is holding its breath. Death has never been busier, and will become busier still.
Liesel Meminger is a foster girl who scratches out a meager existence by stealing when she encounters something she can't resist: books. With the help of her accordion-playing foster father, she learns to read and shares her stolen books with her neighbors during bombing raids, as well as with the Jewish man hidden in her basement.
In superbly crafted writing that burns with intensity, award-winning author Markus Zusak, author of I Am the Messenger, has given us one of the most enduring stories of our time.
8.  Beautiful Day by Elin Hilderbrand.  I loved this book way more than I ever expected…it's the perfect book for your beach bag… chick lit with substance.  Just like I like 'em.  Surely this will be made into a movie…
The Carmichaels and the Grahams have gathered on Nantucket for a wedding. Plans are being made according to the wishes of the bride's late mother, who left behind The Notebook: specific instructions for every detail of her youngest daughter's future nuptials. Everything should be falling into place for the beautiful event–but in reality, things are far from perfect.
While the couple-to-be are quite happy, their loved ones find their own lives crumbling. In the days leading up to the wedding, love will be questioned, scandals will arise, and hearts will be broken and healed. Elin Hilderbrand takes readers on a touching journey in BEAUTIFUL DAY–into the heart of marriage, what it means to be faithful, and how we choose to honor our commitments.
Ok, since I'm ALWAYS open to book suggestions,  I'd love to hear your favorite reads for summer!
The photos above are affiliate links.  Book descriptions are from Amazon.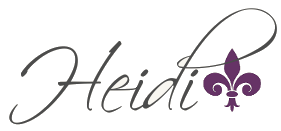 Pin It
&copy Copyright 2014
Heidi
, All rights Reserved. Written For:
Decor & More