Hi there, friends and Happy Friday!  Back today with a fun new purchase to share — and it's been a long time coming. 🙂  If you look back on my family room posts from our old house, I made no secret of how disgruntled I was with our big brown sofa.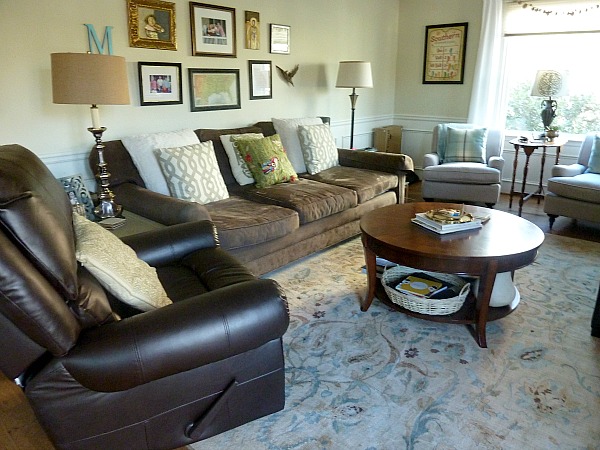 I mean, I was OVER it.  First of all, I purchased it back in 2006 when we had all five kids and two dogs at home.  It was big and comfortable and would hide all manner of sins (dog hair, spills, etc).  And it more than served that purpose for a number of years.  But I grew tired of the brown, the two ends began to sag, and as the back cushions flattened over time I had to stack pillows behind me to sit comfortably.  I had also paid a PRETTY penny for it and was reluctant to part with it for a long time for that reason alone.
Fast forward to our impending move last winter and as we looked at new spaces for us — smaller spaces for us — it became clear early on that this sofa was not going to fit in ANY of the living/family rooms we looked at.  And suddenly, I realized I could let it go — it was almost like I had to give myself permission to let. it. go.
Luckily, I have a part-time job (that I've had since January) at a really amazing home decor and furniture store.  As I learned more and more about the construction of furniture and how customization makes all the difference in investment pieces I knew I would order a new sofa there when the time came.  And so I stalked our models on the floor and spent time in training to learn a bit more about the different sofas we offer to decide which was the best for us.  Fun, right?
As luck would have it, I sold the big brown couch THE DAY WE MOVED!  So I had my green light to order a new one, without the baggage of having to unload the old.  #winning
Then I got to choose fabric!  I haven't chosen fabric in soooo long…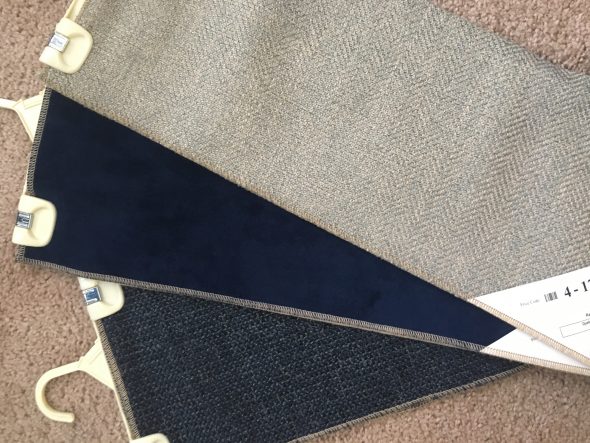 I'll be sharing soon what sofa model and fabric I chose!  I actually have a Pinterest board that might offer you a few clues — one I've been pinning to for a loooong time. 🙂   I have a few weeks to wait for it, but it will be well worth it!
Hope you have something fun planned for the weekend… we're outta here to relax with friends before Legacy REALLY ramps up next week!  Back soon — thanks for stopping by!
BTW, the Nordstrom Anniversary sale is open to the public beginning today!  I got up early to get my order in… did you?? 😉