Well.  You know when you have a plan — a time-table — all mapped out for getting everything done and being able to kick back and enjoy the holidays?  Yeah.  Well, that was me.  Until the flu.  I'm talking laid out in the bed can't pick your head up your kids don't see you for days flu.  Truth be told, I'm still only about 30%, but I can be upright for stretches of time, so I call that progress.
My decorating had at least been started, the porch was finished, and so it was really a matter a finishing up some things inside.  I won't even discuss wrapping and shipping gifts, etc.  #theelvesdidit.  So today I'll share some of my holiday touches.  My home is not photo-worthy right now, so I won't scare you with the kitchen, office, or dining room turned gift-wrap central.  It would truly scare you.  Not to mention the bathrooms.  Ugh, I can't think about it.
Anyway, let's start in the family room…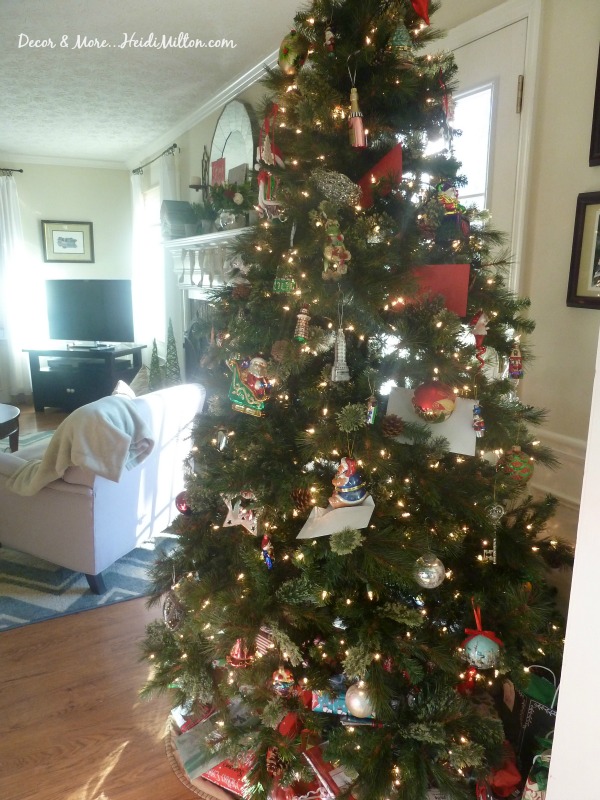 I bought a new tree this year… Martha Stewart pre-lit tree from Home Depot.  I have to say I love this tree… the electrical connections are in the shafts of the tree, so once you put the sections together, it all lights up.   Only one plug — how great is that!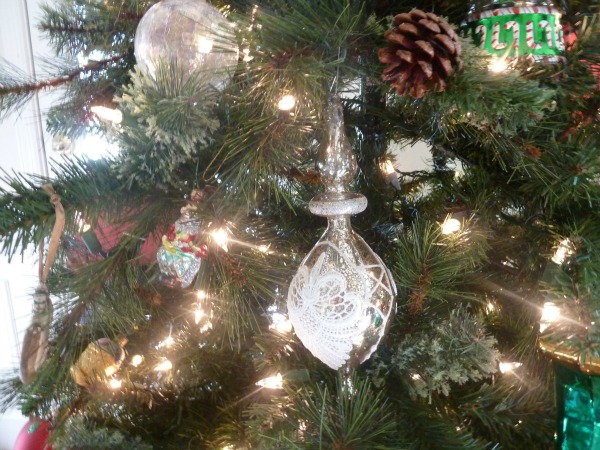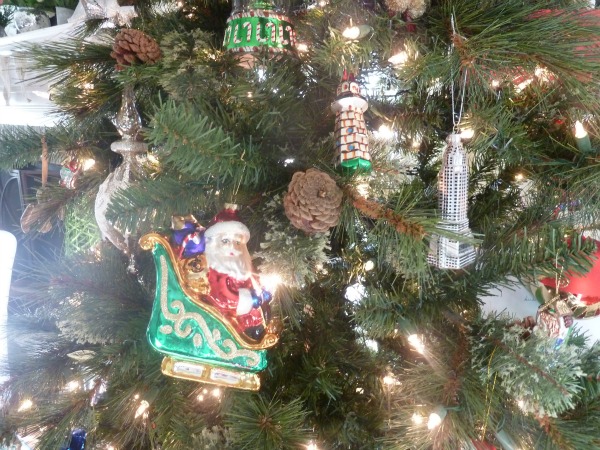 The kids helped decorate this year (they've been not-so-interested in recent years) and they enjoyed pulling out all the gorgeous ornaments my grandmother gave them over a period of about 12 years.  Colorful and sparkly.  Love how they play with the pine cones on my new tree.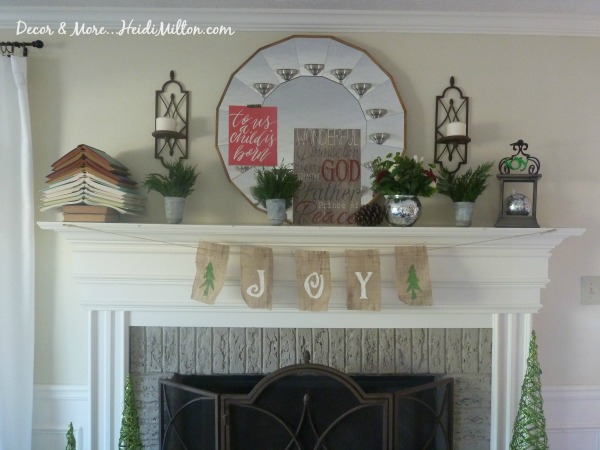 This is quite possibly the simplest Christmas mantel I've ever done, but I think it might be my favorite.  I used things I already had, greenery from my yard, and two special deliveries I got last week — a beautiful floral arrangement in a mercury glass vase and my first Scripted Simplicity piece.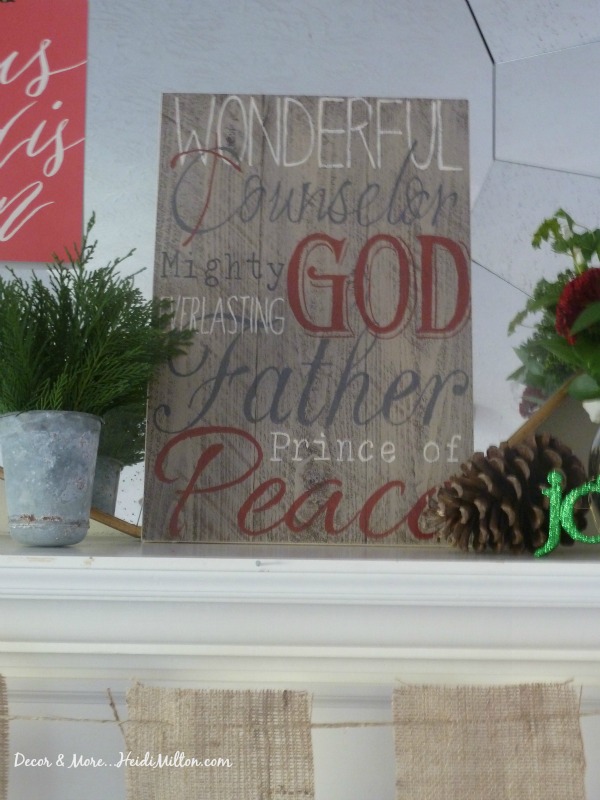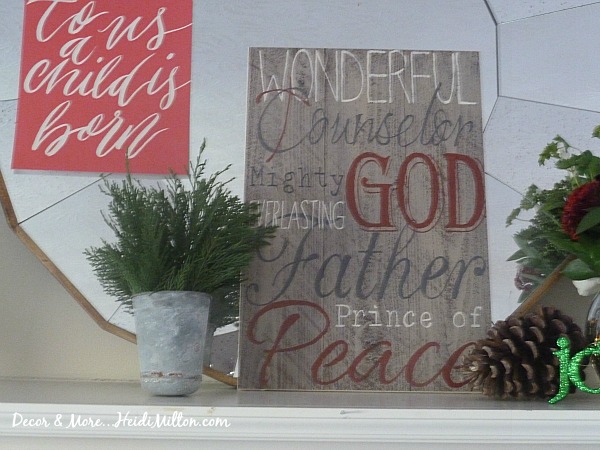 This was a fun 5 minute project — a book tree.  Love it.  Those little zinc bulb cups were part of my Country Living Fair scores.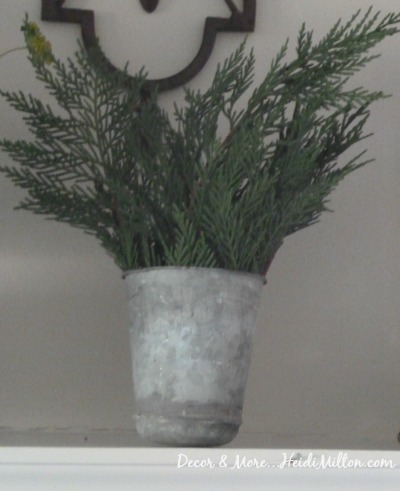 They're no longer water tight, but I just lined them with some tin foil and add a bit of water every couple of days to keep my greenery fresh.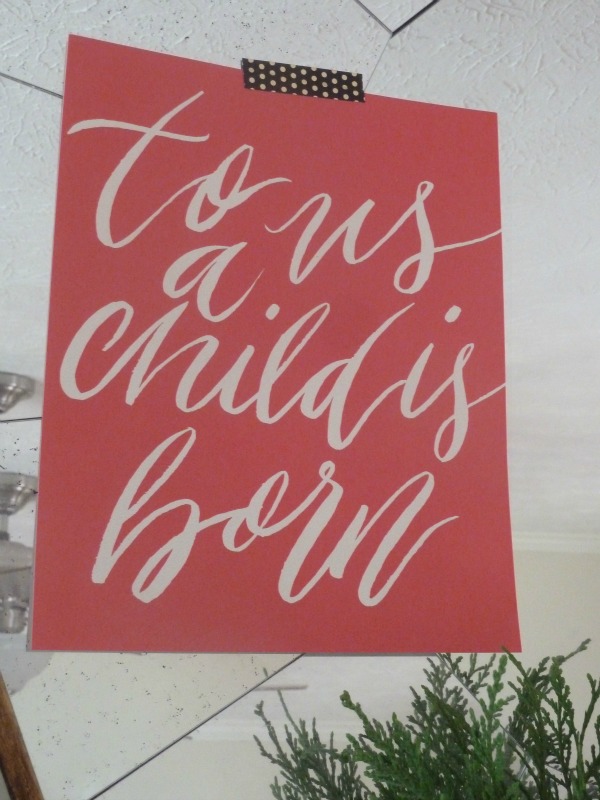 This sweet print came with my She Reads Truth Advent study… I just used some sparkly washi tape to add it the mirror.  It's a pretty splash of color and I just love the message.  The more of His word I can have around me the more uplifted I am each day.  #truth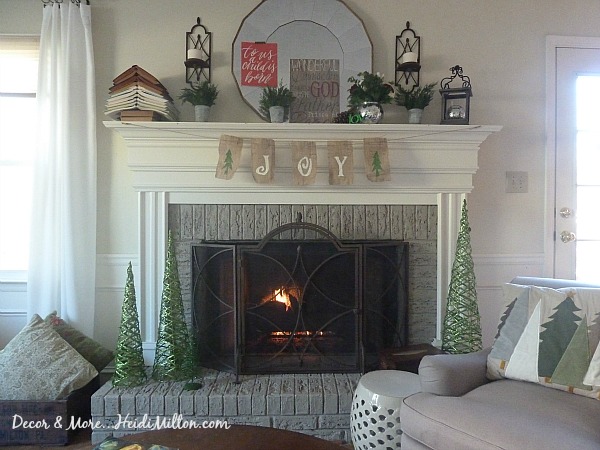 The Joy banner was a DIY from a couple of years ago and I keep breaking it out… one of my favorite DIYs — so simple!  Ok and now those killer glitter trees…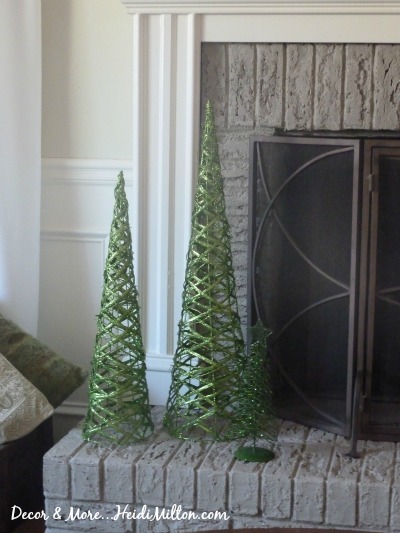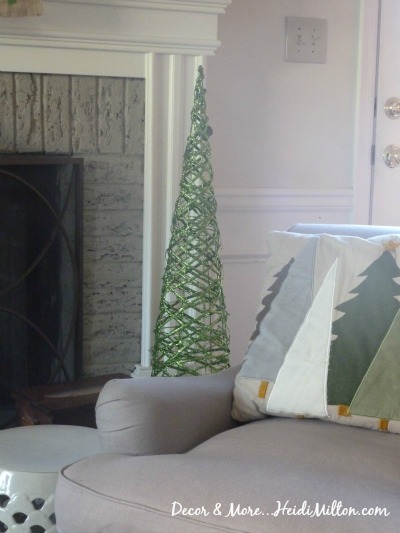 This was a set of 3 I bought on sale at Zuilly last winter.  I love the fun sparkle they add to each side of the fireplace — especially now that I've painted the brick!  That tree pillow was a Target score from 3 years ago.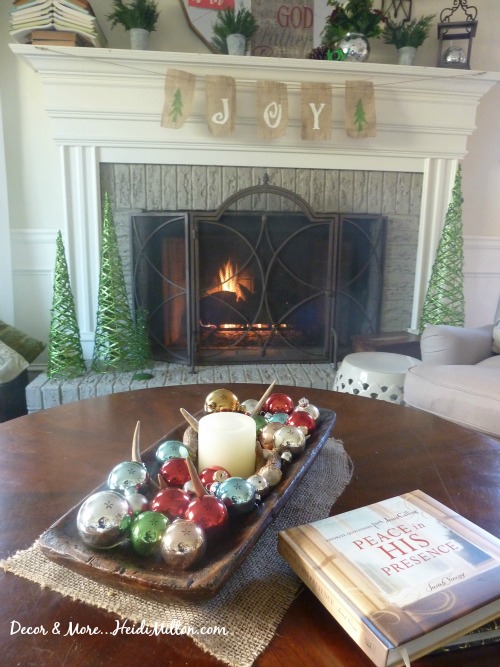 On the coffee table I simply filled my reproduction dough bowl with a pillar, some antlers and colorful ornaments.  Loving the rustic with with the refined.  And it was so easy.
In the foyer I did some more of my favorite decorating technique.  Add an ornament.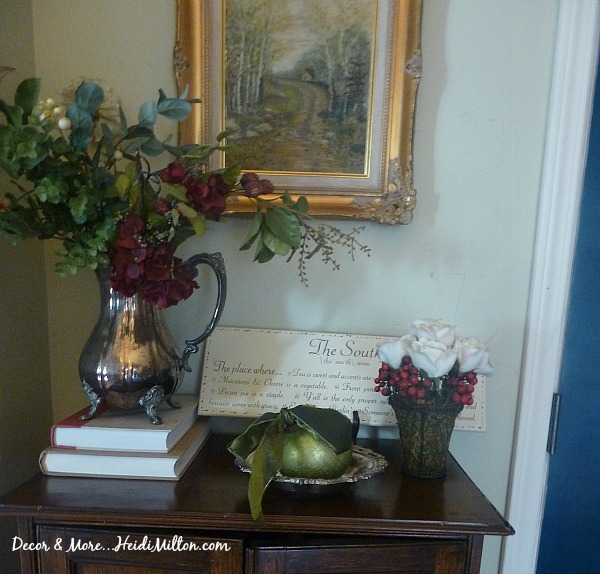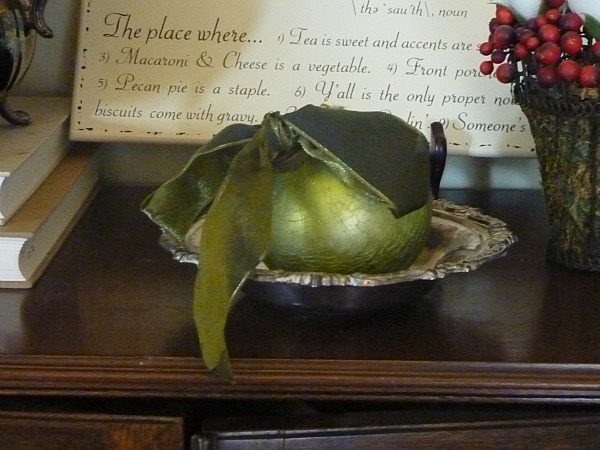 I think I tend to overcomplicate my holiday decorating at times.  But this year I was forced to use what I had on hand, to simplify, and find contentment in that.  And you know what?  All good.
Once my kitchen is clean and photo-worthy, I'll share the few touches I've added in there.  I can't promise the dining room, though, because I'm quite sure the wrapping will go on until the last minute.  Quite sure.  And the office will be a complete no-go this year.  But I'm okay with that.  Christmas will still happen, after all.
I'll share my front porch tomorrow.  Wishing y'all a great day — STAY HEALTHY!