I am totally in love with my baby spoon display in my dining room, so I thought I'd share the "how to!"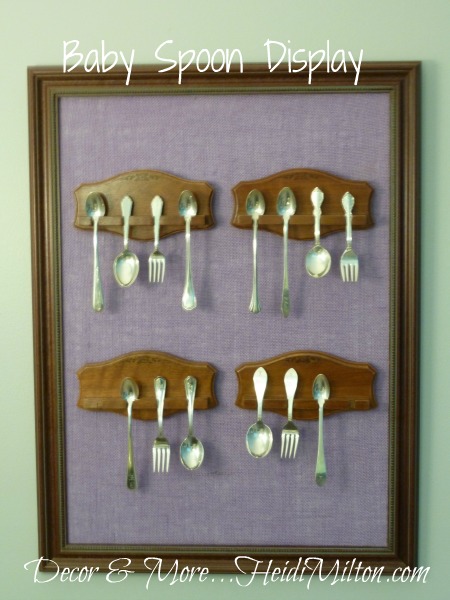 It all started with these small racks I found thrifting with Charity a few weeks ago…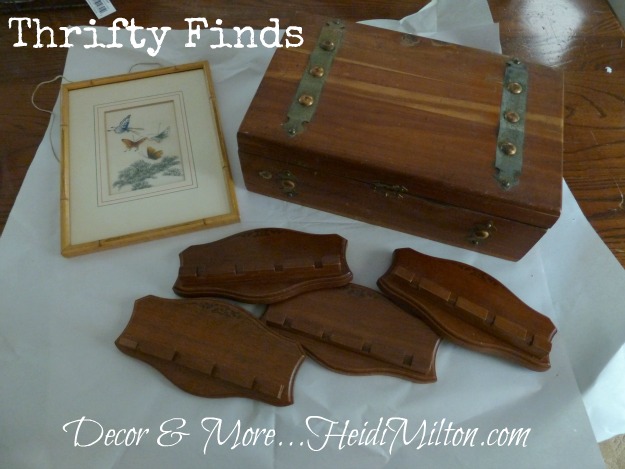 They were $2 each and I got them for 20% off — $6 for the four of them. 🙂
I've also gotten in the habit of trolling the hobby stores framing department for frames on clearance… especially open frames.  Many were custom orders that didn't work out, so they sell them for just a few bucks!
Here's the supplies I used for this project: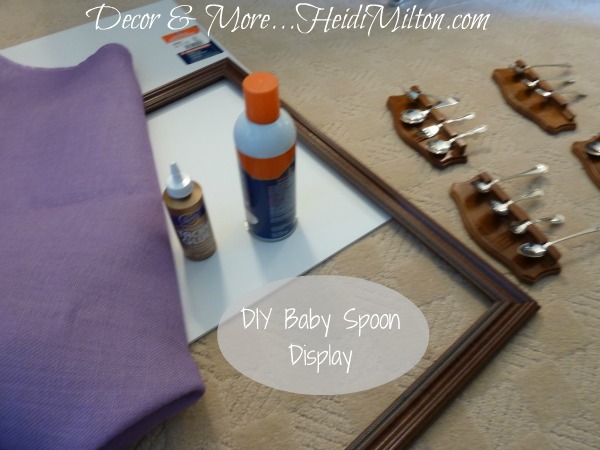 I had my open frame, a piece of foam board, fabric (purple jute!), spray adhesive, and tacky glue.  You can tell this is going to be a low-tech project!
Easy Peasy.  Step 1 —  Cut the foam board to fit inside your open frame.  I left a little room since I'll be wrapping it in fabric, but you still want it to fit snugly.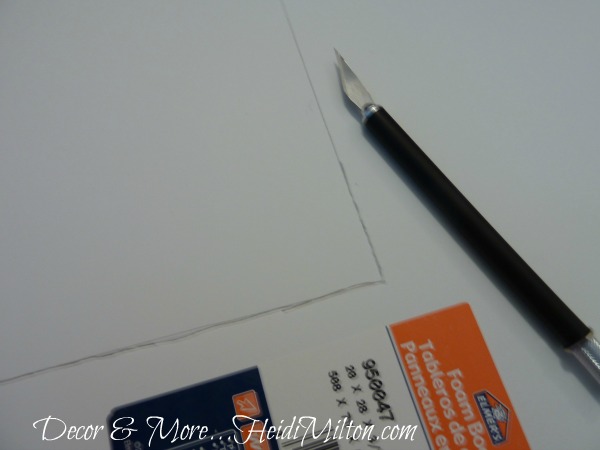 Step 2 — lay out and cut your fabric, leaving enough around the edges to wrap your foam board, and wrap it up.  I start with the corners and used spray adhesive to secure.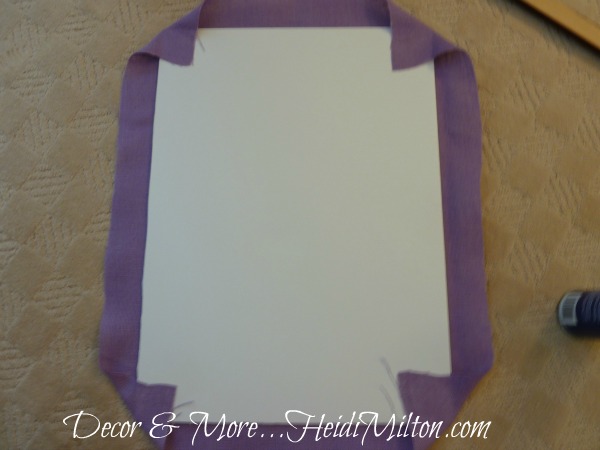 I finished off the wrapping by securing the sides with beads of Tacky Glue and let it dry for a bit.
Step 3 — pop it inside your open frame!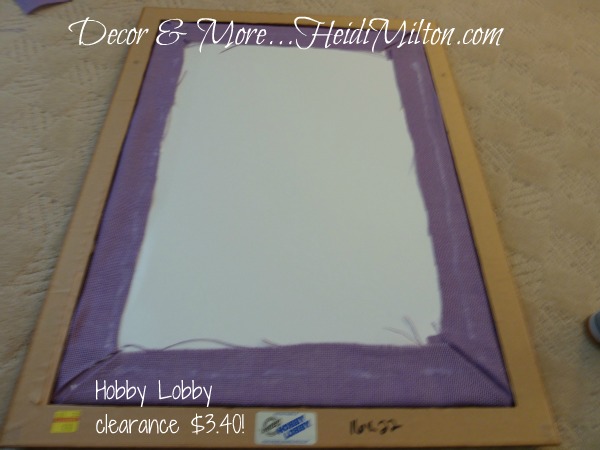 This frame already had two holes drilled for hanging hardware, so it was easy to screw in my own hardware and wire it up.
Step 4 — Attach small spoon racks.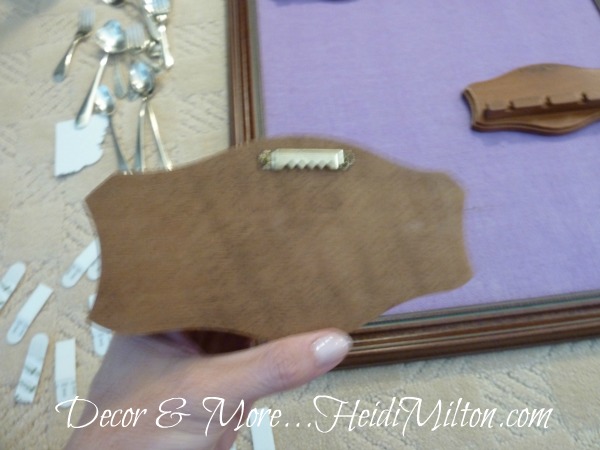 These had the little sawtooth hangers on the back and I really didn't want to take them off.  I couldn't use them to attach the racks to the fabric covered foam board either.  Soooo…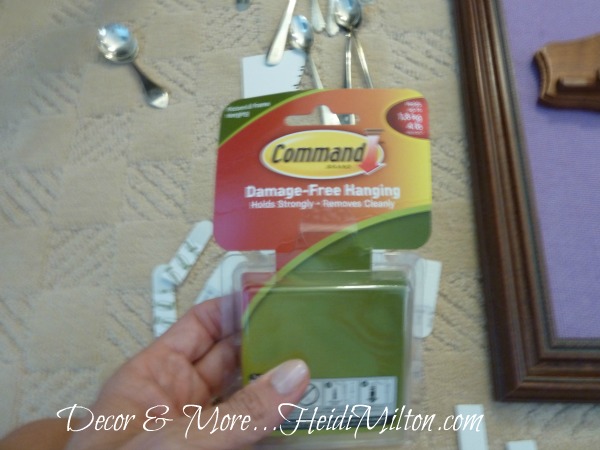 The racks are not heavy and this is great way to adhere them to the fabric without snagging or ruining the jute!
Step 5 — Admire your handiwork. 🙂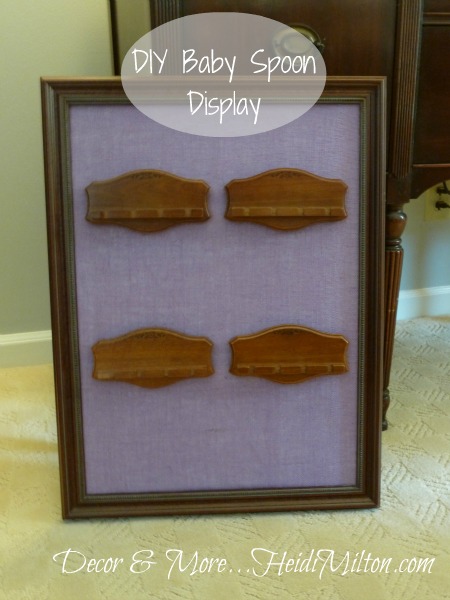 *Note to self:  Take the camera OFF manual when photographing a tutorial.  I clearly haven't mastered it while multi-tasking!
I love the pop of color in my gray/Silver Sateen dining room!  And with the polished spoons in place, I have an interesting and personal piece of wall decor!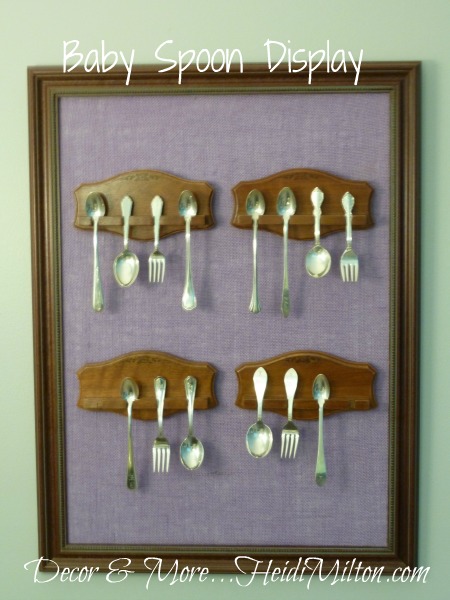 There's room for a couple more, just in case the hubs finds my stepsons' spoons. 🙂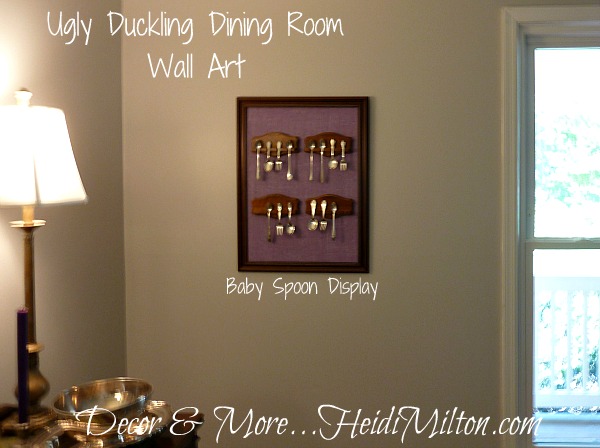 For more on the Ugly Duckling dining room transformation, click HERE, HERE, and HERE. 🙂
What's on your DIY list these days??
Linking up this project!