A couple of weeks ago, I went on a pumpkin painting tear.  If you follow me on Instagram you were witness to it all. 🙂  It's no secret that I'm no fan of bright orange pumpkins but I love the different shapes and sizes and the way pumpkins just speak of fall.  So I pulled out my chalk paint and some brushes and got to work on a selection of  faux pumpkins to use in decorating my booth for fall.
I used Annie Sloan chalk paints in Old White, French Linen, Versailles, and Chateau Gray… two coats a piece, clear wax, and then some dark wax to highlight the grooves and textures.  Love!!
Somewhere along the way, I wanted to try to monogram one…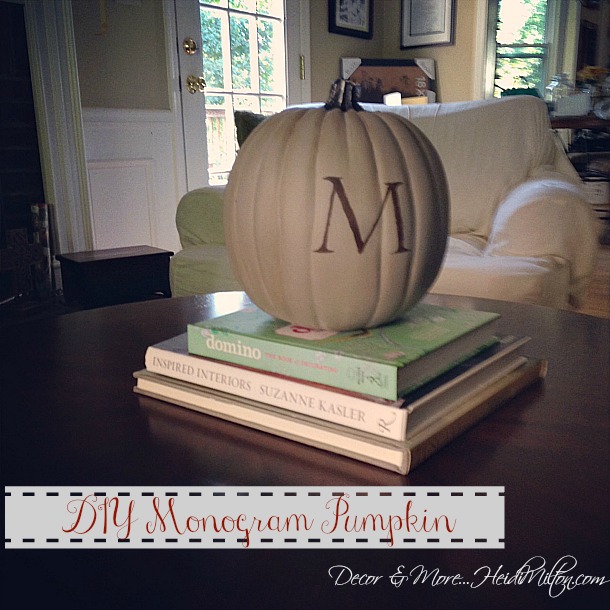 I chose a pumpkin that had a fairly uniform surface, since I knew I would be free-handing it.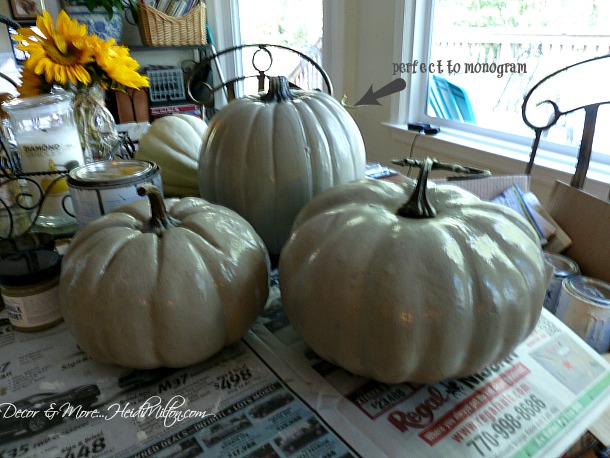 You can see here that the other two would have been tricky.  I painted it in French Linen…

I love this neutral color and it's especially delicious with dark wax. 🙂
Then I pulled up some different fonts in Microsoft Word to decide how I wanted my "M" to look.  I landed on Footlight MT Light.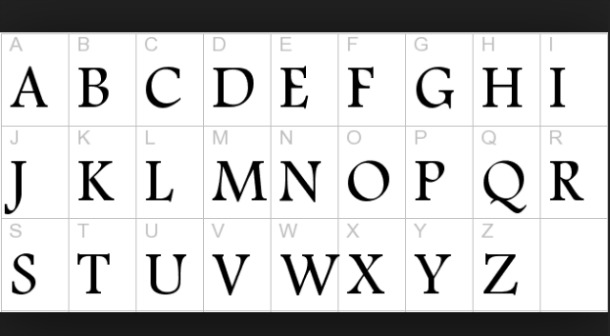 I printed out the upper case "M" in the largest size possible.  Sorry I didn't photograph the next step, but I used that as a visual guide to pencil the letter onto the painted, but unwaxed, pumpkin.  After a couple of tweaks, I was ready to paint it on.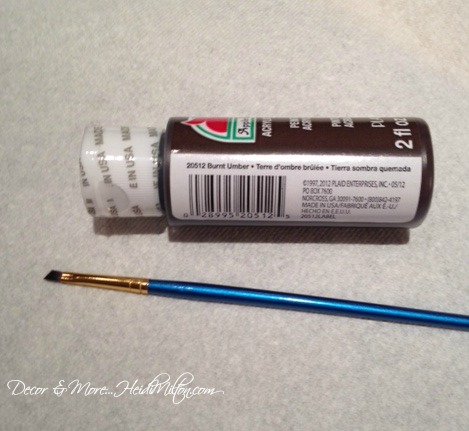 I used Plaid craft paint in Burnt Umber and this angled brush to get as precise a line as possible.  This is my go-to brush for lettering!  The broad side gives a nice even wide line, while the angled point lets you get the finer details just right.  I used it on my Boo Y'all typography planter as well.
I took my time, in a bright light, and just filled in my penciled outline of the letter M.  If you're not comfortable free-handing your letter, look on Pinterest for transfer methods to give you an outline you can work with.  My friend Emily at 52Mantels.com has an excellent one here.
You can see that it's not perfect, but I wasn't going for perfection!
After it had dried thoroughly, I gave it a coat of clear wax and then immediately went back with a little dark wax in the grooves and around the stem.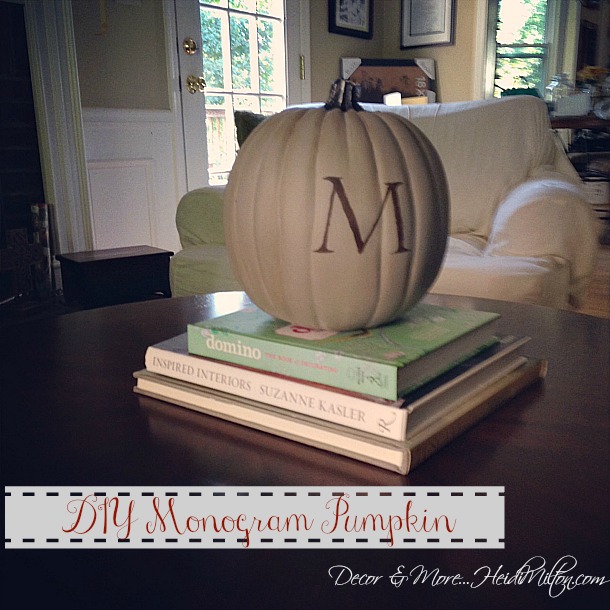 And it's hanging out on my coffee table for us to enjoy this fall!  I love that it's not too "Halloween-ey" and will take us all the way through Thanksgiving.  It might even make an appearance in a Thanksgiving tablescape. 🙂
I had forgotten how therapeutic it is for me to have a small paint brush in my hand.  I get so hung up on painting furniture or rooms — big things — that I forget the intimacy of holding a small brush.  It's like the hand-written word to me.   I've got a couple more fall paint projects in the works… and they are inspiring some holiday project ideas, too.
Don't you love it when your creative juices get flowing?
Happy Friday, friends… I'll be taking in some musical theatre in downtown Atlanta with my BFF and my daughter and then enjoying a dinner out with friends and large hungry (expensive) young men.  Many thanks for all your prayers this week… we are gaining new hope with each day that passes and thanking God for that.
Be blessed!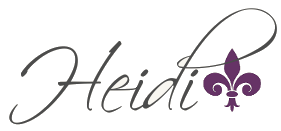 Pin It
&copy Copyright 2013
Heidi
, All rights Reserved. Written For:
Decor & More