It was quite the birthday weekend for the hubs up at the lake, and now, of course, I'm feeling behind the eight ball just a bit!  My daughter and I take off for NYC right after school on Thursday, so all my to-dos for the next several days need to be checked off by the time I leave for work on Thursday morning… yikes!
Anyhow, over Thanksgiving I worked on this little sheet music project and thought I'd share it with you along with a peek at my dining room…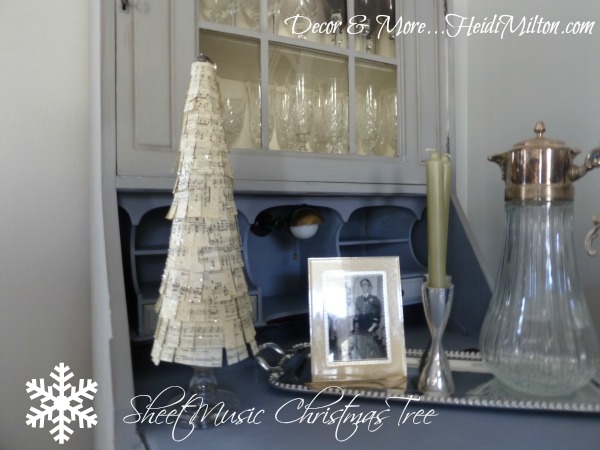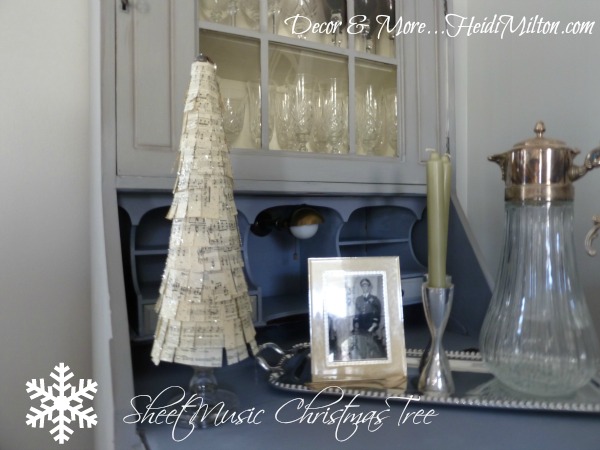 I really wanted to do several of these in different sizes, but ran out of time.  So in the interest of keeping my sanity and moving forward with my decorating, I had to abandon ship after just one.  But suffice to say, I'll be doing more of these next year. 🙂
Here's all it takes — easy as pie!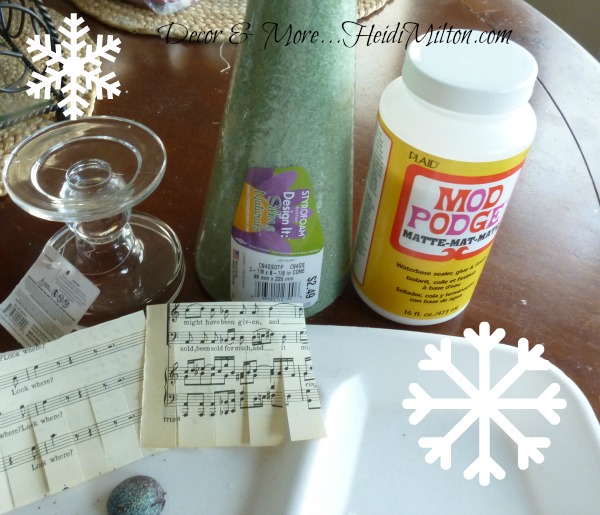 I just realized I'm really crappy at taking photos of supplies and such.  I just group 'em all on my kitchen table and snap away.  *Sigh*.  Someday, I'll do better.  But I am really glad those cool snowflake overlays on Pic Monkey can make my photo seem a tad better balanced. 🙂
So — a styrofoam cone, sheet music cut into 3 inch strips and then "fringed", Mod Podge (oh, how I love thee!), a simple glass candlestick from WalMart, and a half a hickory nut out of my yard, spritzed with Glitter Blast spray paint.
How's that for the list?
You can guess the how-to, I'm sure.  Starting at the bottom Mod Podge the sheet music strips around the cone, working in tiers.  When it's nice and dry, douse it with spray adhesive and sprinkle glitter for a little bling.  Then simply hot glue the candlestick to the bottom, and the hickory nut to the top.
See what I mean?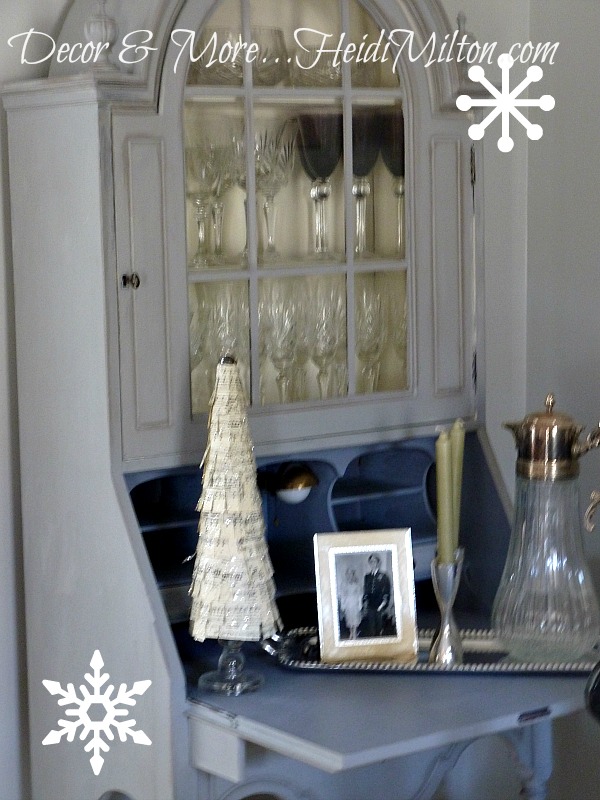 I decided it needed to grace my dining room, since I am currently behind on decorating in there.
I've gotten out my silver tea set that's just waiting for greenery…
And I'd love to put a wreath on that mirror.
On the table, I've pulled together this simple centerpiece…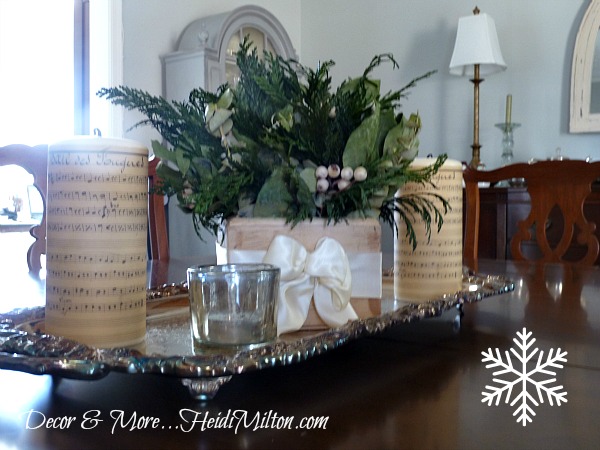 A footed silver tray, my sheet music candles from last winter, a few newly crafted mercury glass votives and a fab faux evergreen and white berry piece I snagged from Joss & Main.
If you look closely, you'll notice new dining room chairs… and a new table.  They belonged to hubs' grandmother and we are so thrilled to have them now.  I'll share with you soon when the whole room is decked out for our crowd at Christmas. 🙂
And I promised to give you a peek into the Winter Wonderland Gift Shop we do for the preschoolers each December…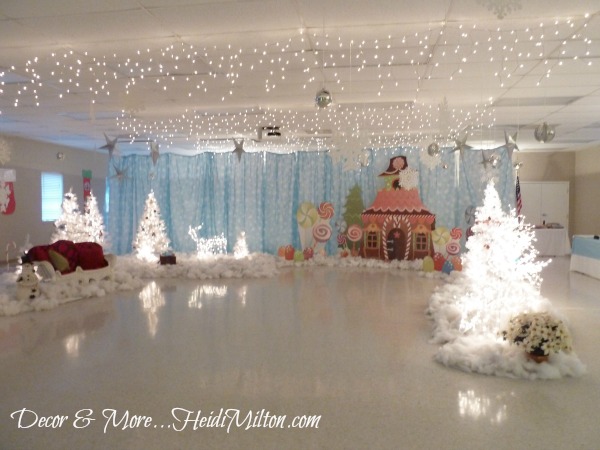 Is this magical, or what?  The bench with the red cushions to the left is where Santa sits.  Behind the blue curtain is all the goodies the children can choose from, and the blue covered table on the right is where the moms sit to wrap the gifts to go home.   Once your class shops, visits with Santa, and poses for photos, we end up with hot chocolate and story in the classroom.
Warms my heart every time…