Woo hoo!  My first furniture project in a WHILE… so happy to have this cutie pie finished up and ready to share.  And I tried something new this time… a two tone look.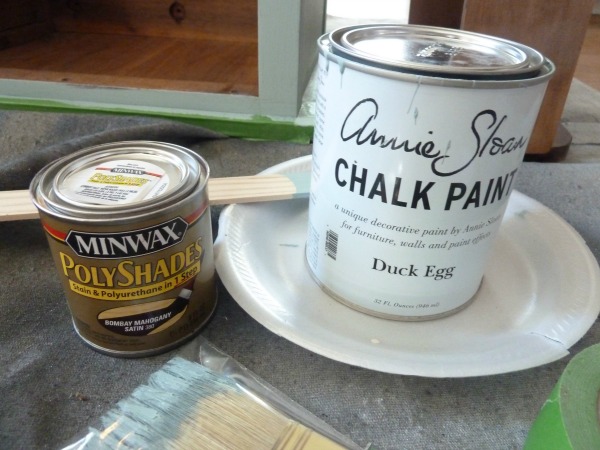 Ok, this was my first go-round with the Minwax Polyshades so you'll have to let me know what you think…
First, let's take a look at this lady before…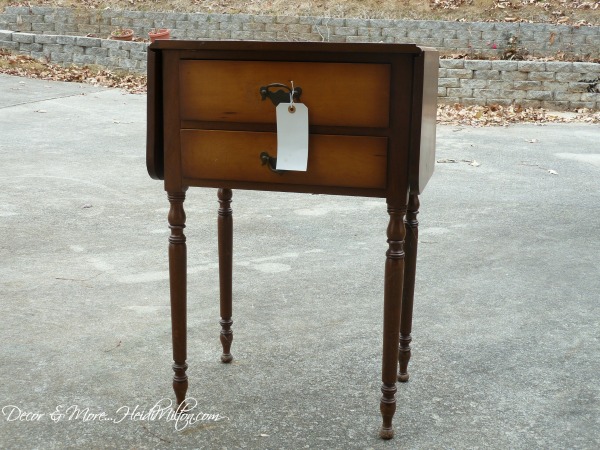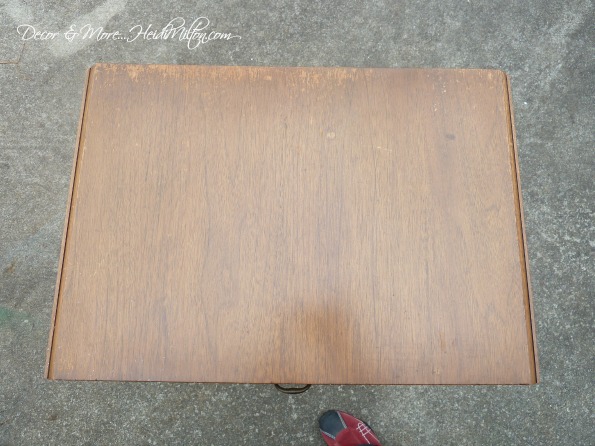 I scored this lady some time ago and loved her lines and versatility with the drop leaves!  And I put her in my booth (twice) as is, to see if someone loved her for herself.
But there she sat, with her damaged top, alone and unloved.  And so she came back to my garage, but I had something special in mind for her.  I had been looking for the perfect piece on which to try a two-toned paint and stain treatment.  And there she was, right under my nose.
So I gave her a good sanding, especially on that damaged top, chose the Minwax Polyshades in Bombay Mahogany (stain and poly in one) and got out my beloved Annie Sloan Duck Egg Blue.
So you be the judge…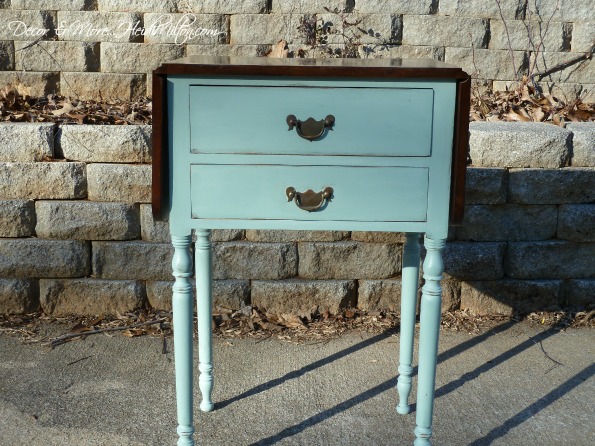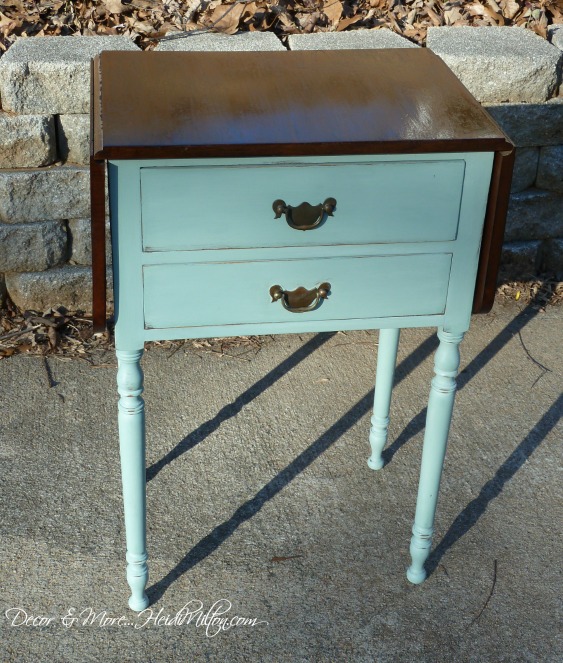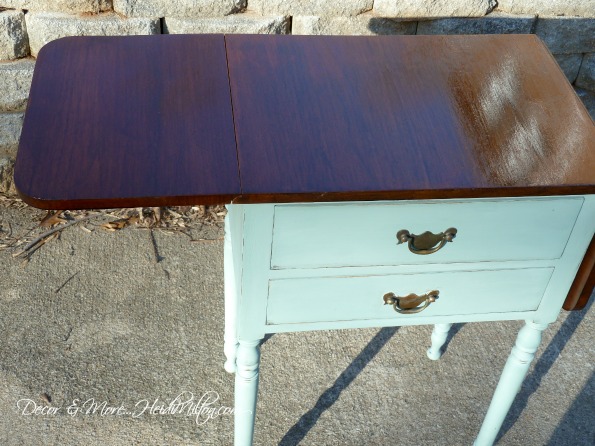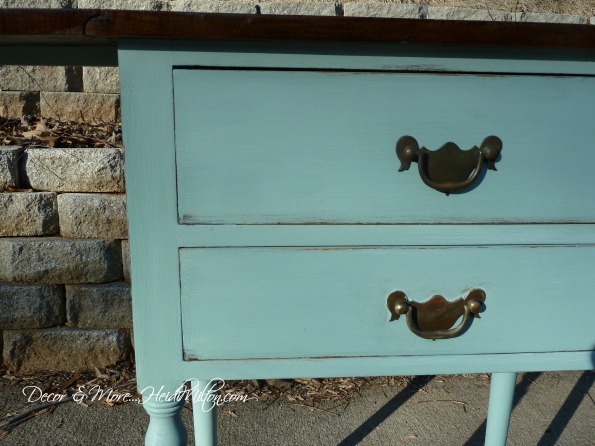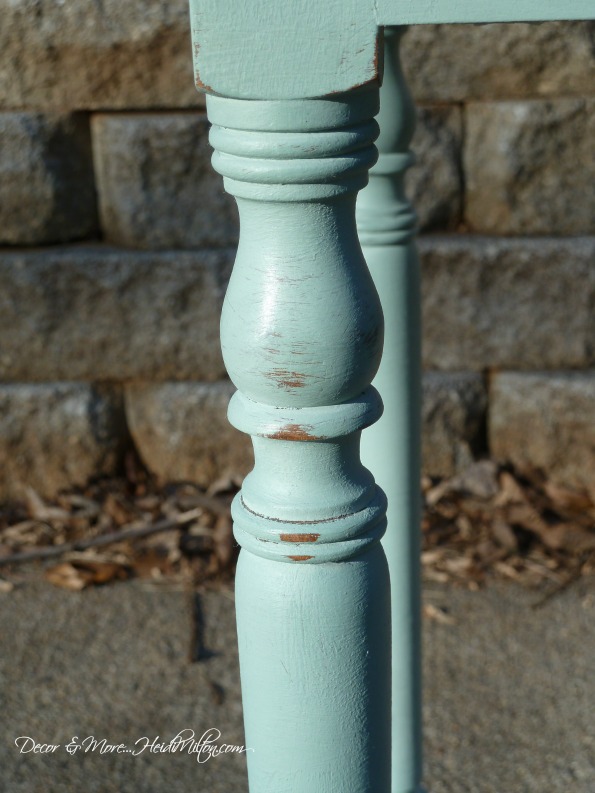 Here's my take on the Minwax Polyshades — VERY easy to use.  The top is not a perfect finish by any stretch and I probably could have sanded it down a little more.  If you look really closely you can still see some shallow scratches.  However, the stain evened out that top beautifully — you can hardly see the water damage at all.  And it's sealed up nicely after two coats of the Polyshade.
For the paint finish, I did two coats, lightly distressed around the edges and added a coat of clear wax.
I am loving the dark stain with the light blue paint!
And here she is, back in my booth, all refreshed and waiting for someone to love her…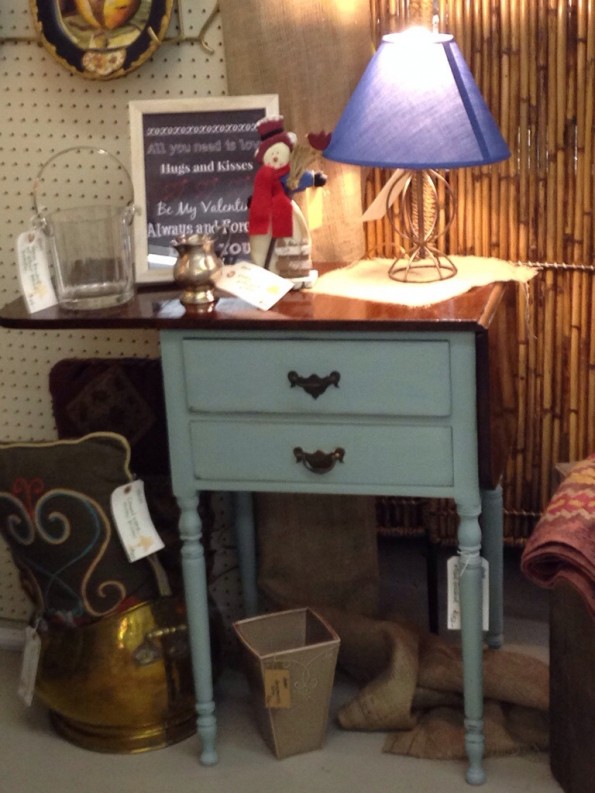 Not only would I do another two tone paint and stain treatment, but I will totally use the Polyshades again.  I'm thinking this is the solution to my kitchen table dilemma.
Ok, so what do you think??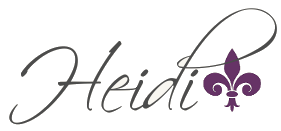 Pin It
&copy Copyright 2014
Heidi
, All rights Reserved. Written For:
Decor & More