Well, $1600 later, my house is sealed and the traps for the unwelcome critters have been set.  Ugh.  I'm trying not to think about it too much, 'cuz it just gives me the willies!  So let's dwell on pretty things and easy projects to get our Christmas spirit in tip top shape.  🙂
How about a super easy Christmas centerpiece?  Here's what you need:
A favorite urn or container
Sticks from your yard, spray painted gold (or silver)
Florists foam
moss or festive metallic "grass" or paper shred
ornaments
I chose my beloved Royal Street Urn, the work horse container that adorns my dining room.  You saw her here in my fall centerpiece: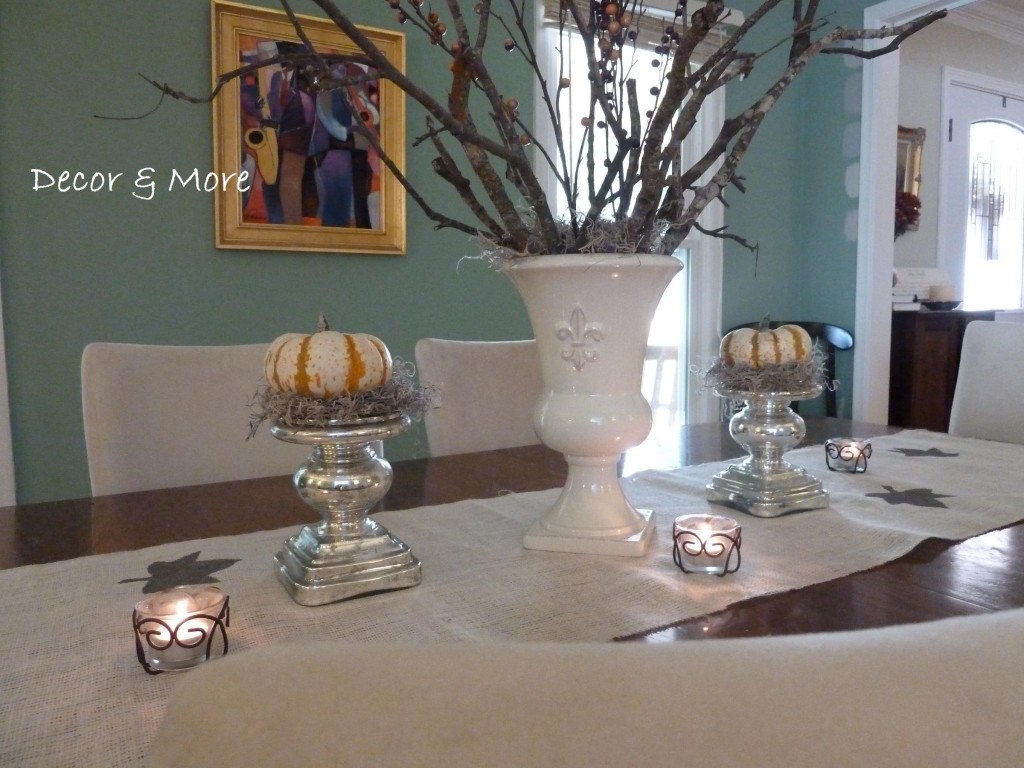 Should you want one of your own, click HERE to order. 🙂  You won't regret it.
Now, back to my centerpiece!  I cut the florists foam to fit snugly down inside the urn.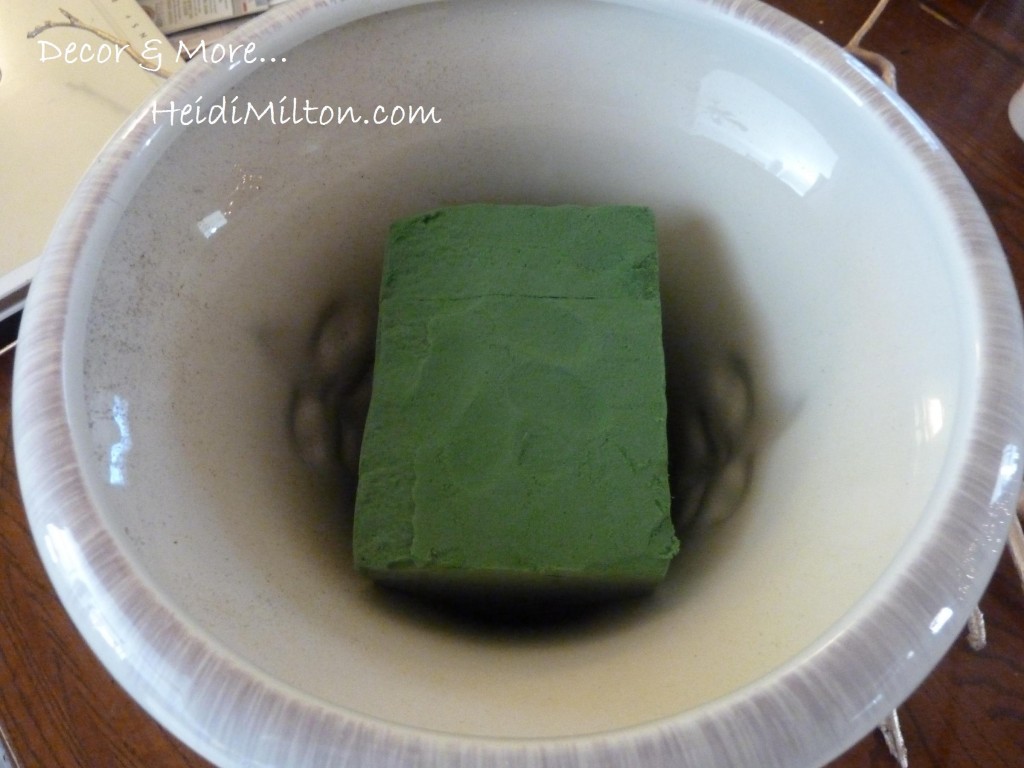 Simply insert your spray painted sticks into the foam.  I reused the sticks from my fall centerpiece for this one.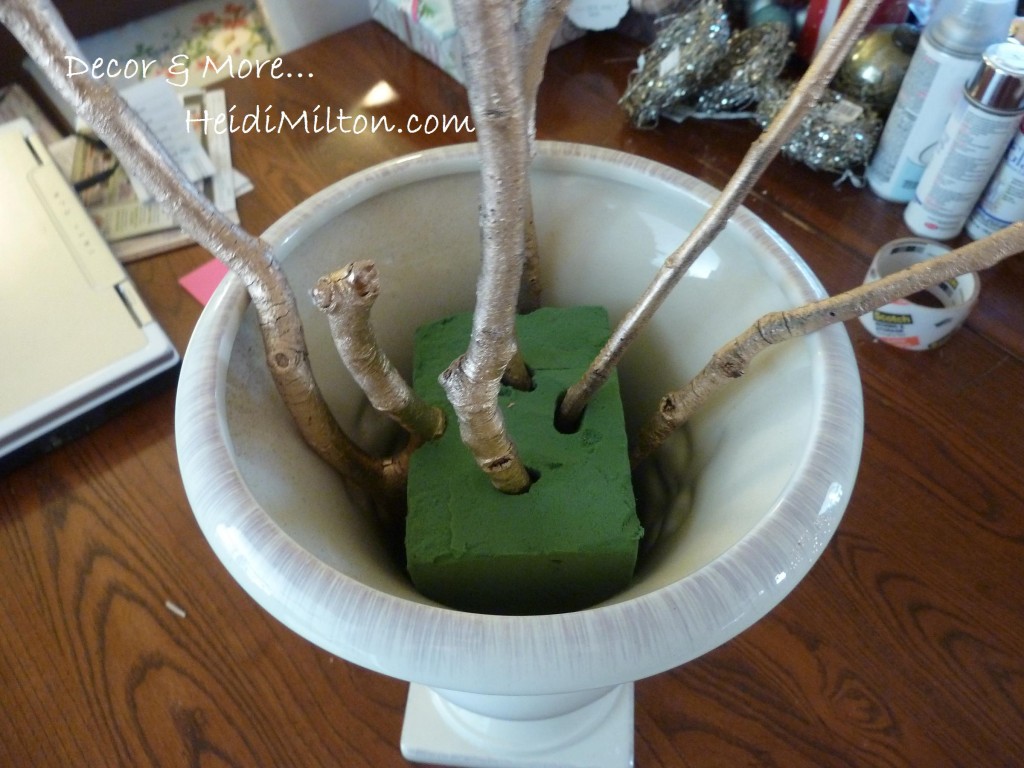 Yikes– lots of disarray in the background of the photo!  Sorry!  Then I added some metallic grass to cover the foam and create a nest of sorts for the ornaments.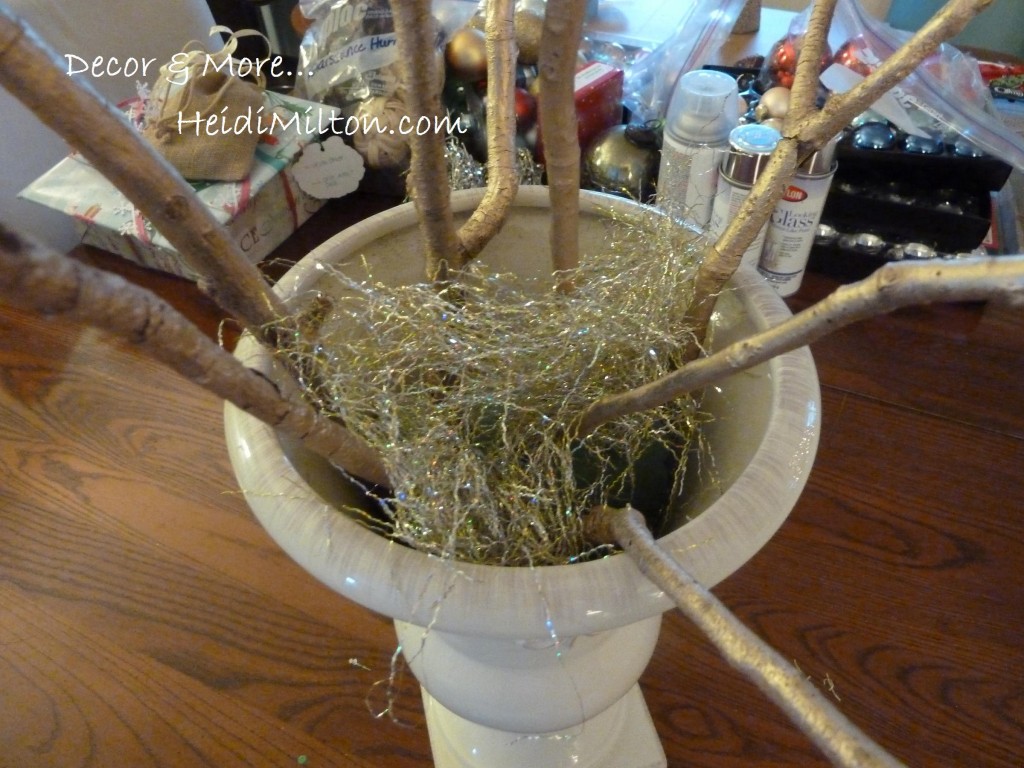 Then I began tucking ornaments of various sizes around the base of the sticks.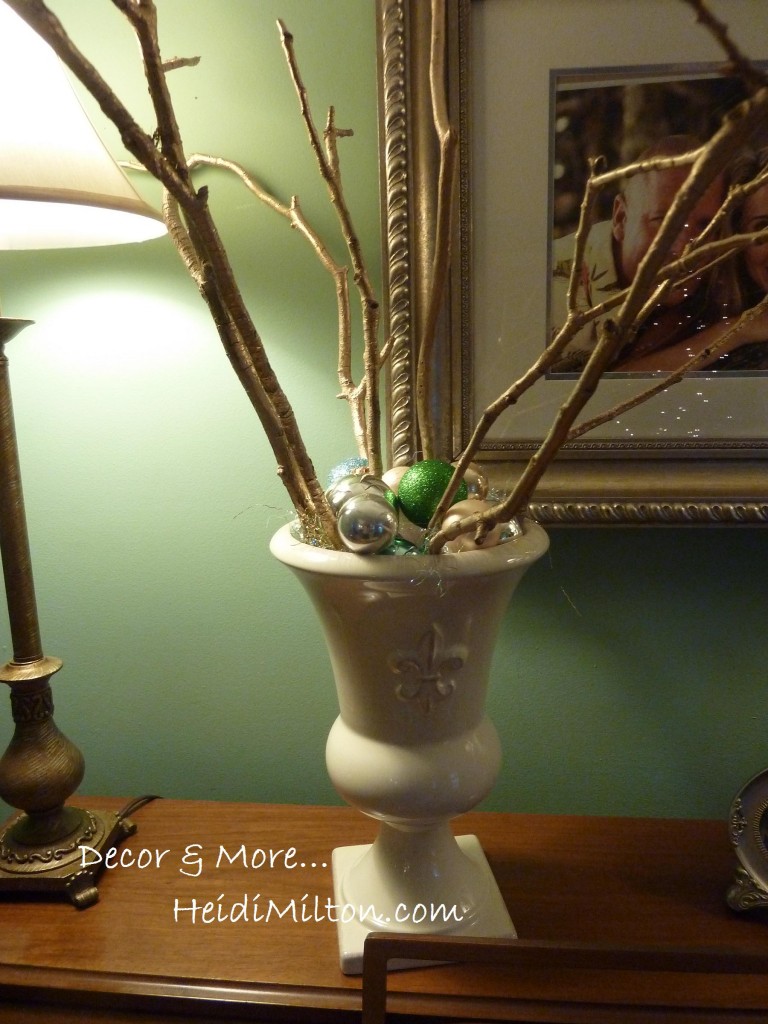 This was my first attempt, but I wasn't a hundred percent pleased, so I kept tweaking and swapping out ornaments.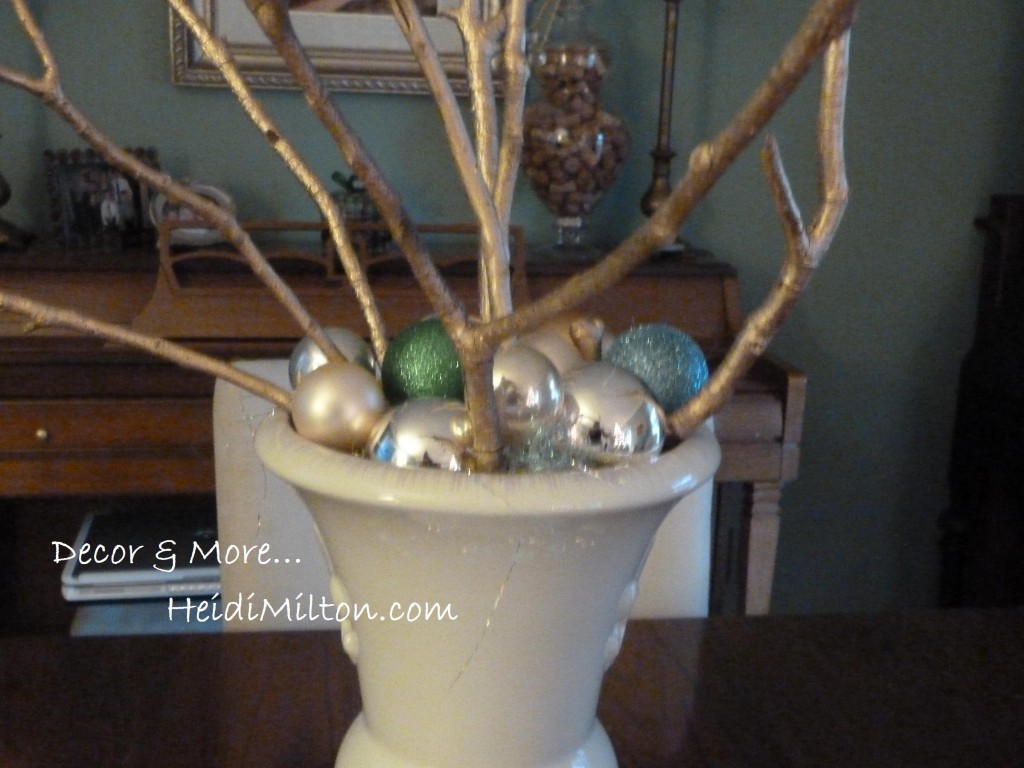 Now THAT's better!  I found it was best to fit as many of the largest ornaments first, then fill in with some smaller ones.  Duh, right?
The final touch was to pop it on top of one of my silver trays and then add a metallic beaded garland and more ornaments.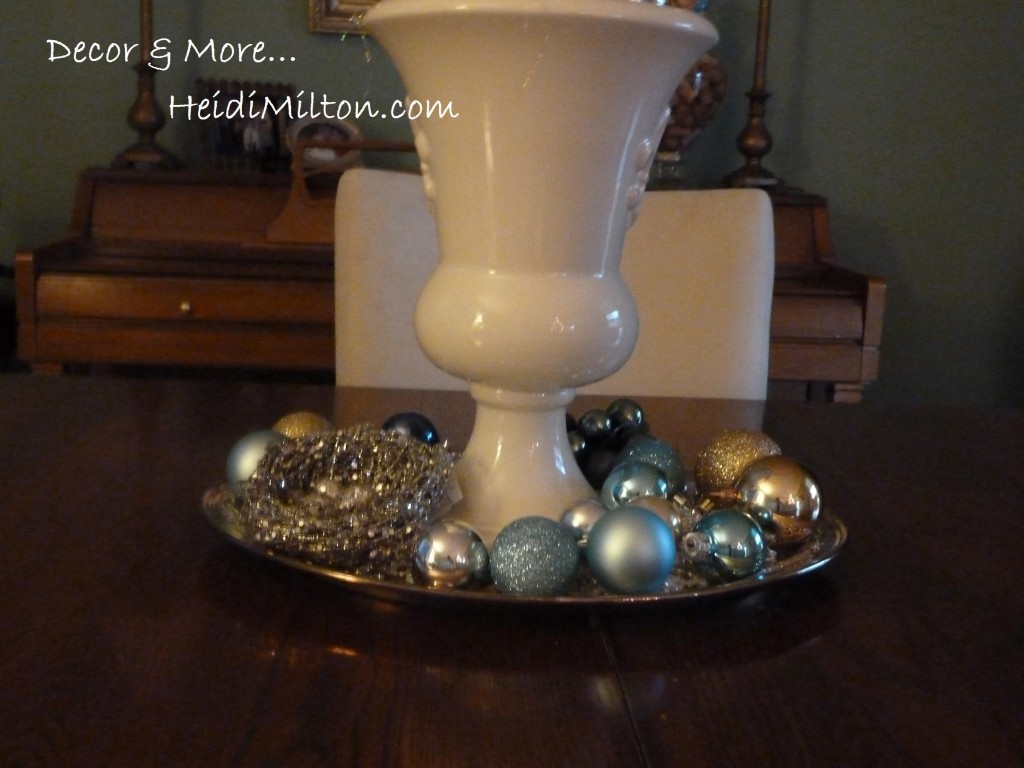 And here's the whole shootin' match: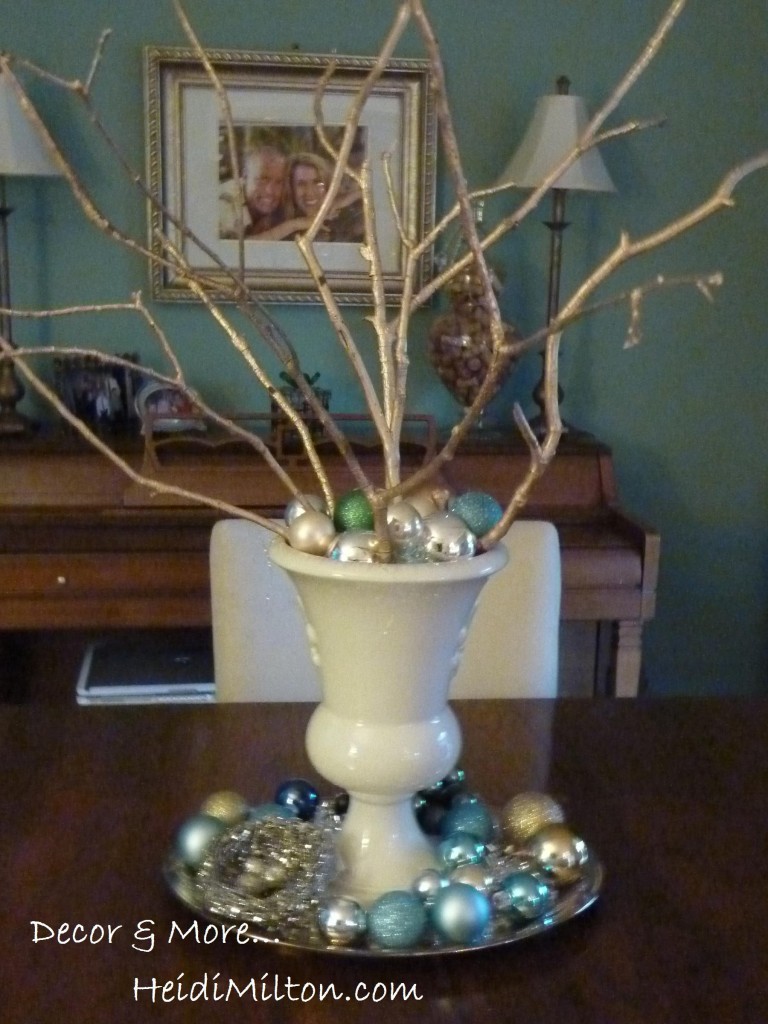 I think this is one of my favorite centerpieces I've ever attempted.  Easy and elegant.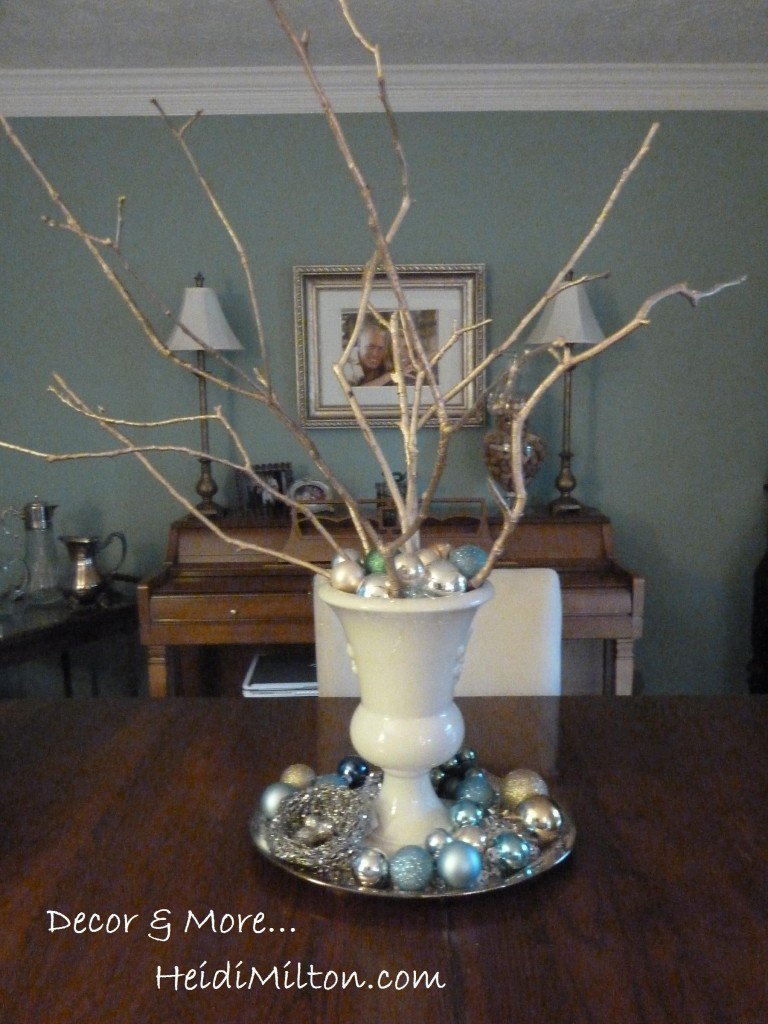 IThe lighting isn't the best in these because I was snapping away in the wee hours before I left for work.  *Sigh*  I'm soooo ready for things to slow down a bit so I can truly enjoy my holiday decorations and preparations.
Now all I need is a runner, my grandmother's white and silver china, and some pretty place settings and I'm good to go for Christmas dinner.  Heck, this would be awesome for New Year's, too!  What do you think?
Linking up!

Blue Cricket Design's Show & Tell Wednesday!

Share The Awesomeness at The 36th Avenue