Happy MLK Day, friends… I hope you are off today, snuggled in with a cup of coffee or tea and enjoying yourself!  I've been taking advantage of the long weekend in a big way… catching up on Legacy to-do's, working on reorganizing my office, reading, and even sneaking in a nap or two.  I'm still kind of low energy after my illness, so I've found I still need a little extra rest.  Let's hope it's not habit forming. 🙂
Speaking of when I was ill…there's nothing like being on your couch for about three weeks straight to make you want to freshen up your family room!
It all began with a couple of new purchases I made on Black Friday.  My trusty old Storehouse club chairs were past reupholstering (again) and when I spotted these on Joss & Main, I knew it was time to bite the bullet!
I totally lucked out… I had been keeping an eye on these chairs for a few weeks and knew I wanted them in taupe… and lo and behold, I got two of them with my Black Friday 40% off code and free shipping.  Score!!
You might have spotted one of them here…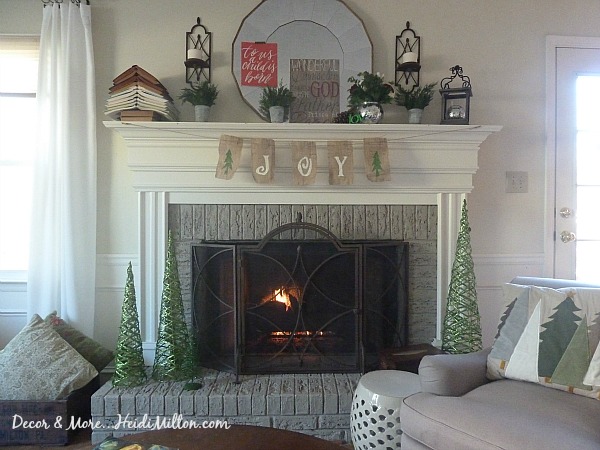 But after my extended couch-lounging, I decided they would look better side by side since their scale is different than any other seating pieces in the room.
And so I relocated them here… which opened a bit of a can of worms, but I'll share all of that in a later post. 🙂  You know how one thing leads to another??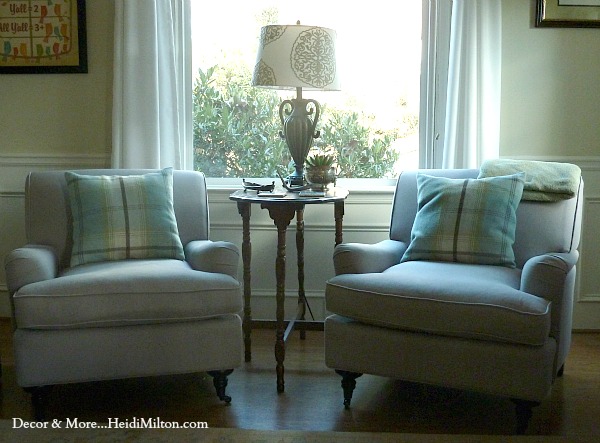 This end of the room is always tricky to photograph with the light so I apologize for the glare.   But you can see the sweet lines of these chairs.  They sit very comfortably, especially if one just sitting and not "lounging".  The color looks a bit gray in the photo, but it is actually more of a "greige".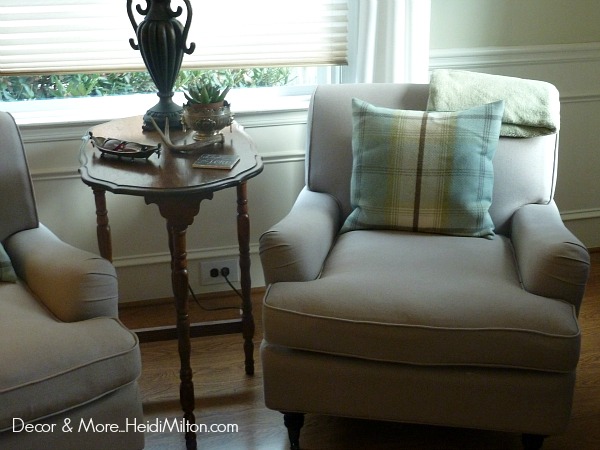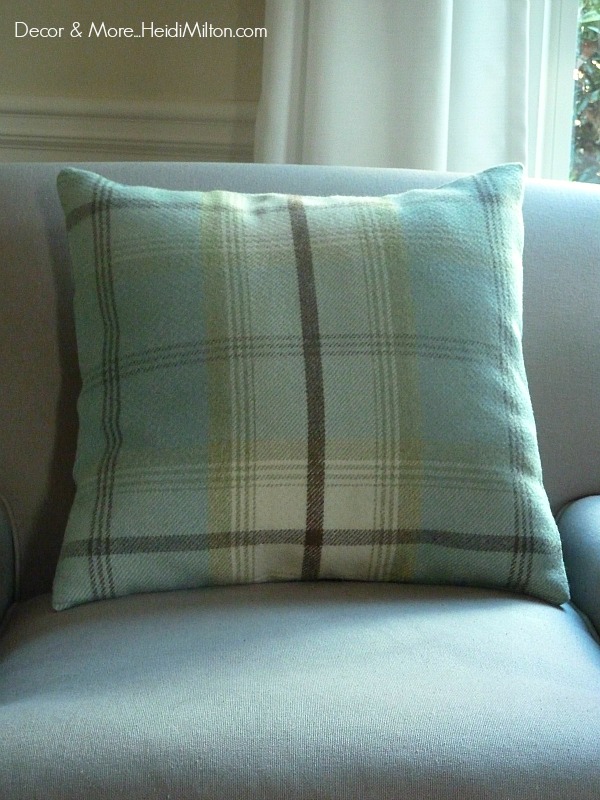 These new plaid pillow covers are just FABULOUS.  I searched for quite a while to find the perfect plaid that would incorporate the color palette of the family room, but I wanted wool for coziness.  I hit the jackpot when I found the Maisie V shop on Etsy.  The shop owner Jane had one of these listed… only one.  But I couldn't get it out of my mind — the fabric was beautiful and the plaid perfect and subdued.  So I messaged her to see if she could possibly do two for me.  She replied immediately that she was out of the fabric but would check with her supplier for me… within 24 hours I got a YES, submitted the order, and within a week got these two beauties — all the way from the U.K.!   And I. adore. them.  They are the ideal touch for the chairs and the room as a whole!  Thank you, Jane!  She's got gorgeous textiles in her shop and was such a pleasure to work with… if you're searching for the perfect textiles for your room, you'll want to browse her shop.  You're welcome. 🙂
When I moved the chairs under the picture window, I enlisted my young men to install a new rug from Mohawk Home's American Rug Craftsmen line.  As you know, I contribute to their blog a few times a month and one of the benefits is having gorgeous rugs at my disposal.  I pinned this one a couple of months ago, knowing it would be perfect for my family room.
American Rug Craftsmen, Sentiment rug
I am something of a traditionalist at heart and so while I do enjoy the occasional modern graphic rug, I really wanted something to evoke an antique Persian rug.  I'm drawn to spaces with those rugs.  And so when I found this one that has a Persian-like pattern, fading at the edges as if mimicking a well-worn rug, in my color palette, I knew I had to have it.
When I posted this pic on Instagram, it was clear a lot of you loved it too!
 Y'all.  I just want to lay on
this rug
or gaze lovingly at it all the live long day.  It is soft, but still low pile, and so gorgeous.  Probably my favorite rug.  Ever.
And here's a peek of how it looks with those chairs and pillows…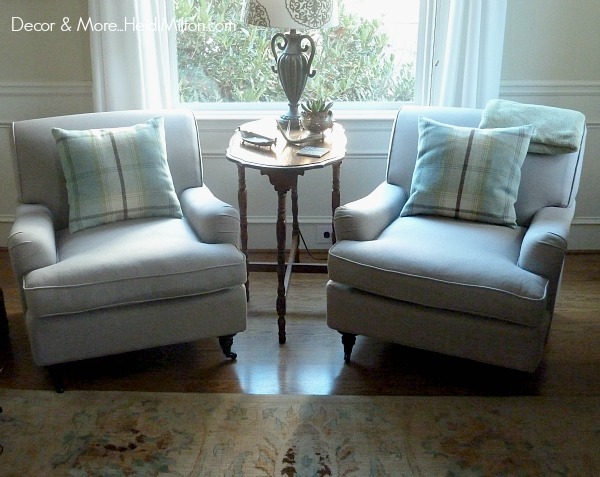 I'll be sharing more pics of the whole family room soon… the rest of it wasn't fit to share, if you know what I mean!  #reallife
I did seize the chance to do a little winter vignette on the table though…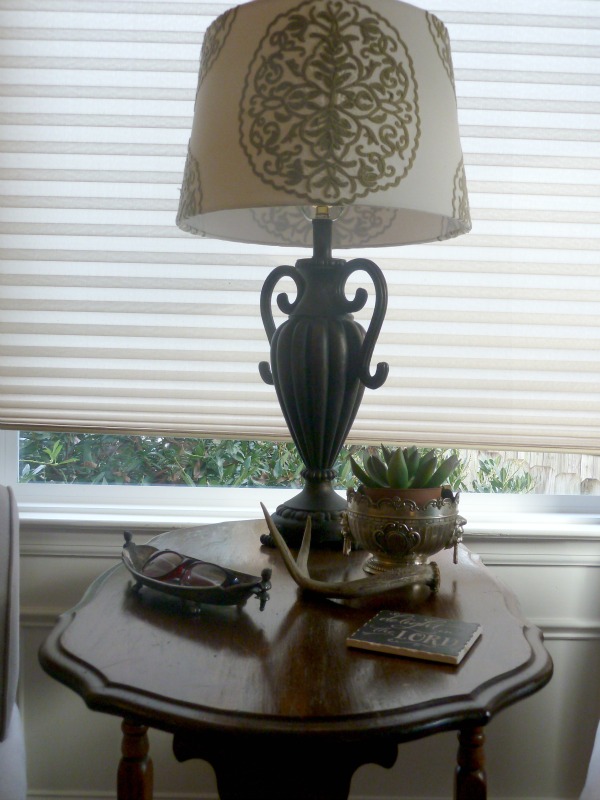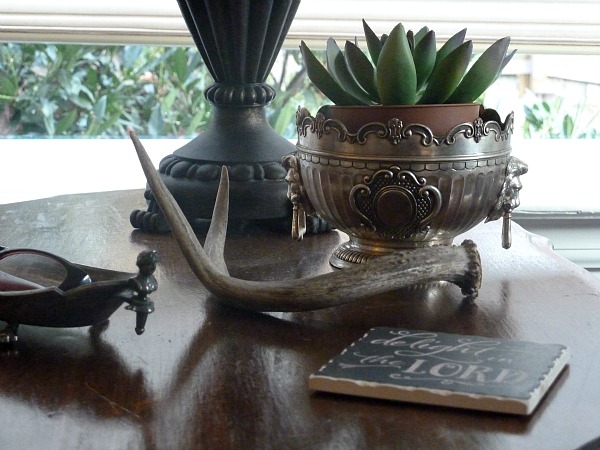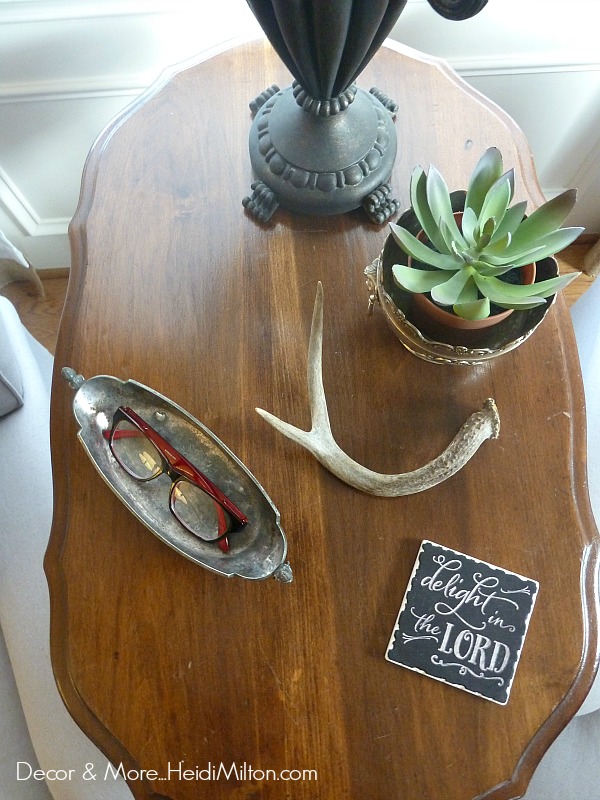 I love the shape and size of that table… a little antique store find from about a year ago.  THe birds' eye shows the warm wood tone more accurately.
So there's a peek at some freshening up that going on around here… I'm still pondering the mantel and will expand on the furniture rearrangement soon.  It's taken my People some getting used to, but it's growing on them!
Enjoy your day, everyone!