TGIF, friends! Thank you for all your sweet comments about Legacy yesterday… it's been amazing to watch God work and I look forward to the day I can share fully my testimony!  I'm finding the month of March flying by and my "to do" list growing by the day… how about you??  I've made good progress on my paint projects in the spare time (?) so I'll share more on those soon.
Today's Five on Friday is five books I've read recently along with a few thoughts… and I'll include a sneak peek of what's on my nightstand now, too.  Spring is always a good time to pick up a new book to enjoy on your porch or even sitting in carpool line, so I thought I would share these with you. 🙂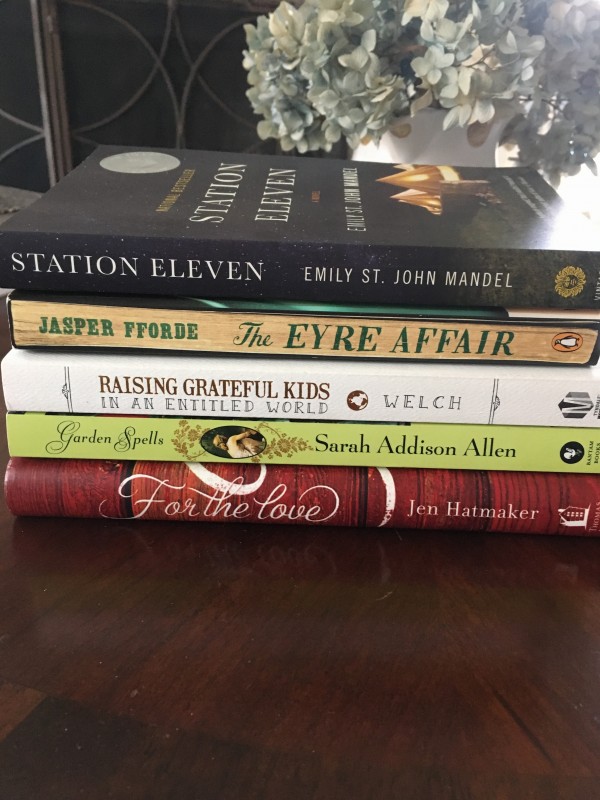 1.  Station Eleven.  My book club selected this book by Emily St. John Mandel for the month of January and I must confess — I was pleasantly surprised.  I don't normally read dystopian fiction but this story and the characters ultimately drew me in.  Mandel manages to avoid the typical post-apocolyptic blood and gore and focuses on the period of time 15 to 20 years down the road, with flashbacks to pre-apocolyptic times.  I wanted more from the ending (I wasn't alone in this thought), but I liked that it ended on a hopeful note.   Worth the read if you're looking for a change of pace.  Here's the Amazon summary:
Kirsten Raymonde will never forget the night Arthur Leander, the famous Hollywood actor, had a heart attack on stage during a production of King Lear. That was the night when a devastating flu pandemic arrived in the city, and within weeks, civilization as we know it came to an end.

Twenty years later, Kirsten moves between the settlements of the altered world with a small troupe of actors and musicians. They call themselves The Traveling Symphony, and they have dedicated themselves to keeping the remnants of art and humanity alive. But when they arrive in St. Deborah by the Water, they encounter a violent prophet who will threaten the tiny band's existence. And as the story takes off, moving back and forth in time, and vividly depicting life before and after the pandemic, the strange twist of fate that connects them all will be revealed.
2.  The Eyre Affair.   Yet another pick from my book club and one I didn't manage to finish before we met, but I did finish it afterwards (which is saying something!).  It took me a while to get into this one, but once I had bigger blocks of time to read, I found myself enjoying it more.  It's sheer fantasy, with some kitschy cliches and craziness, but it was a wee bit fun with a mystery to solve.  It's one I would not have picked up on my own, but I would consider reading another in this series.
Fans of Douglas Adams and P. G. Wodehouse will love visiting Jasper Fforde's Great Britain, circa 1985, when time travel is routine, cloning is a reality (dodos are the resurrected pet of choice), and literature is taken very, very seriously: it's a bibliophile's dream. England is a virtual police state where an aunt can get lost (literally) in a Wordsworth poem and forging Byronic verse is a punishable offense. All this is business as usual for Thursday Next, renowned Special Operative in literary detection. But when someone begins kidnapping characters from works of literature and plucks Jane Eyre from the pages of Brontë's novel, Thursday is faced with the challenge of her career. Fforde's ingenious fantasy—enhanced by a Web site that re-creates the world of the novel—unites intrigue with English literature in a delightfully witty mix. Thursday's zany investigations continue with six more bestselling Thursday Next novels, including One of Our Thursdays is Missing and the upcoming The Woman Who Died A Lot.
3.  Raising Grateful Kids in an Entitled World.  I blogged more in depth about this book back in January, but there are so many takeaways in this one, I had to mention it again.  No matter where you are in your parenting journey, Kristin Welch offers encouragement and suggestions with humor and honesty.  I highly recommend it!
"But everyone else has it." "If you loved me, you'd get it for me!" When you hear these comments from your kids, it can be tough not to cave. You love your children―don't you want them to be happy and to fit in?

Kristen Welch knows firsthand it's not that easy. In fact, she's found out that when you say yes too often, it's not only hard on your peace of mind and your wallet―it actually puts your kids at long-term risk. In Raising Grateful Kids in an Entitled World, Kristen shares the ups and downs in her own family's journey of discovering why it's healthiest not to give their kids everything. Teaching them the difference between "want" and "need" is the first step in the right direction. With many practical tips and anecdotes, she shares how to say the ultimate yes as a family by bringing up faith-filled kids who will love God, serve others, and grow into hardworking, fulfilled, and successful adults.

It's never too late to raise grateful kids. Get ready to cultivate a spirit of genuine appreciation and create a Jesus-centered home in which your kids don't just say―but mean!―"thank you" for everything they have.
4.  Garden Spells.  This book was recommended on the Modern Mrs. Darcy blog — or more specifically anything by Sarah Addison Allen.  While I wouldn't call this one a page turner, I thoroughly enjoyed Garden Spells.  It had just the right mix of well-drawn characters, some suspense, romantic angst, family dynamics, and a bit of magic.  Simply a well-woven story.  I'm looking forward to reading more of her books, but this is a good one.
In a garden surrounded by a tall fence, tucked away behind a small, quiet house in an even smaller town, is an apple tree that is rumored to bear a very special sort of fruit. In this luminous debut novel, Sarah Addison Allen tells the story of that enchanted tree, and the extraordinary people who tend it….
The Waverleys have always been a curious family, endowed with peculiar gifts that make them outsiders even in their hometown of Bascom, North Carolina. Even their garden has a reputation, famous for its feisty apple tree that bears prophetic fruit, and its edible flowers, imbued with special powers. Generations of Waverleys tended this garden. Their history was in the soil. But so were their futures.

A successful caterer, Claire Waverley prepares dishes made with her mystical plants–from the nasturtiums that aid in keeping secrets and the pansies that make children thoughtful, to the snapdragons intended to discourage the attentions of her amorous neighbor. Meanwhile, her elderly cousin, Evanelle, is known for distributing unexpected gifts whose uses become uncannily clear. They are the last of the Waverleys–except for Claire's rebellious sister, Sydney, who fled Bascom the moment she could, abandoning Claire, as their own mother had years before.

When Sydney suddenly returns home with a young daughter of her own, Claire's quiet life is turned upside down–along with the protective boundary she has so carefully constructed around her heart. Together again in the house they grew up in, Sydney takes stock of all she left behind, as Claire struggles to heal the wounds of the past. And soon the sisters realize they must deal with their common legacy–if they are ever to feel at home in Bascom–or with each other.
5.  For the Love.  If you don't read anything else this year, read this.  Jen Hatmaker just has a way of speaking truth in a way that feels like you're hearing it from your best girlfriend.  This book is packed with laughs and lessons, and you'll find yourself nodding your head and saying "Yes!  So true!"  and giving yourself grace in so many areas of your life.  I read this back in September and have picked it back up a few times since then to revisit certain chapters.  Don't lend out your copy — just buy another one for your mom, sister, best friend. 🙂
Best-selling author Jen Hatmaker is convinced life can be lovely and fun and courageous and kind. She reveals with humor and style how Jesus' embarrassing grace is the key to dealing with life's biggest challenge: people. The majority of our joys, struggles, thrills, and heartbreaks relate to people, beginning with ourselves and then the people we came from, married, birthed, live by, go to church with, don't like, don't understand, fear, compare ourselves to, and judge. Jen knows how the squeeze of this life can make us competitive and judgmental, how we can lose love for others and then for ourselves. She reveals how to:

Break free of guilt and shame by dismantling the unattainable Pinterest life.
Learn to engage our culture's controversial issues with a grace-first approach.
Be liberated to love and release the burden of always being right.
Identify the tools you already have to develop real-life, all-in, know-my-junk-but-love-me-anyway friendships.
Escape our impossible standards for parenting and marriage by accepting the standard of "mostly good."
Laugh your butt off.

In this raucous ride to freedom for modern women, Jen Hatmaker bares the refreshing wisdom, wry humor, no-nonsense faith, liberating insight, and fearless honesty that have made her beloved by women worldwide.
Bonus:  What's on my nightstand…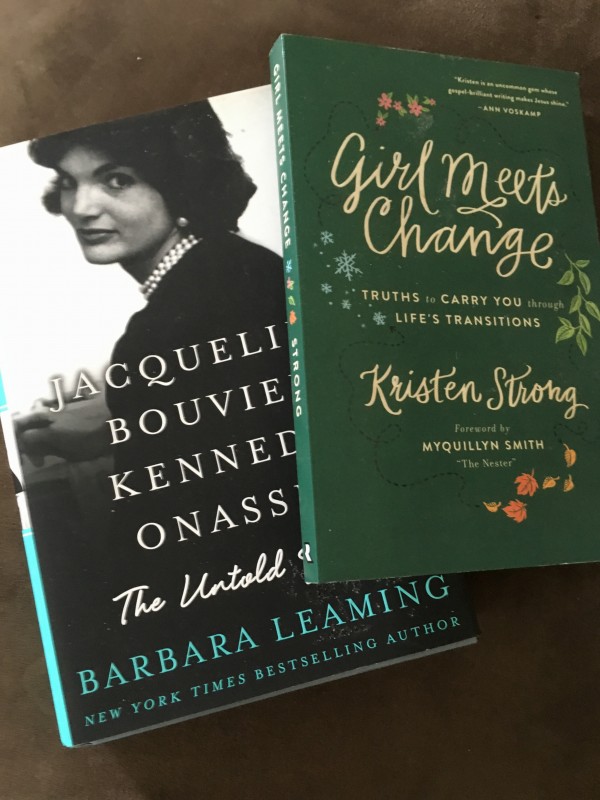 I've been reading Girl Meets Change by Kristen Strong off and on for a few weeks now, but will probably dive in this weekend to finish it.  You all know I've been living through big changes this past year and so it seemed like a timely read for me… I was right.  I'll share more thoughts on it soon.
The biography Jacquline Bouvier Kennedy Onassis by Barbara Leaming just jumped into my hands off the discounted books shelf at the bookstore.  I've had a goal to read more about her for some time — not so much her time as First Lady, but her life afterward.  This is proving a pretty easy read, but I'm still getting through her youth and am ready to get to her later life.  I'll let you know how it goes.
So there you go — a few books to look into and nice variety if I do say so myself. 🙂  That's another goal of mine this year: to read more varied topics and titles.  So far, so good!
Have a super weekend, friends!
The title links in this post are affiliate links; you won't pay anymore for your purchase, but I will receive a small commission.  Thank you for your support. 🙂