It's been a while since I plugged my Willow House business, so I decided to share some of my favorite gifts from our Spring catalog today.  With Mother's Day around the corner and the hunt for teacher gifts beginning, I've pulled together some under $40 options for you.  Remember you can order directly from my website and it will be shipped to you — no party hostess business to contend with. 🙂
So here you go…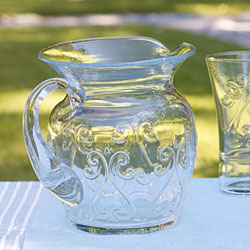 This Simone pitcher is my go-to for entertaining.  She's gorgeous– dishwasher safe, holds 8 cups, and fleur de lis embossed.  Need I say more for $35?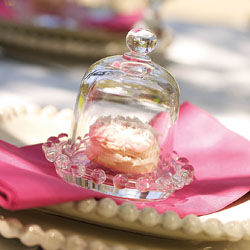 The decorating and serving possiblities are endless with the Amelia Thimble Domes… aren't they precious?  4 inches by 4 inches, set of 3 includes the beaded saucers.  You could even split these up for teacher gifts, put a goody inside each one.   Just $35 for the set of 3!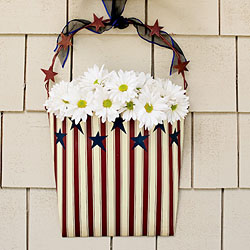 The Star Spangled Door Bucket graces my front door from May to October!  I love the patriotic punch and the beauty of door buckets is that they can double as storage while looking pretty.  Only $35 for this beauty!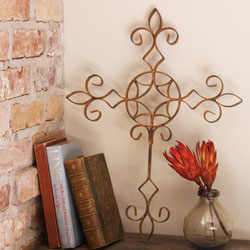 An long-time customer favorite — the Franciscan Cross.  She measures 15 x 20 inches but the open work keeps her light.  $32 for this gorgeous rustic touch.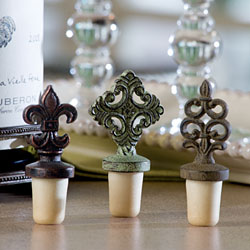 What hostess doesn't love decorative wine stoppers?  Can you guess which is my favorite? 😉  Give all three of the Carrigan Wine Stoppers to your favorite wine connoisseur, or split them up and pair each with your favorite wine as a neat gift.  $32 for all three!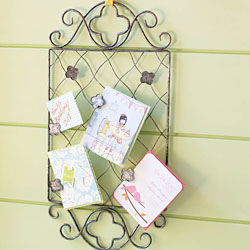 Perfect for any mom or teacher, our Keepsake Card and Photo Holder sports an antique pewter finish and comes with six clips to display her favorite mementoes.  I love the idea of having this in the kitchen with the family's favorite recipes clipped and handy.  $35 for this versatile gift!
Don't forget to check out my Willow House page for my on-going sample sale — you might find a good steal or two!
I can't close this post without thanking all of you who have stopped by with comforting words and prayers for my family.  You have no idea how much your prayers have meant to us — we have been lifted up and uplifted over and over again.  We are at the beginning of a long and painful journey, but our faith is strong and we are comforted that we'll all be together again someday.  Bless you all, friends.