Easter is upon us, friends!  I love what this holiday symbolizes: hope, new life, new beginnings.
My dining room table is covered in supplies for various projects in the planning stages (can you say "crafter's ADD?"), so I did not do an Easter tablescape this year.  Well, that and I've been obsessed with getting my kitchen finished up.  Last year I pulled this one together quite simply, so you can read all about it HERE.
Someday I'll be able to see the top of my dining room table again.  🙂
We're having a casual Easter celebration this year.  I'll be driving my daughter back to UGA that afternoon, so rather than spend most of the day preparing a big after-church lunch, we'll be grilling out, lounging, and visiting — making the most of our family time.
Here's a little Easter goody for you!  Those of you that have coveted my Ballard's pear (in my header photos) can get one of your own on SALE right now…
Get yours HERE for $25.  These are beautiful and versatile pieces.  I think mine have been in almost every room in my home at some point over the last 9 years that I've had them.
Today is my girl's 19th birthday, so I am off to Athens to lunch and shop with her and then will bring her home for the Easter weekend.
Hoping your weekend is full of family, friends, and celebration of hope.
Happy Easter!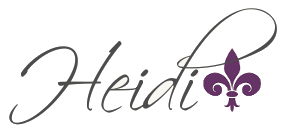 &copy Copyright
Heidi
, All rights Reserved. Written For:
Decor & More