Hi there, friends, and Happy Monday to you!  Do you hear the clock ticking toward Christmas??
Today I'm hanging out over at Stay-at-Home Artist…do you know Kacey?  She's got a sweet little Etsy shop and does all these wonderful crafty artistic projects that I just love.  And now she's out loving on a brand new bambino… how sweet is that?  Pop over and say hello!!
I also wanted to share my first foray into DARK WAX.
I was afraid.  I don't know why, but I was.
And then I got brave with a wood end table…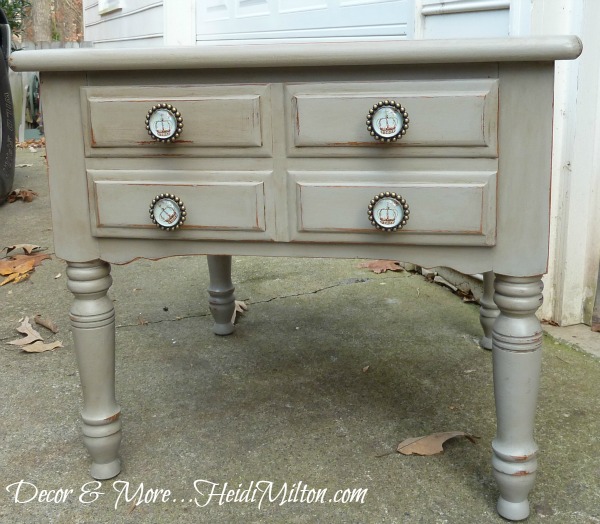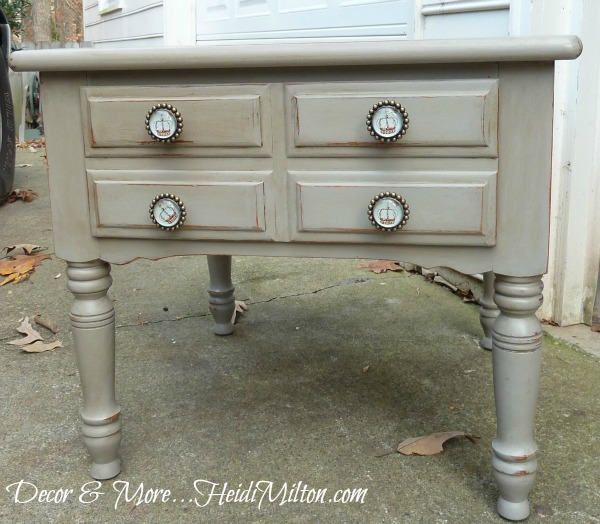 Yes, the driveway painter/stager strikes again… I did crop out the part showing my car parked right there. 🙂
This little table was a flea market find — solid wood but a nice orangey color I couldn't abide.  And, of course, I forgot to take a before shot!  Anyhoo, Annie Sloan French Linen to the rescue!
I painted two coats on the body and drawer front, 3 coats on the top.  Then I sanded and lightly distressed.
Then it was clear wax followed by dark wax, working in small sections.  This was MUCH easier than I'd feared!  I just used a little clear wax on my rag to remove or tone down the dark wax I didn't want (because it goes on REALLY dark).
I let it dry overnight and then buffed it.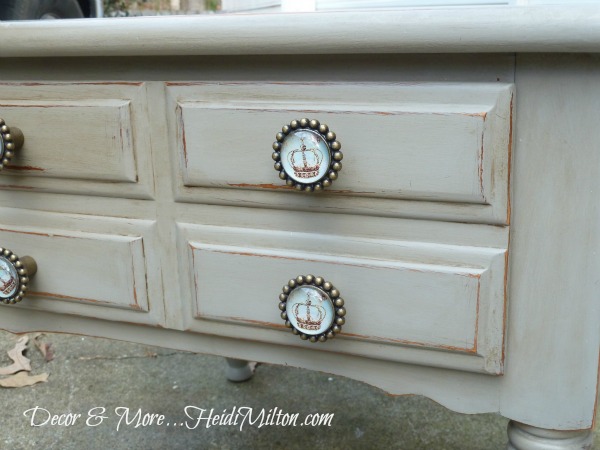 Got these fun little knobs at Hobby Lobby 50% off… aren't they perfect for this piece?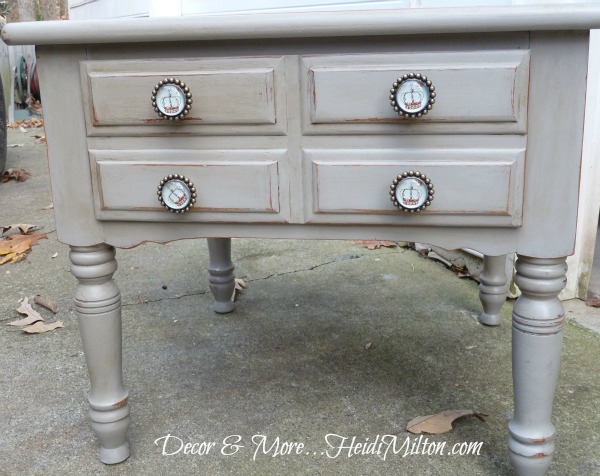 And, I just noticed that one of my knobs is a little wonky in the pictures, because I'm impatient like that… and clearly needed to be blowing the leaves off my driveway.
This little lady is loaded into the booth, waiting for someone to take her home!
I got almost all of my decorating done this weekend and managed to squeeze in watching the SEC Championship game (the Dawgs are champions in my mind!) AND "Elf" (one of my favorite Christmas movies EVER), baked some cookies, and made a pot of homemade chicken soup.  There was also a little online shopping finished up and a start made on addressing Christmas cards.  Woo hoo for productive weekends!
I'll begin sharing all my Christmas decor later this week.
How was your weekend?  Any baking or decorating done??
Sharing at Primitive and Proper this week!