Hi friends!  I hope you're enjoying a great week… we've got spring creeping in here and I spent most of last weekend knocking out my painting projects.  Confession:  that bed was a beast!!  My back is still stiff from endless crouching and contorting my body to get those posts properly painted.  It's amazing how much better it looks, though!  Here's the before…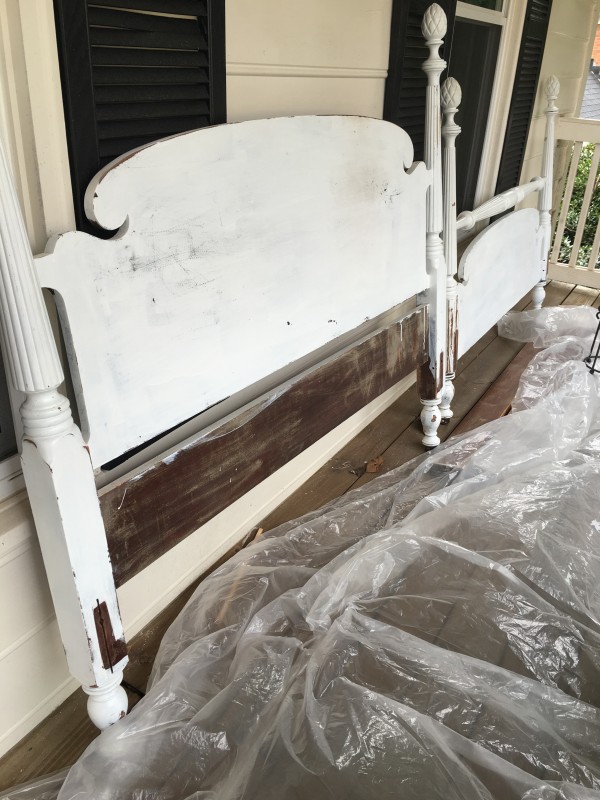 I used Farmhouse Paint in Cotton White… it's a nice crisp white.  Not too creamy, not too bright.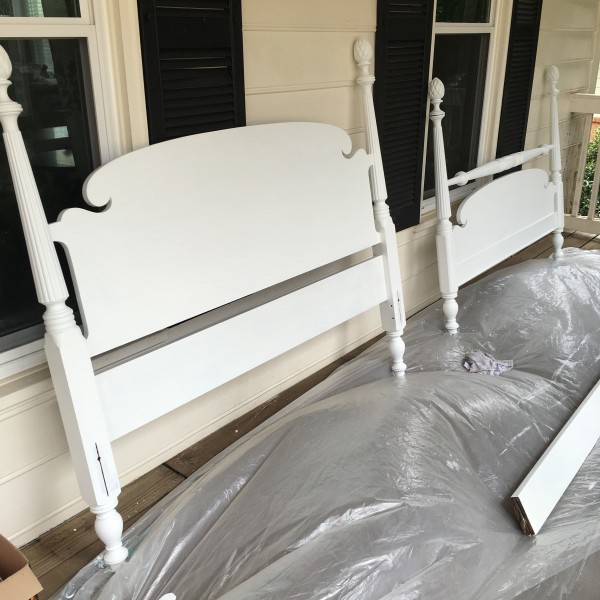 Anyway, I mentioned that I was considering a stencil treatment for the headboard.  I'm a little conflicted though, so I thought I would share my final few and let you help me decide. 🙂  Bear in mind this is going into my booth, so while I want it to be unique, it needs to have something of a broad appeal, too.
Option 1: French Love Letters Stencil.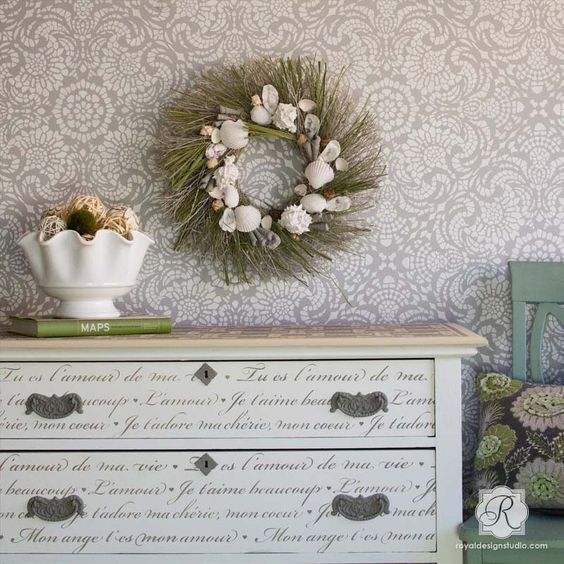 I love the look of this and would stencil this in a soft gray… so I could center the stencil in the headboard (it's 20 inches wide and 8 inches high) or I could cover the whole headboard and upper panel of the footboard, too.
Option 2: Gigi Scroll Modern Stencil.
So this is a more contemporary design and I would use gray again (or maybe a metallic silver or gold?).  This would be interesting, I think, on such a traditional piece.  Again, I could center a single stencil or do the whole headboard and footboard.
Option 3: Ribbon Damask Stencil.
I've had my eye on this one for a while… I would do one stencil centered on the headboard.  It's 13 inches wide and 16 inches high.  It seems to suit the style of the bed, no?
Option 4: French Flourish Stencil.
I adore the simplicity of this one, but it's only 9 inches wide and 7 inches high… too small??  Or just the right amount of embellishment?  One on the headboard and one on the footboard?  Would the simplicity make the piece more versatile?
Okay, gang… let me know your thoughts!  It will be next week before I tackle these finishing touches.  But stay tuned for pics of that turquoise desk in my booth later this week!  Back soon…