Happy Monday, friends!  I hope you had a great weekend.  I had a pretty low-key one just taking care of Legacy loose ends and plodding through my purging.  I was battling a low blood pressure so I didn't get TONS done, but progress is progress, right?
Today I thought it would be fun to share a few of my favorite elements from this year's HGTV Dream Home.  This year they brought Brian Patrick Flynn on board and the design felt very different and fresh from previous years — and typically not my taste.  But I was surprised how many things about this house spoke to me.  Just goes to show you that you can find inspiration even when you don't think something is quite your cup of tea. #keepanopenmind
First of all, I think they hit it out of the park with the exterior!  I love the black trim accents, wood stain front door, the metal roof, and brick walkways and drive.  If we were staying in our house, I would totally embrace this scheme.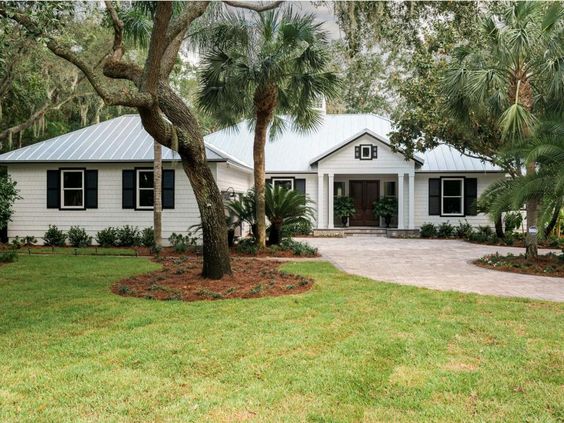 The fire pit looks so inviting, doesn't it?  I love that they situated it between the pool area and the water.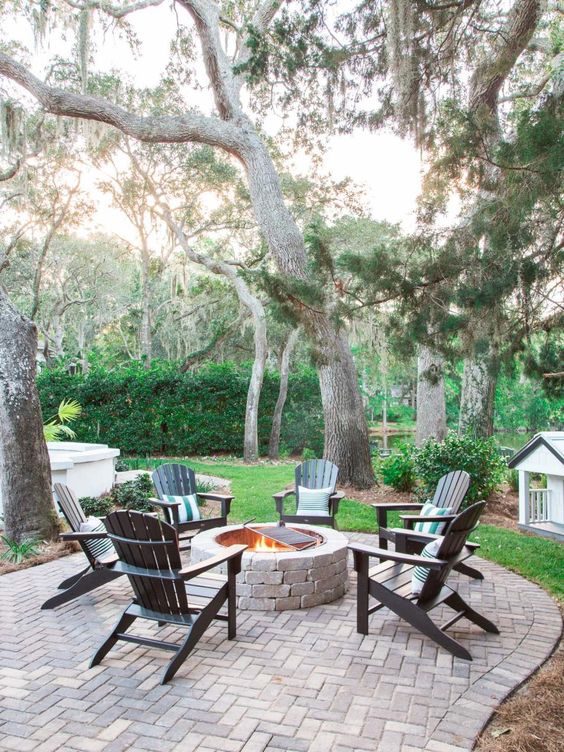 And the herringbone pattern of the bricks?  #love
This view…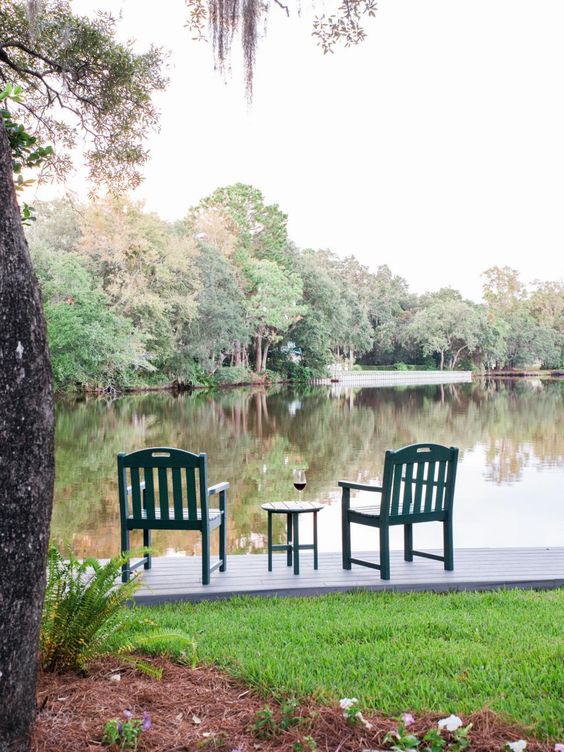 Let's go inside…  and just for the record, I'm sharing only the parts of the home that I found inspiring.  There were a few spaces and design choices I couldn't quite get on board with (plaid guest room, I'm looking at you), but I found some really awesome elements I thought would be fun to share. 🙂
The mix of textures in the living room is masterful… cypress ceiling, crystals on the light fixture, that nubby rug and all those throw pillows…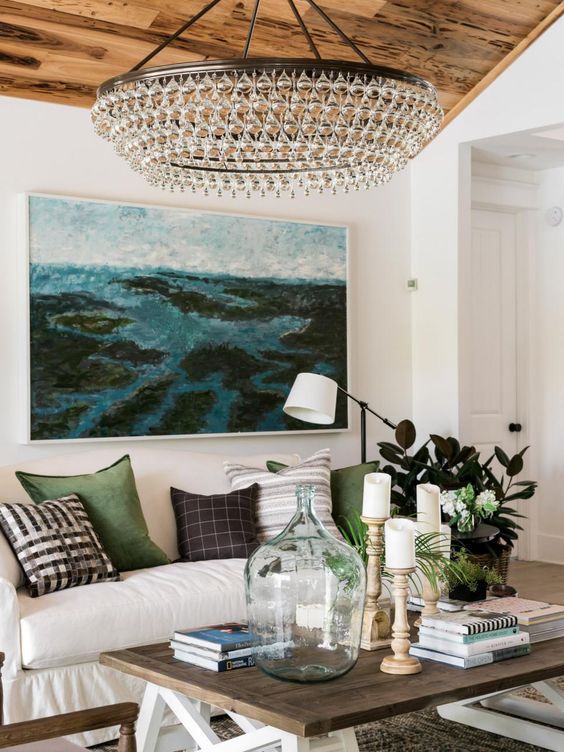 I also like the way this space ties in so beautifully to the kitchen with its natural wood elements, industrial touches and earth tones.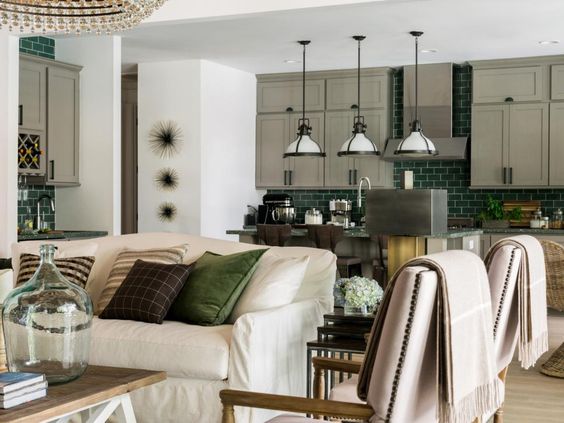 I wouldn't call the kitchen my favorite space, but I do give it points for warmth!  I especially like the cabinet color… so understated to balance out that vibrant green tile.
The master bedroom had me at NAVY.  This bright space is brilliantly pulled together with white bedding and drapes (love the fullness!), patterned upholstery and the light wood floors.  I think navy is my love language these days…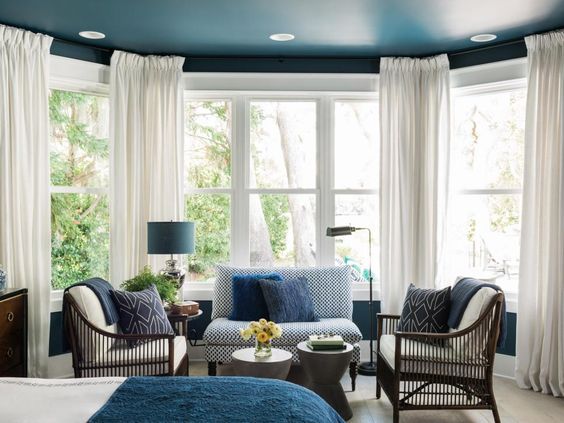 I'm only slightly obsessed with this rug…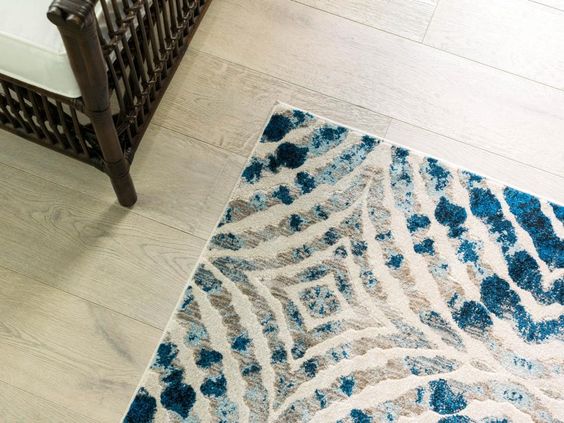 In the master bathroom, I loved this vignette, with its unique wall decor, shiplap walls and that sweet natural wood chest…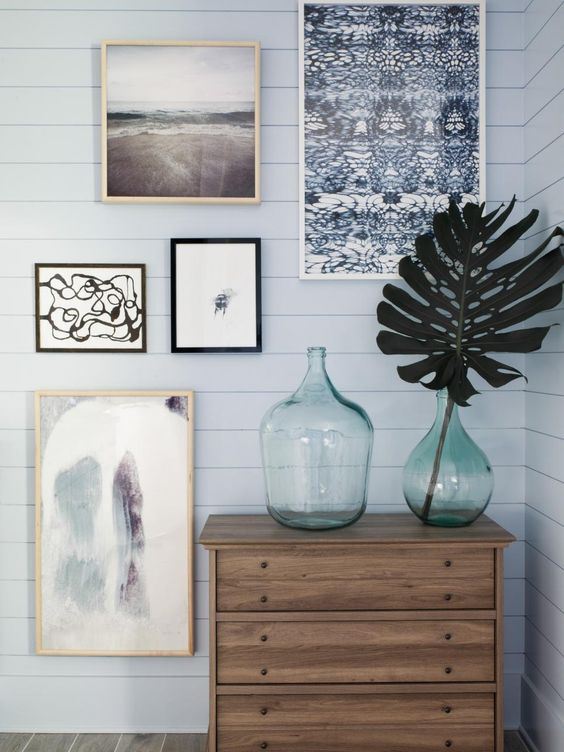 And then there's the navy love fest in the "pool lounge"… That sofa has me swooning!  And the price point does as well. 🙂  That cypress mantel and the leather arm chairs are the perfect accents to add warmth and texture.  Well played, pool lounge.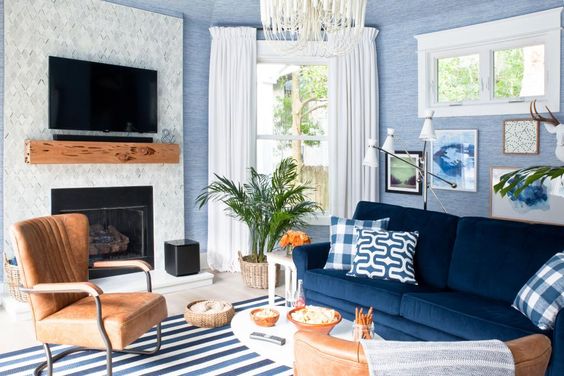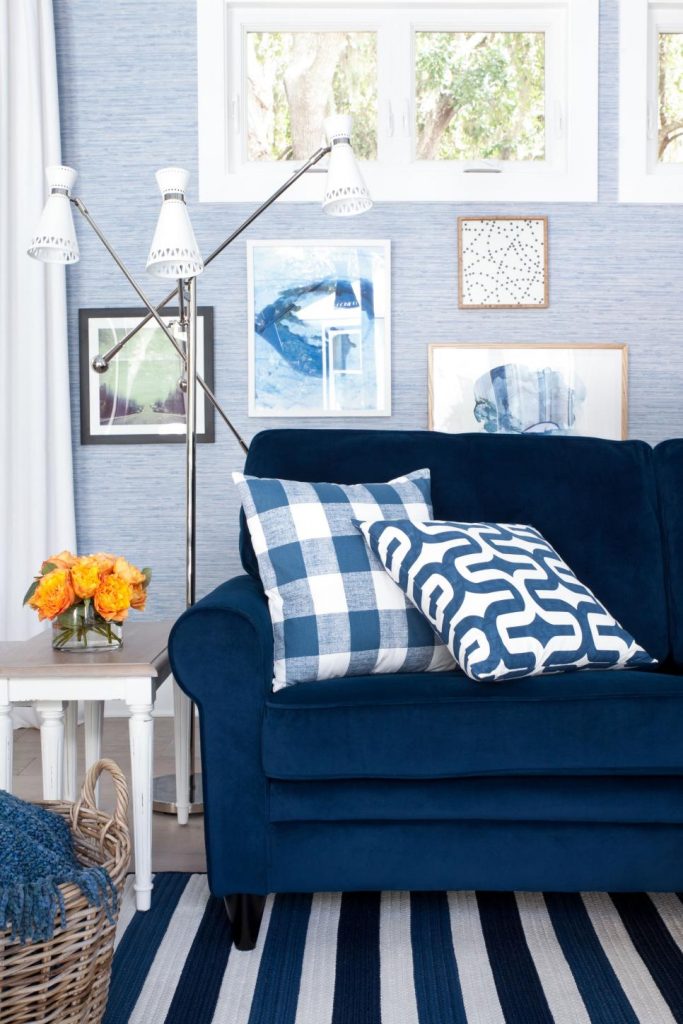 This artwork, y'all… Three-dimensionality courtesy of screws?  Brilliant…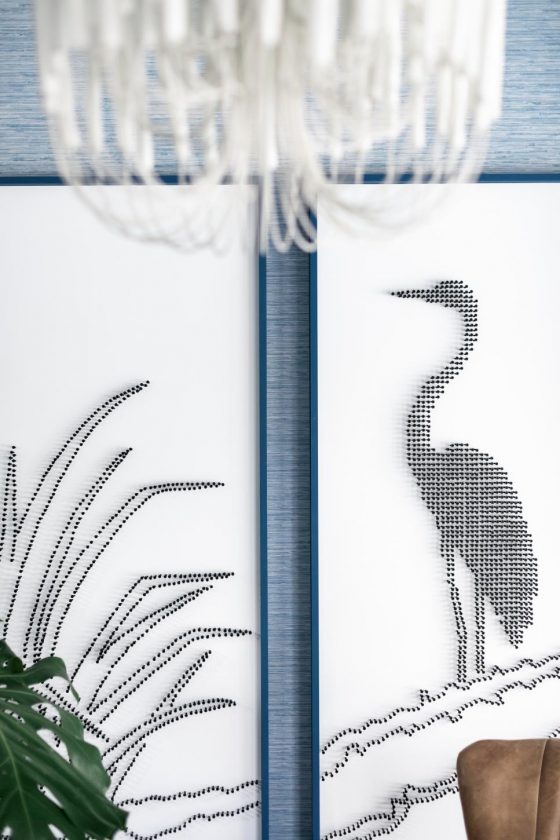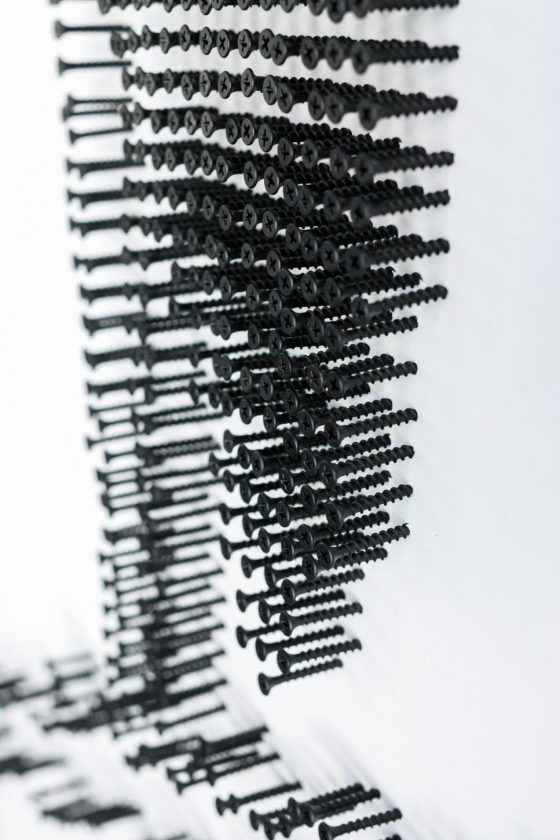 The colorful terrace guest room was a pleasant surprise for me.  I love that it's more playful than the other spaces with a bright palette and shiplap walls.  And these book towers are speaking to me.  Actually this whole vignette is speaking to me. 🙂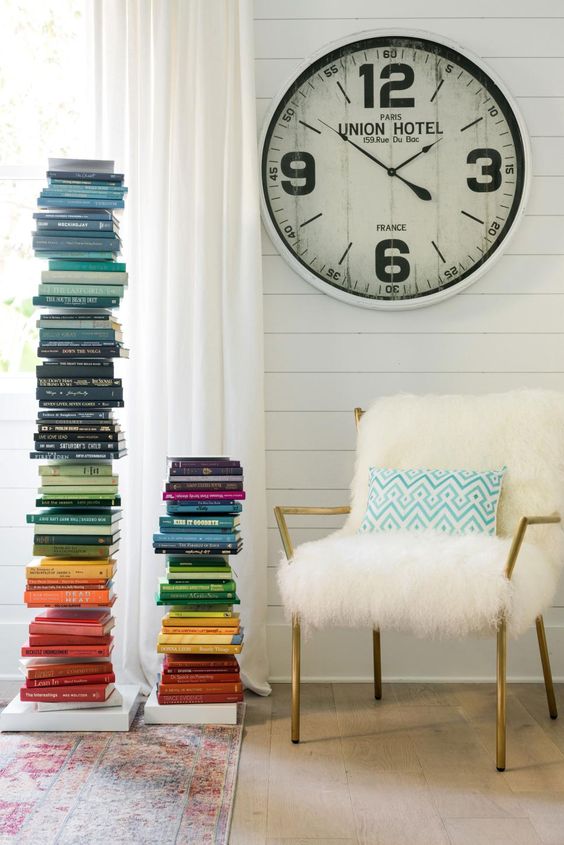 Plus the rug.  Find it here.
And of course, the gorgeous pool deck is on my "Love it" list with this house… did you see the "before" on the Dream Home TV special?  This outdoor space is totally a home run for me.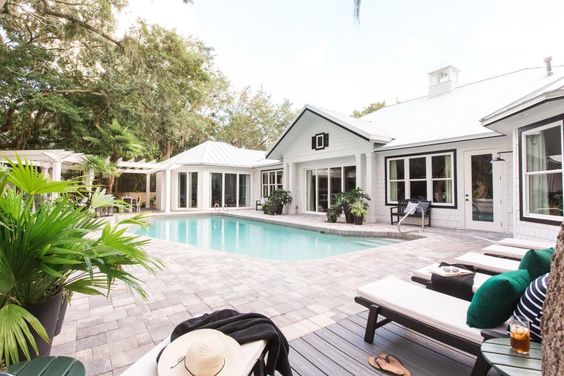 And again with that black trim. 🙂
Okey dokey, that's a wrap!  I added a few links to certain products but they are not affilliate links, just a courtesy in case you're loving the same things I am.  All photos are from the HGTV galleries. If you get a chance to check out the TV special, it's fun to watch the transformation!
Have you entered to win??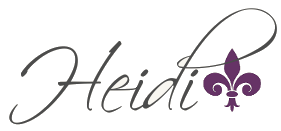 Save
Save