I hope my email readers are receiving this…I am having trouble with Feedburner and email notification of comments, so please bear with me for another week or two until I have the sanity to address techinical issues. 🙂
Happy Monday, y'all — the countdown is ON!  I had a lovely but very busy Mother's Day weekend and am ready to call this school year d-o-n-e. 🙂
I did manage to do a few productive things over the weekend, including make progress on my Small Space Project (Yay!).  But to say I have a long way to go is an understatement.  I promised you pics of what my world looks like now and the living spaces are in particularly sorry state.  The addition of two of the Big Kids back in the fold has magnified what was already disaster in the making.  I figure I'll tackle it when school's out and I've gotten a little sleep.
Sad thing is… I took these last Friday morning and as of today… it's even worse.  Ugh.  But here it is, evidence that the house just gets (and stays) messy sometimes.  Can you relate?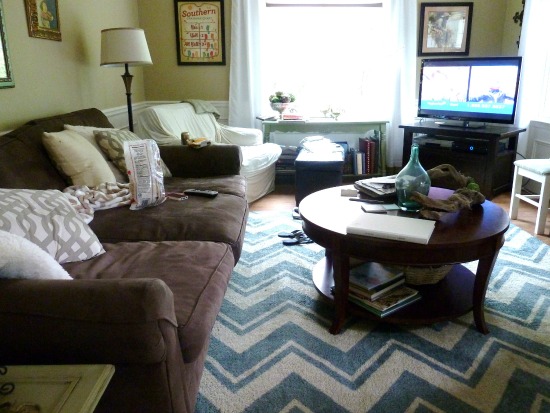 You can't see it but that ottoman under the window?  Covered in my stuff — my journals, my Bible and devotionals, the morning paper, my planner…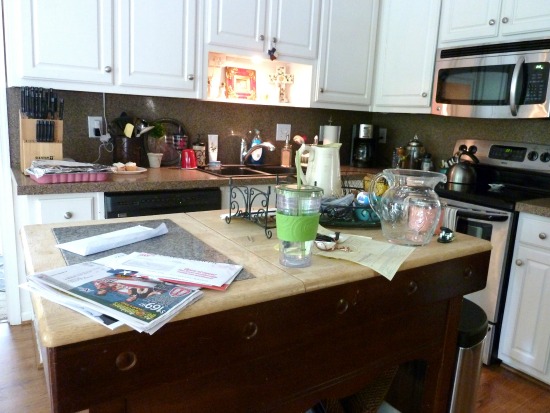 Piles on the island…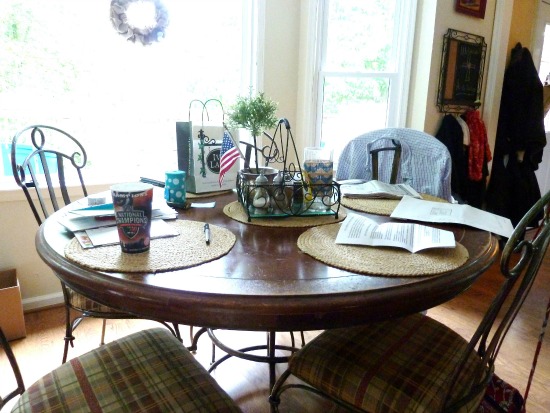 You can hardly see the table top right now — this was tame by comparison!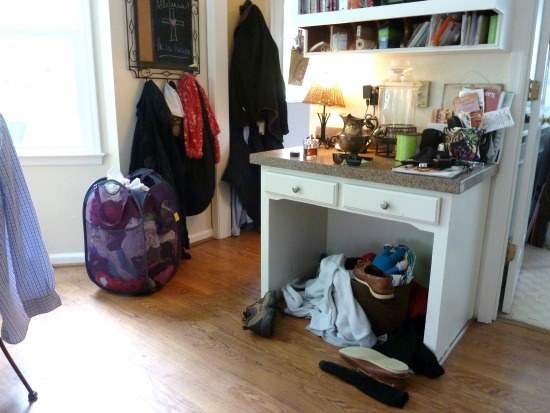 The laundry bag has disappeared after being there for five days, but the pile of shoes and sweatshirts remains. Oh, and there's now a pile of towels on the floor where the laundry bag was…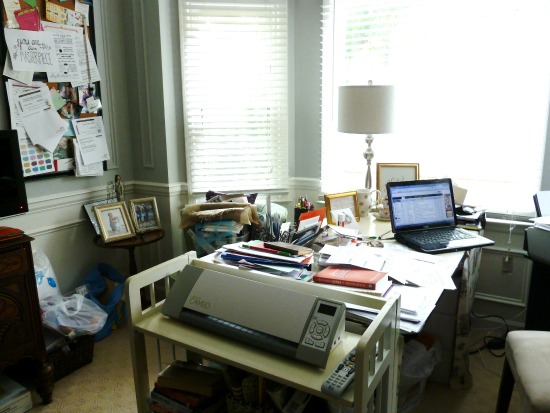 This gets to me — my desk top is unmanageable.  Note the piles on the chair and on the floor as I stage partially done craft projects and year end gifts for the Littles.
Yikes.
Ok, so surely now you feel better about the state of your own home!  And I didn't even show you the basement/game room/Big Kids' space downstairs or the upstairs bedrooms.  I figure there's only so much you can take…
You're welcome. 🙂
Hope your week is off to a great start!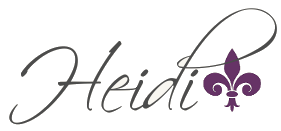 &copy Copyright 2014
Heidi
, All rights Reserved. Written For:
Decor & More