Well, it would seem the Atlanta Metro area has learned a lesson.  Schools were closed yesterday and today in anticipation of wintry weather yet again.  And while yesterday wasn't such a big deal with just rain and snow mixed mess, at least the roads were kept clear to prepare them for last night's blast of snow and ice.  We're hunkered down with an extra teenager or two (you knew that would happen), a full refrigerator, and wine.  Unlike last time.  Apparently I learned my lesson, too. 🙂
Anyway, one of the things I love about January/early February is that spring sports have not begun, hunting season is in session, and my calendar miraculously opens up to all kinds of favorite pursuits.  Like painting, movie watching, reading, and — yes — thrifting.
If you follow me on Instagram, you've already spied these babies, but it's been a while since I did a post like this so…
Snapped up at the neighborhood church thrift store…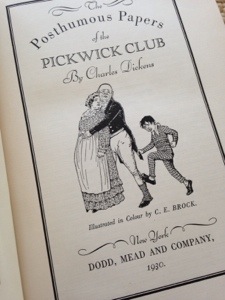 This 1930 illustrated edition of Charles Dickens' Pickwick Papers.  Who donates treasures like that anyway???
And at the Goodwill, this fun tome…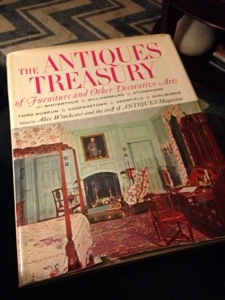 Confess that I spent an evening on the sofa with this one!  I especially loved the sections on silver.
And speaking of silver, I scored this vintage pitcher from the (now closed) Charlie Ford Vintage, an online vintage and antique market place.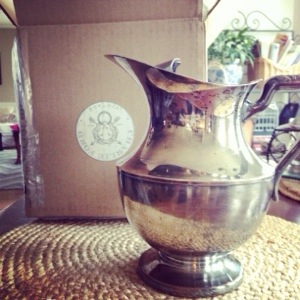 While the piece itself was an amazing deal, the shipping from Canada wasn't so much.  BUT — I love it so.  Look for it turn up on my mantel with a bunch of tulips very shortly.  Like, as soon as the ice melts and I can get my hands on some tulips. 🙂
And, just as a little lagniappe in this post, my latest read that I absolutely could. not. put. down.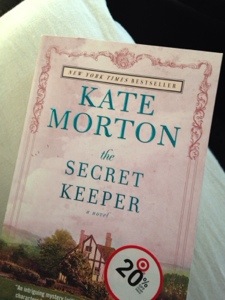 If you like historical fiction, Kate Morton is your gal.  I've adored everything she's written.  And this one kept me up way past my bedtime and kept me guessing until the end.  Ever put down a book and say to yourself: "Ho-oly smokes."  Yeah.  This one will do that to you.  You're welcome. 🙂
Today we're just hoping the power stays on… I've got Mod Podge and watercolors on the brain today and it's kinda hard to do either of those with gloves on.  Just sayin'.
What's the weather like where you are?  Done any thrifting?  Read any good books?
Disclosure: The link above is an affiliate link.