Today I'm headed to Athens to see my daughter, but I owe you a new project announcement, right?
I love new projects.  And I'm so happy to have Spring Break next week to jump start this one!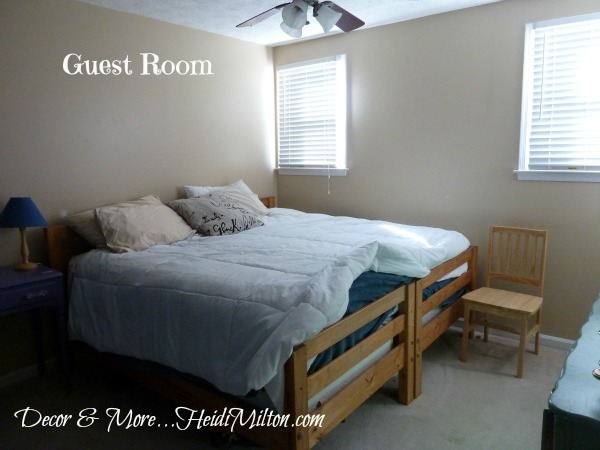 I can't believe I'm showing you this sad sad space.
Let me explain before you start hating on me!  This used to be my older son's room.  Last summer, he moved into my daughter's (much larger) old room after SHE decided to move downstairs into my oldest stepson's old room.  Did you follow that?
My youngest son is content where he is (for now), so this room is now a dedicated upstairs guest room.
This is what happens as your children get older and go away to school or graduate college and move away.  Make no mistake, we fully expect Boomerangs (and do have one occasionally).  However, it gives me a great opportunity to really decorate a guest room, instead of having my guests stay in our children's old haphazardly decorated rooms.
I've been so excited about this and even have a Pinterest board of Guest Room Ideas I've been collecting for several months.
So what are you seeing?
Tan walls, twin pine beds pushed together (with a king size mattress on top) and mish mash of king size bedding and left over pillows.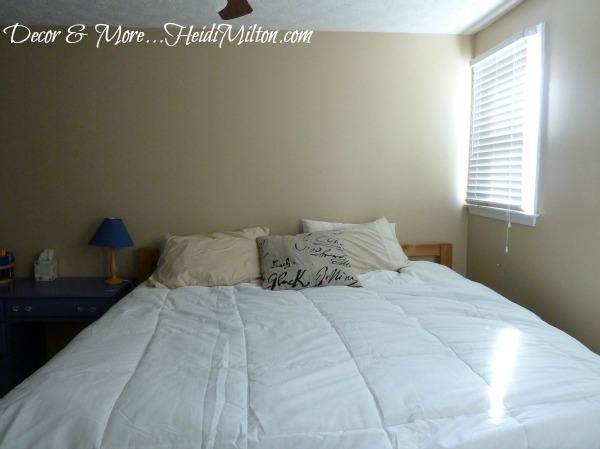 The king size bed takes up most of the room quite honestly, but my son is a large/tall individual and wanted a king size bed.  He got his childhood twins plus my stepson's old king mattress.  The purple desk you see to the left of the bed is my daughter's (it was actually part of my older brother's bedroom furniture that I painted for her years ago!).  It's a sweet and solid piece that's on tap for a new paint job.
One of the big changes will be letting the beds be twins again!  I still have the twin mattresses and I think they will suit the room so much better than that massive king.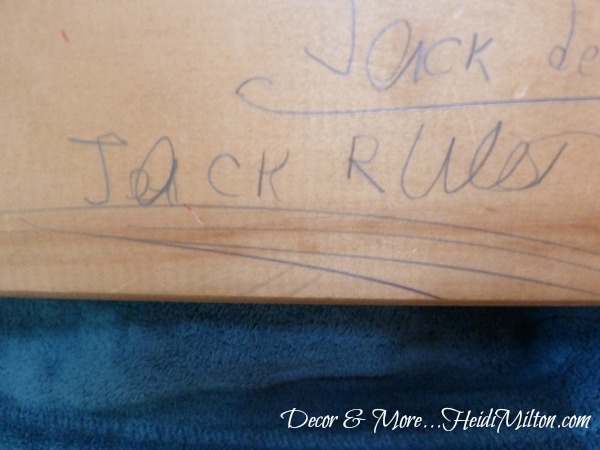 The beds are on tap to be painted as well.  That honey pine finish just doesn't work for me and as you can see, Jack (aka Picasso) left his mark.  Both of the boys at some point wrote all over both the beds.  Not sure where I was during all of that… 😛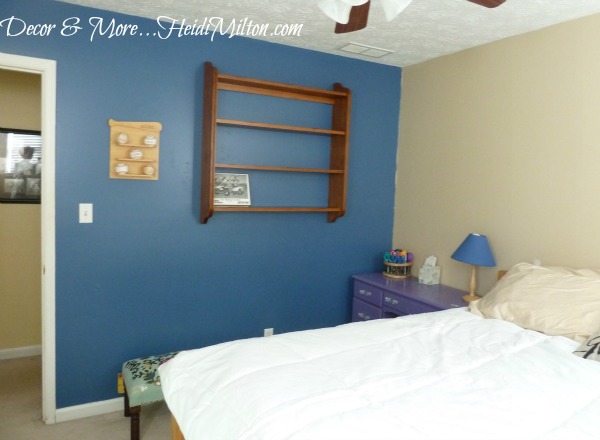 yes, that's an accent wall.
It's actually a great color and it looked pretty cool with my son's bedding and furniture.  That's his Pottery Barn wall shelf that probably won't be staying.  And his game ball collection from his baseball days (8+ years ago??  yikes!).  But this particular accent wall is on it's way out.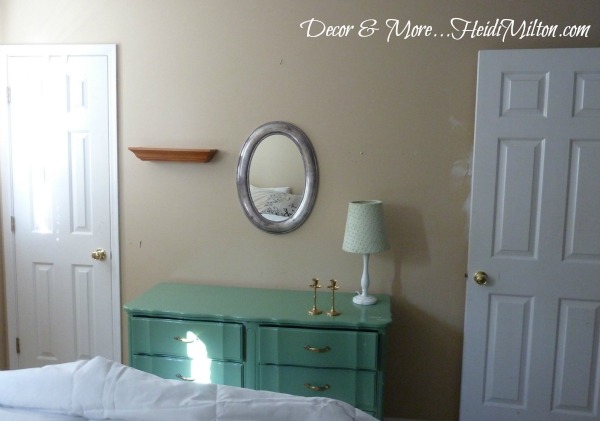 That sweet little dresser is one I thrifted and painted for my baby girl (who turns 20 tomorrow!) waaaayyyy back in 1993, before thrifting and rehabbing furniture was cool.  While the color is pretty good, it will get an update as well.  And she'll probably want it back somewhere down the line, so why not update it now for her?  It it can just look cute in this space in the meantime.
The random ledge will come down and the jury's out on the mirror.  The lamp is just a left over from past kids' rooms that wound up here because it had a bulb that worked.  Seriously.  Are you feeling how pathetic this space has been for the last 9 months??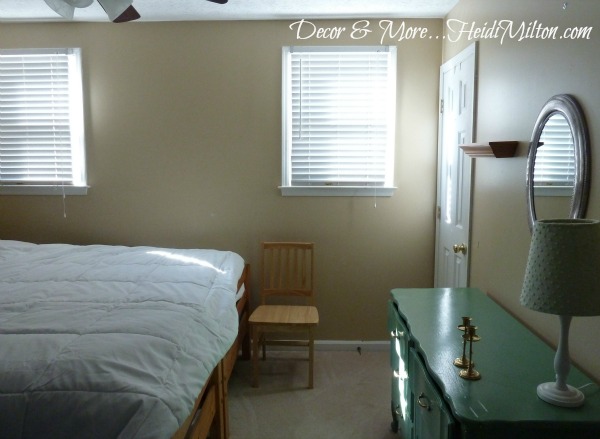 I don't know where that chair came from… it just kind of appeared.
This also shows you that the windows are awkward in this room — high placement and the molding around the left one butts right up to the wall.  Obviously, the windows need to be addressed.  Or dressed.  Both.
You might remember this little beauty I snapped up at HomeGoods back in January…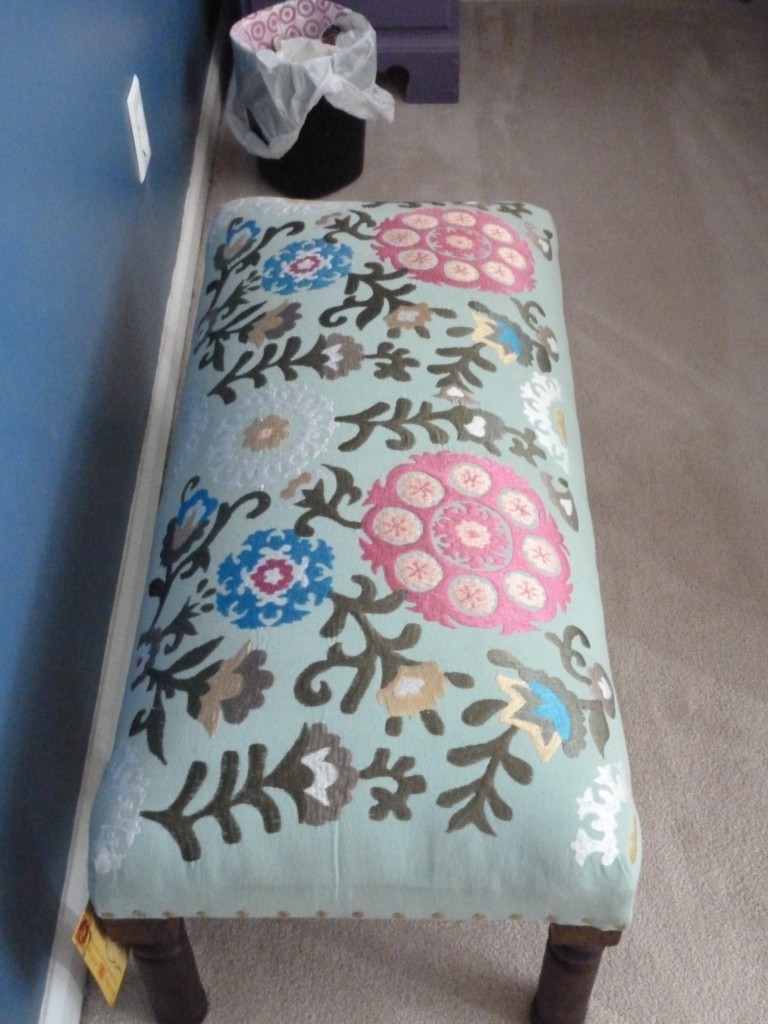 She is my inspiration piece for this room — don't you love the colors?
So here is my To Do List for this room:
Paint the walls
Split up the beds and paint them.
Update the purple desk.
Update the green dresser.
Bedding.
Window treatments
Mirrors and wall art (I've been collecting a few things I can't wait to share!)
Lighting.
I've narrowed down my paint colors, so I'll be sharing those on Monday and look for some progress posts next week as I get this project rockin'!
My son is graduating from high school on May 24th and there will not be an empty bed in our house that weekend, so the clock is ticking on this!  Oh, and did I mention I have a tight budget?  Like, almost non-existant?
But you know, I think I'm up for the challenge!
Speaking of challenges, I'll be tackling my garage this weekend — it's downright shameful and has to be done without delay.  I'm almost eligible for an episode of Hoarders… wish me luck so I can get busy painting!
What's your latest project??
TGIF!