Hi, friends!  I hope you're having a great week… I'm making the most of my Fall Break and are now in one of my favorite cities ever — NYC!  And of course, that means I'm with one of my favorite people ever… does it get better than a BFF?
Today I'm sharing a new find for my foyer… one that will help preserve this precious piece of my family's history…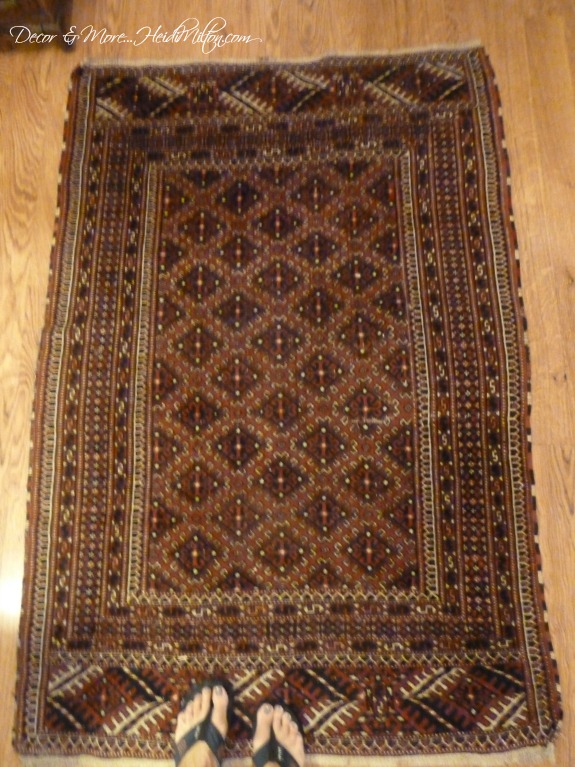 I've shared a bit about this antique Oriental rug that belonged to my grandmother  here and here.  While I'm loving having it in my foyer where I enjoy it every single day, I've been concerned about the wear and tear it's subjected to.   I had a rug pad underneath, but it was the original rug pad used by my grandmother (!) and was slowly but surely disintegrating.  And as it was disintegrating, I was vacuuming i's dust out of that precious rug.  Made me start thinking…
Obviously I needed something new but I wanted to make sure it would stand the test of time AND take good care of my rug.  So when the good folks at RugPadUSA offered for me to try one of their rug pads, I jumped at the chance.
They sent the Superior-Lock Non Slip rug pad for me to try out and I was thrilled to replace that old rug pad.  This particular pad is designed especially for flat weave rugs and my grandmother's rug falls into that category.  I love that it's made with recycled felt and rubber!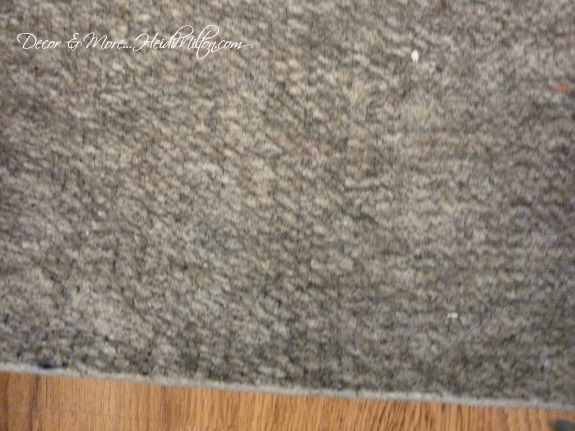 It's moisture and mildew-resistant and will protect my floors as well as the rug itself.  It's a win-win for sure.  The rubber side is against the floor to prevent slipping (important for this accident prone girl!) and the needlepunched felt side helps grip the underside of the rug.  It's so secure I can easily vacuum over the rug and not even a corner peels up!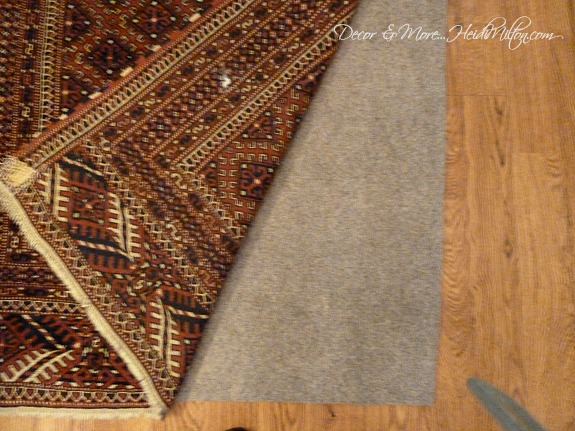 Both the rubber and the felt are recycled and guaranteed to not come apart.  In other words, this pad will certainly outlast our years of raising rambunctious kids.  Let's hope the rug does, too!
I love how well-organized the Rug Pad USA site is — you can shop for rug pads by what flooring surface you have, by rug pad materials, or by size.  They offer pads for odd-sized rugs, too.  The rug pad they sent me had been cut to my rug's dimensions… you know how antique rugs can be odd -sized and I didn't want to take a chance!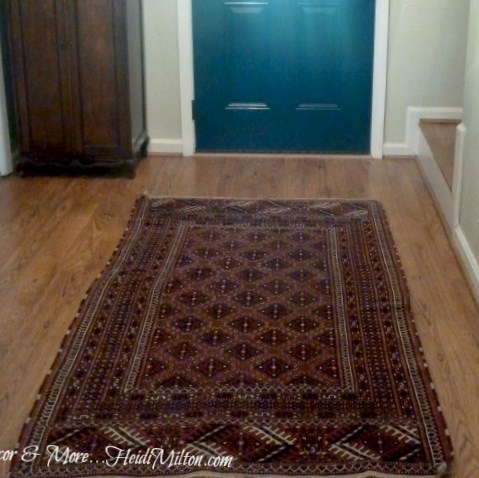 Two more things that have impressed me about this company.  Their rug pads are all environmentally friendly, using recycled materials and bio-based polymers in their manufacture. When I read about rug pads manufactured overseas and what was probably in that disentegrated old pad I was using… YIKES.  AND I love that they are all manufactured, cut, and packaged right here in the good 'ole US of A.
Let's face it — rugs are an investment and you want them to last.  And RugPadUSA rug pads are an affordable way to protect that investment.  And in my case, this piece of history.
Have you given much thought to the rug pads you use in your home or were you like me and using whatever you found handy?  Please tell me I'm not the only one… :).  I consider myself enlightened now.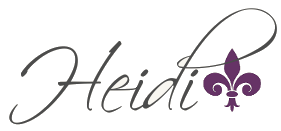 Disclosure:  I received product and compensation for this post.  All opinions however are strictly my own.  I only review products that are helpful to me in my own home and share with you as I see fit.
Pin It
&copy Copyright 2014
Heidi
, All rights Reserved. Written For:
Decor & More