Hello, friends and TGIF!  I'm soooo ready to end this week… it's been a challenging one in every way.  So to give you(and me!) a little Friday "happy" I'm sharing a teensy little guest room update… one that brings a smile to my face every time I walk by this space!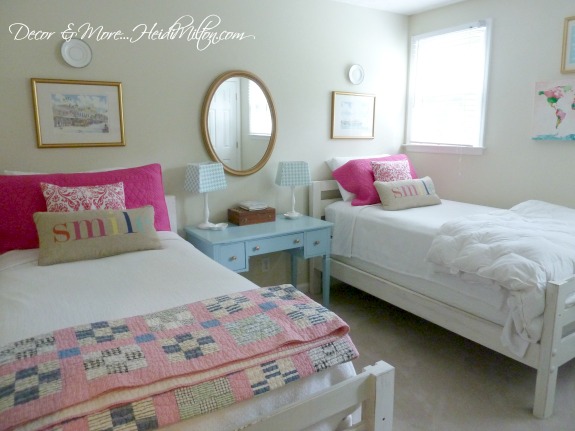 I was in HomeGoods a few weeks ago and spotted not one, but TWO of these adorable "smile" pillows!  I knew right away I had to have them for my guest room beds… and the price was right.  Of course!  It's HomeGoods, y'all!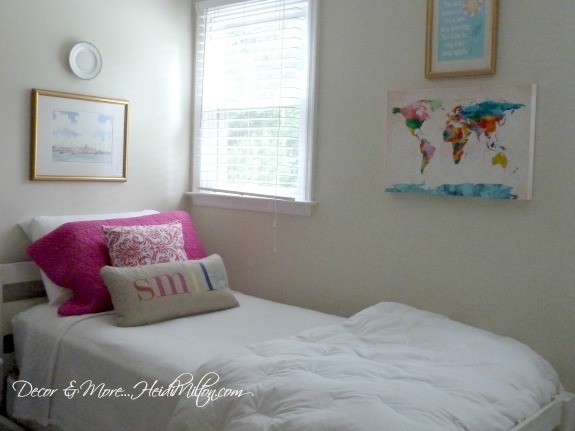 I just love how the letters pick up every color in the room.
I mean, right down to my grandmother's handmade quilt!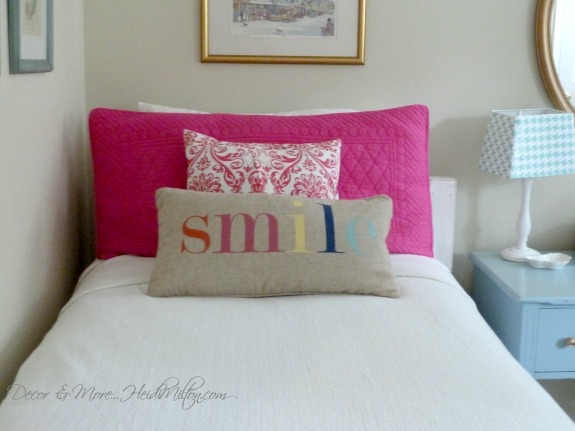 Such a cute touch for this room!
If you love, love, love this pillow, I found it online HERE.  The price point isn't quite as good as my killer HomeGoods price, but it's still pretty reasonable… I mean, what's a smile worth?? 😉
Confession:  I STILL have not done the window treatments in here… I'm missing one stinking item to get them done and don't know why I can't quite get there.  Oh well…
The hubs and I are off to help my MIL with a few things this weekend.  We've been surrounded by young 'uns all summer long, and as much as we love them, we're ready for a bit of a break.  Hope you enjoy your weekend!