Hello, friends!
Can you believe we're winding down September already?  The holidays will be upon us before we know it!
I am so pleased to be able offering advertising opportunities here at Decor & More for your Etsy shop, small business, or website as we roll into the holiday season!  Decor & More has grown by leaps and bounds over the last several months and continues to grow daily!   When you advertise here, you're exposing your business to the most loyal and wonderful readers in the blogosphere, plus my 420+ Twitter followers, 250+ Facebook likes, and and ever-expanding Google+ circles.
Now, here's the exciting news!  I'm offering VERY affordable rates for October, November, and December — 3 months for only $15 for a 125 x 125 spot!  Plus you'll be entitled to one giveaway during the 3 month period, and a monthly sponsor highlight post.
I would love to help you promote your business this holiday season and take your success to new heights.  Please email me at heidi dot m dot milton at gmail dot com if you'd like to take advantage of this offer.  I look forward to doing business with you!
More fun stuff… Willow House is hosting a Fall Bazaar with fresh products on sale beginning tomorrow (September 28th)!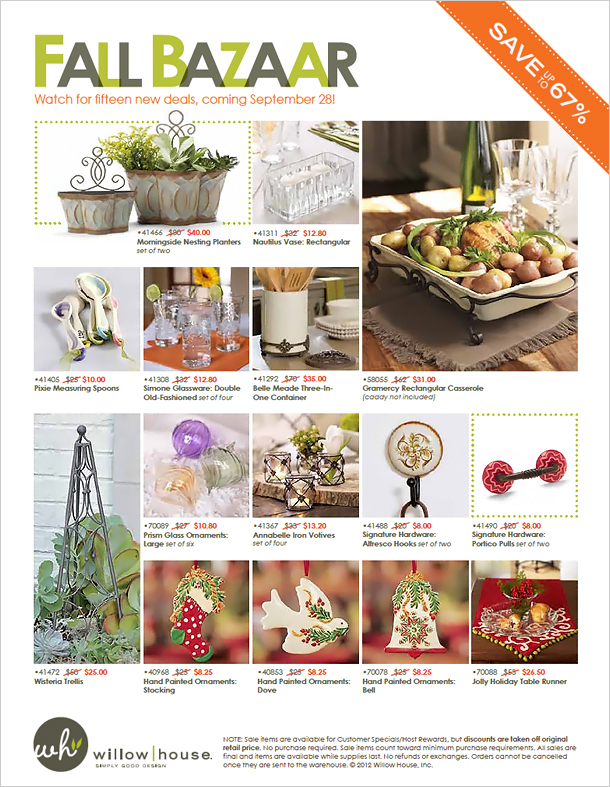 Many of these would make wonderful gifts for hostesses or for the holidays!  You can shop directly online at http://heidimilton.willowhouse.com.
Enjoy your day everyone!