This has been a busy week and I want to thank you all for your prayers… I have surely felt God's presence and His grace as I've moved through a few situations! I'm so thankful I serve a big God who walks with me, guides me, and shows His grace every day.
Today I want to share my plan for the front porch… it's been QUITE a while since there's been a major overhaul (normally it's just fresh plants/pillows) and I'm itching to do that this year. As I said, we have so many opportunities to enjoy this space so I'm determined to make it so.  I just need the budget to cooperate!  Let's revisit my favorite inspiration pic…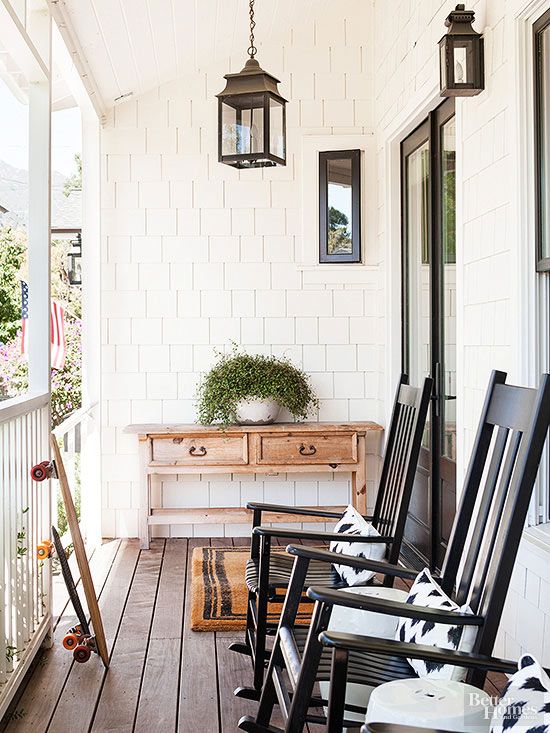 BHG
I love the simplicity of this porch, but it beckons me to come set a spell! If you remember, it's laid out similarly to my porch as well…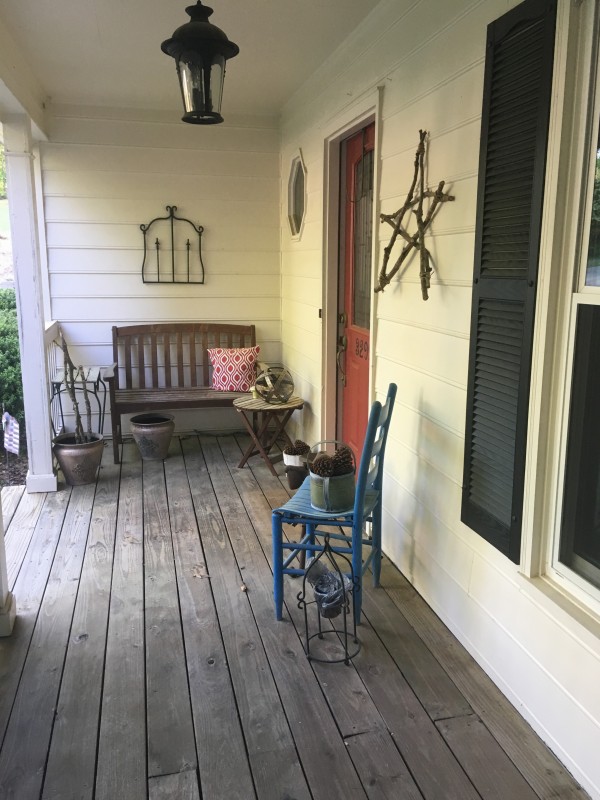 So here are my plans so we can get to enjoying that space…
 Pressure wash… DUH!
  Spray paint the bench black.
  Some type of rustic console table for where the bench is currently (great place for plants!)
  Fresh mat for the front door.
  Add two black rockers in front of the window.
  Wall decor above the console table.
  Move the bench to the far end of the porch, perpendicular to the rockers.
  Fresh graphic outdoor pillows.
  Plants in terra cotta pots.
 Paint the front door?
  Front door decor (wreath?  door bucket?)
Ok, so I've got some WORK to do, no?  My goal is to have this done before my son's high school graduation at the end of May, so I've got some time.  I'll be weighing in with progress over the next couple of weeks and may be simultaneously working on my back deck.  #yikes. So don't be surprised if that "plan" surfaces here shortly, too. 🙂  I'll be shopping sales and thrift stores and looking to get my DIY on to keep this as inexpensive as possible.
I realized this project isn't even on my Home Goals list for this year, but so it goes around here… gotta strike while the inspiration and motivation is hot!  Enjoy your day everyone… what project are you planning this spring??