What a week.  All I can say is T.G.I.F.  My Little Crazies at school have been exactly that — CRAZY.  I'm not sure what it is about this group, but my assistant and I have had a hard time reining them in.  Makes for some very loooooong days and a lot of evenings of being completely spent and brain-dead.  Not good for creative juices!  It's pretty clear most of my creativity will have to happen on the weekends this year!
This weekend I'm looking forward to some beautiful early fall weather to get my porch and deck ship shape and some furniture painting done… in the driveway.  My neighbors love it when I whip out the drop cloth for my driveway projects. 🙂
I'm also hoping to tackle the inside of my front door… remember this?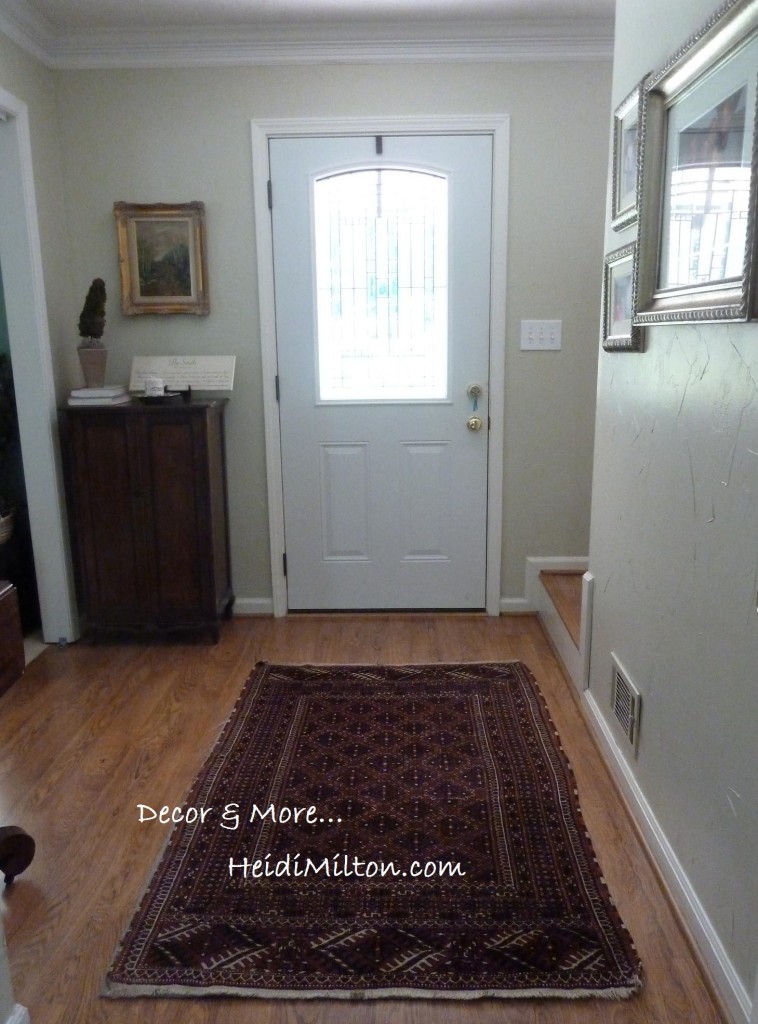 Definitely in need of color, and now that my dining room (to the left in this photo) is finished, I'd love to finish out this space, too.  During the summer I experimented with the Sherwin Williams Chip It tool using a close up of my grandmother's oriental rug for color inspiration.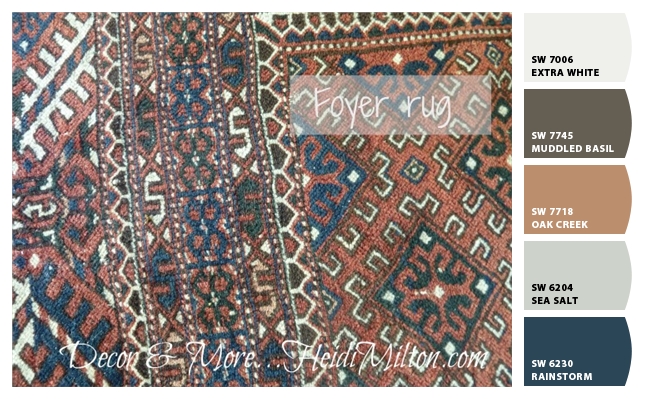 I've landed on Rainstorm… and think it will look awesome next to my gray dining room.   What do you think?
I'm also hoping to squeeze in some time to catch up on these…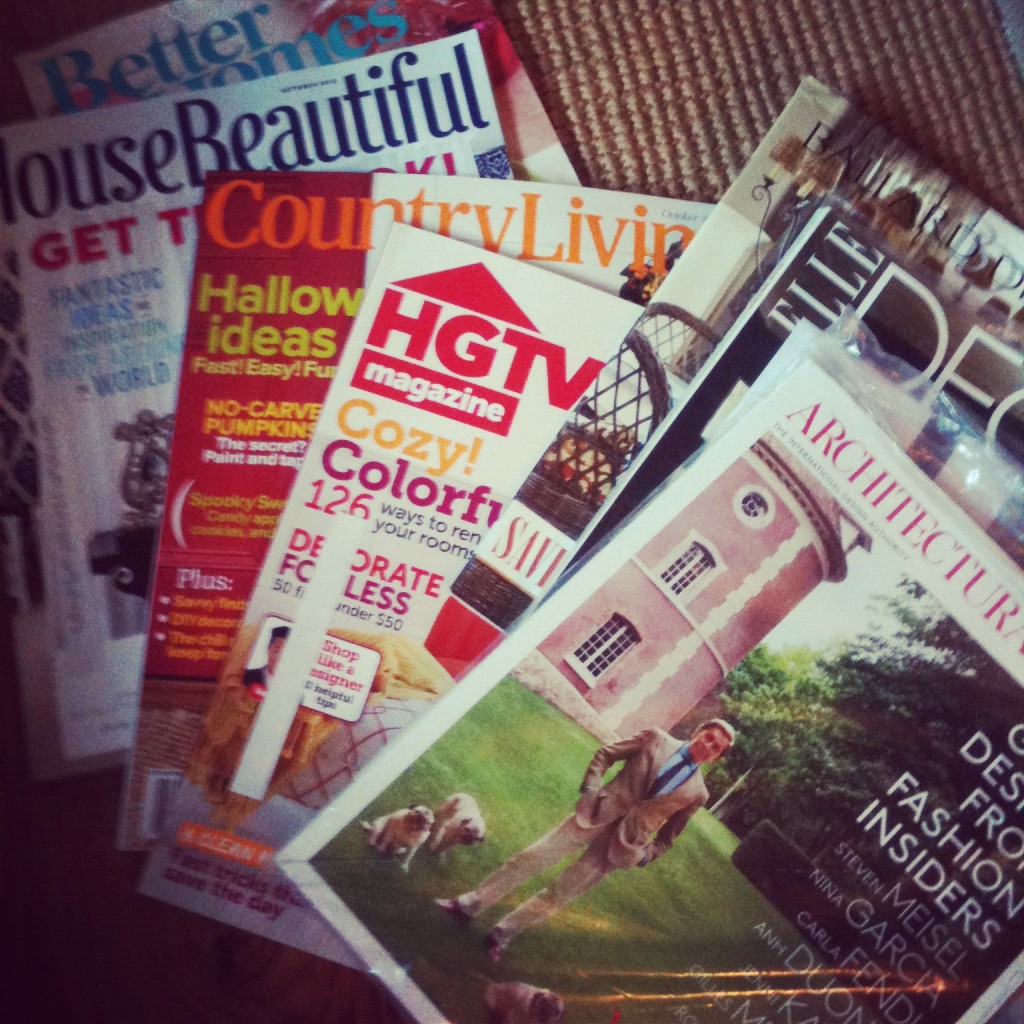 And how sad that my NEXT issue of BH & G arrived in the mail yesterday??  *Sigh*  Will I ever catch up?
Speaking of BH & G, I signed up for their 100 Days of Holidays… great tips that arrive in your inbox each day.  You can sign up HERE, just check the box that says 100 Days of Holidays.  Right now it's a lot of fall, but soon it will Christmas… you know it's true. 🙂
I also, in a cray-cray moment, signed up to take part in Edie's online Classics book club!
We're starting with Homer's The Odyssey.
Before you leap to the conclusion that I'm certifiable, there's a method to my madness. 1) I love to read. Love it. And it's sadly taken a back seat in the past year to lots of other (less meaningful to me) pursuits. This is part of an intentional effort to take back MY time! 2) I love to stretch my mind. In big and important ways. The day I stop learning and growing intellectually, you might as well ship me off to the funny farm. 3) The Odyssey is part of my 9th grader's literature syllabus this year. He is NOT a reader. So I decided that if I'd recently read and discussed The Odyssey, I can engage him better when they get to this. They're also reading To Kill A Mockingbird and I've threatened to show up in his class because that is my all-time FAVORITE piece of literature.
Good news — I'm LOVING reading The Odyssey! The last time I read it was in Latin IV in high school and we were translating it from Latin to English. I know, right? It's so much more fun and interesting to read an already-translated version.  I'll add my translation to my Amazon store (Decor & More Recommends in the side bar) in case you'd like to join me! 😉
So, when my painting/gardening/cleaning is done this weekend, you'll find me on my back deck hanging out with Homer.
Call me geeky, but I'm looking forward to it. 🙂
And I'll leave you with a little hand print project I had my class do the first week of school.  We talked about how unique all of our hands are (see how they each decorated their own!) but how we need all hands working together to make our classroom successful.  I think it's a pretty awesome work of art myself.  And a good reminder of our potential during the hard days.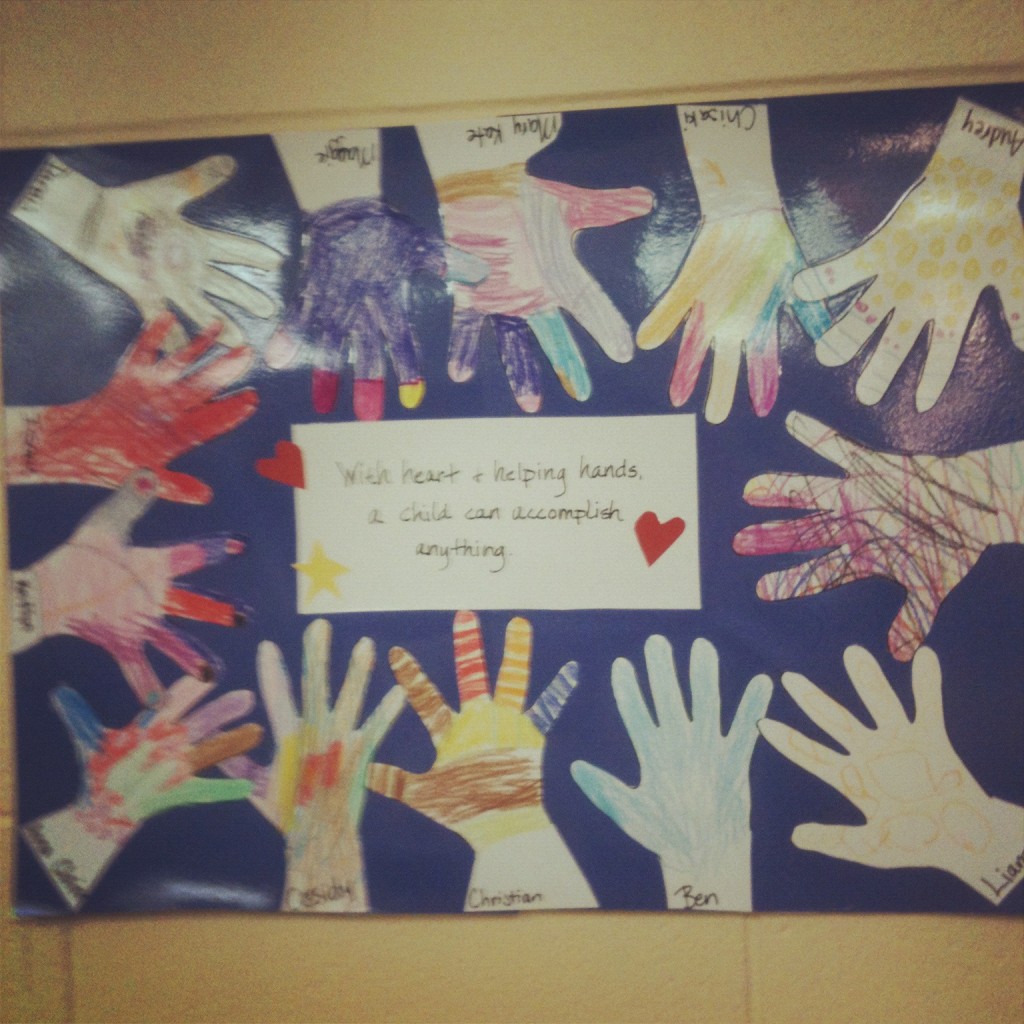 TGIF, friends… and Happy Autumnal Equinox!!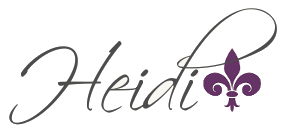 Pin It
&copy Copyright 2012
Heidi
, All rights Reserved. Written For:
Decor & More