Happy Cyber Monday, friends!  Have you got your holiday shopping on yet?  I have a few things I'll be ordering today, but for the most part I try to shop all year so the financial hit isn't so hard this time of year. 🙂  The blogosphere is loaded with Gift Guides the past few days, and though I was tempted to put one together myself, I thought I'd just share a little randomness with you today.
All 7 of us were together (briefly!) on Thanksgiving Day!  It's so hard to coordinate schedules, with them scattered, working, going to school.  But look at my sweet MIL and how happy she was to have them there…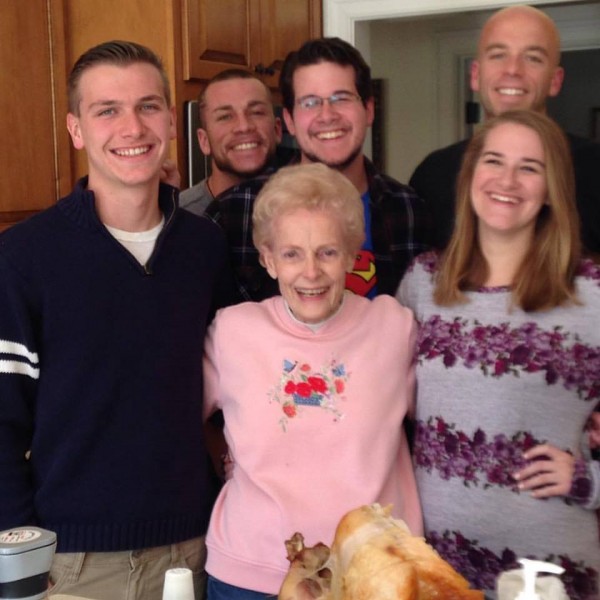 We booked back in town on Friday and I tackled the yard clean up in preparation for the outdoor decorating.  Then yesterday after church we got the outside lights up and mailbox decorations in place, in anticipation of some rain.  That still hasn't arrived, but it's done anyway.  I also got our new tree up and I'll share more about this soon.  But I'm loving having it up and lit!  And I'll leave it lit all. day. long.  Love, love, love.
This will become my go-to outfit this holiday season!  I adore this dress from Old Navy…
I styled it similarly for church yesterday — black opaque tights, black suede lace up pumps — and I am in love.  The dress is lightweight but lined — perfect for milder winter days/nights.  It hangs beautifully and hits just above the knee.  Good for us (late) forty-somethings.   The code BESTCYBER gets you 40% off and considering it was a $40 dress to begin with, I think that's worth ordering!
And then,  THESE CARDS!  yep, these were a Cyber Monday deal… Click HERE to get your 50% off!  Code SHIP49 will get you free shipping on orders over $49.  You're welcome!