Ahhhh.  Amazing what a fresh paint color will do!
As promised, here's my progress on my Bloggers Without Borders project, my Ugly Duckling Dining room…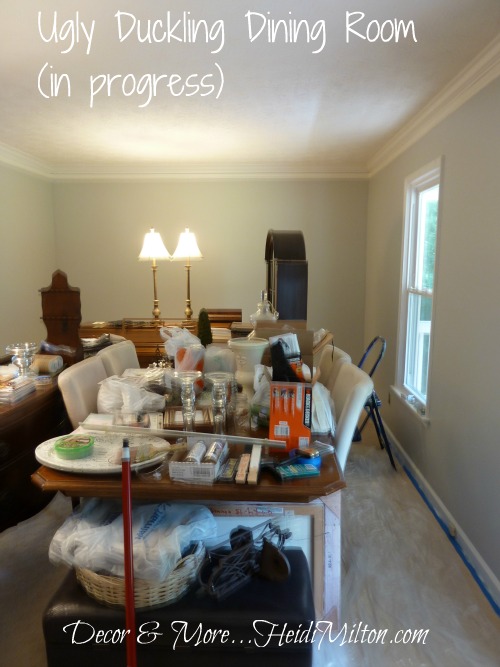 This was in the midst of the chaos– forgive the blur, I was a little weak from that dad gum stomach bug. 🙂
The paint color is Behr's Silver Sateen, the same color I used in my Mom Cave (which is adjacent).  And because just painting isn't enough, I decided to reconfigure the furniture arrangement when we put everything back in place (my indentured servants and I, that is).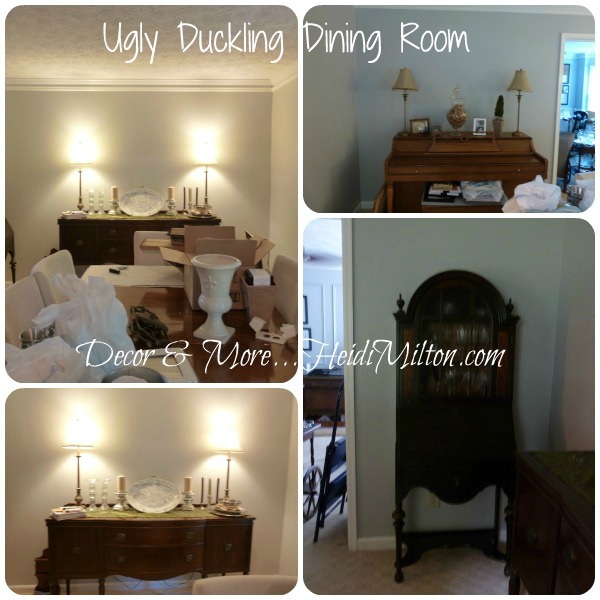 Part of the reason was to improve the flow, but after several comments about my grandmother's buffet (worthy of a post all by itself!), I decided she needed to be the show piece.  So I moved her to the back wall, center stage.   I love the way she pops against the gray wall now!  My aunt's secretary is also in a better home and once she's had her makeover, she'll be a lovely piece of eye candy, too (I hope!).
And now the obligatory before and after pic.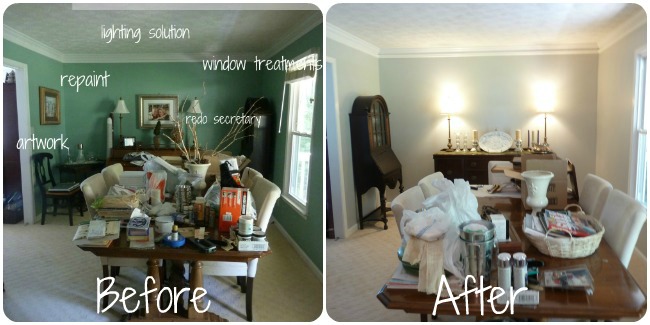 Ahhh.  Much better.
Onward!  Don't forget to visit my blogger buddies to see their updates, too!
Amy @ Buffalo Roam, Dana @ Crafted Niche, Jaime @ Crafty Scrappy Happy, Heidi @ Décor & More, Tisha @ Delectable Home, Shannon @ Fox Hollow Cottage, Kirby @ Kirb Appeal, Holly @ Life as a Thrifter, Cassie @ Primitive & Proper, Debbie @ ReFresh ReStyle, Jessica @ Stay At Home-ista, Karah @ the space between, Laura @ Top This Top That and Kelly @ View Along the Way.

Happy Monday!