Time for another update on my Ugly Duckling Dining Room as part of our Blogging Without Borders challenge!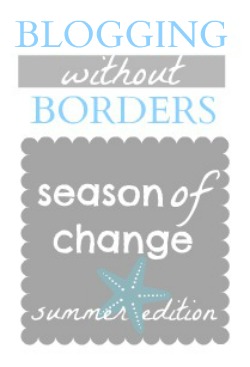 And this dining room is indeed having its Season of Change!  I'm in mid-stream on two major projects for the space, with a third about to ramp up this weekend — yikes!   But I'm so excited by how it's coming together… slowly but surely. 🙂  Today you get to check out the wall art I've come up with for the room.
Previously I had several oil paintings I'd purchased at art auctions or from dealers.  While they were nice, they didn't really speak to me anymore and I wanted to take the dining room in a lighter and brighter direction.  Here are the newest additions…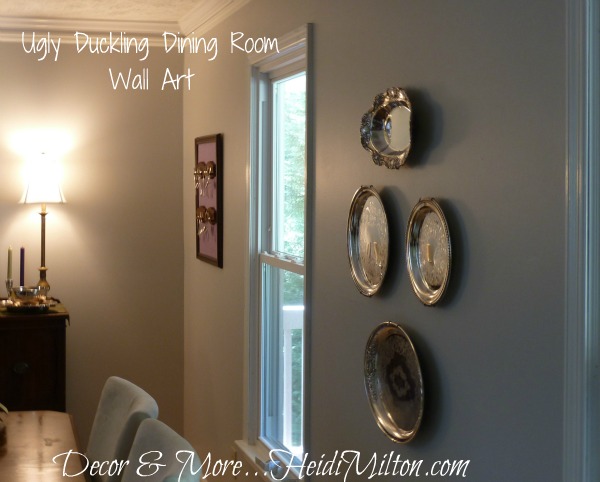 I was seeing walls of silver platters all over Pinterest, and knew I wanted one in here.  I have a couple more to add to the display, but will probably wait until the drapes are in place before I add them in.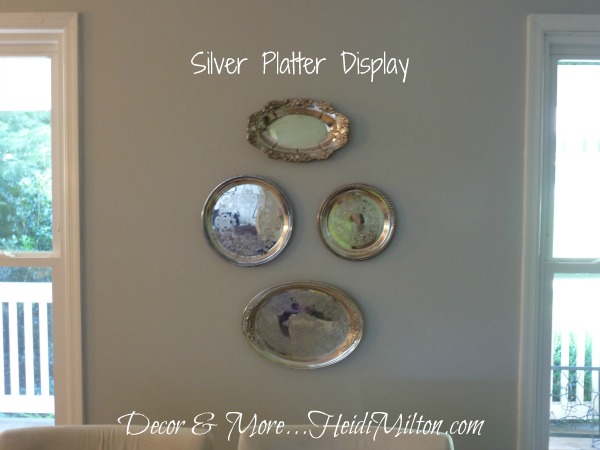 I'd love for this to end up being floor to ceiling!  We're loving the three-dimensionality it offers.
In the corner by my grandmother's buffet, I hung a new creation.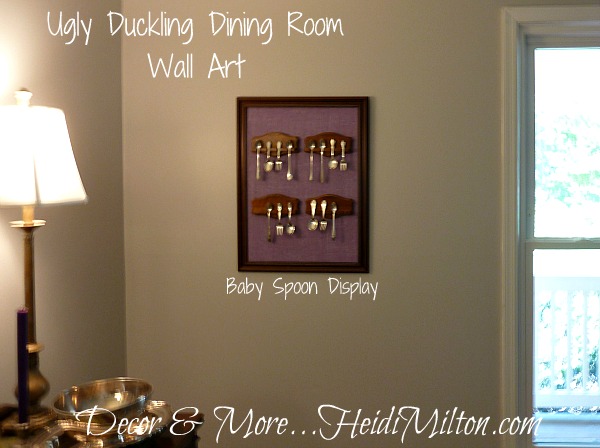 I had so much fun putting this together!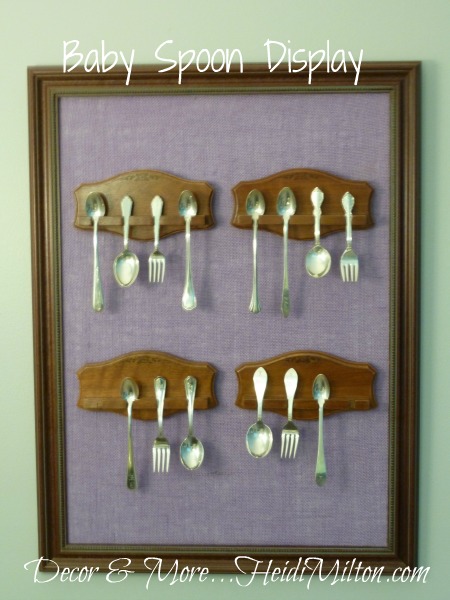 My children and I all have baby spoons and forks and a traditional spoon rack just wasn't going to cut it in this space.  I'll be sharing the full tutorial on Wednesday.
Then over the piano, I added back in our wedding photo.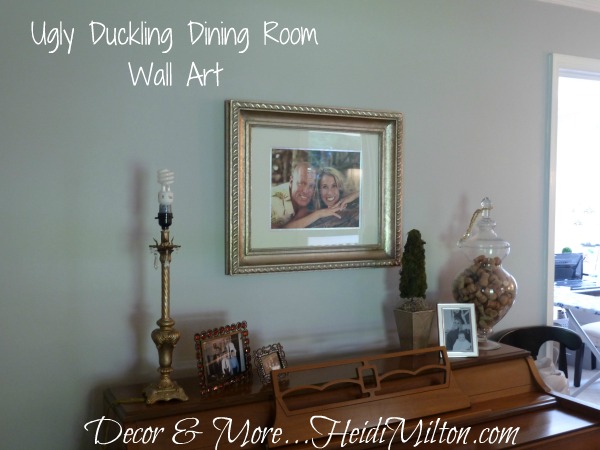 Sorry for the funky angle, but with all the LIGHT coming in the room, it's hard to get a good glare-less photo.  Can you tell I'm giddy with how much LIGHT is in this space now??   The piano is a family piece, too, and was a gift to my siblings and I from my other grandmother.  We all learned to play on it, as did my daughter.  I can still rock a pretty decent "Fur Elise" rendition and a Christmas carol or two. 🙂  I love that our wedding photo is the first thing people see from our foyer.  I'll try to share a better picture at some point.  All the companion framed photos from that monumental day are hanging in our foyer, so I feel like there's a nice tie-in now.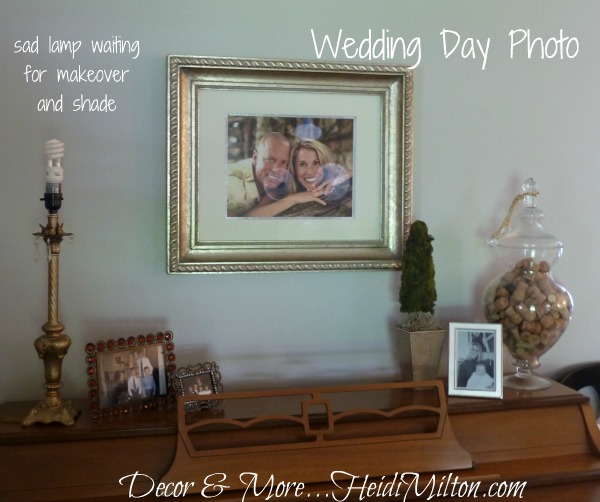 I decided to forgo the skinny little buffet lamps that were on the piano before in favor of this more substantial lamp.  Can you believe I dug it out of a box in my garage?  It's missing most of its dangling crystals, but I'll be cutting those off and making her over shortly.  It's a little too gold, but I'm liking the lines of it and it references the pair of lamps on my grandmother's buffet, too.  Yay for using what you have!!
And for those of you waiting for the overhead lighting update…  I suffered a DIY FAIL last week in that department.  Combination of bad advice and insufficient tools.  I'll share all the nitty gritty with you soon.  BUT… I have another attempt up my sleeve for this week.    I'm 99% sure it will be a success this time and I'm super excited about it. 🙂  Should that be a fail, I actually have a Plan C.  I am a planner, after all.  And this challenge is about trying new things.
So that's my Ugly Duckling Dining Room update!  I think she's shaping up nicely, don't you?  I have A LOT to finish up in the next two weeks!!  Like I said, I'm mid-stream on two big projects with another one on my radar this weekend.  I think it will all come together just in time for the big reveal on August 27!
And in all my spare time, it's time to get back to this…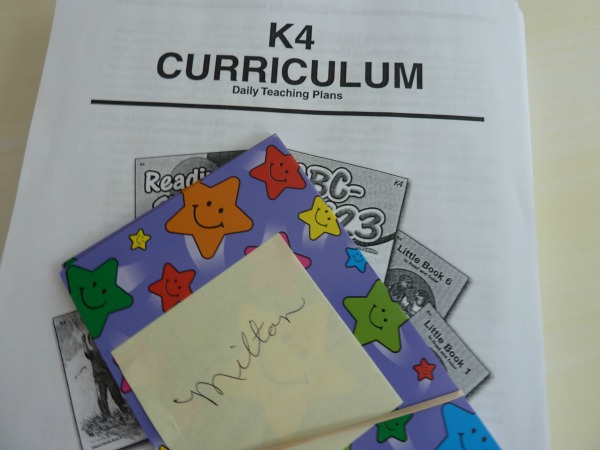 If my plate's not overflowing, I'm utterly miserable.
At least that's what I tell myself. 🙂
Don't forget to check out my Bloggy Partners in this Without Borders Challenge… they've all got amazing projects going on!
 Amy @ Buffalo Roam, Dana @ Crafted Niche, Jaime @ Crafty Scrappy Happy, Heidi @ Décor & More, Tisha @ Delectable Home, Shannon @ Fox Hollow Cottage, Kirby @ Kirb Appeal, Holly @ Life as a Thrifter, Cassie @ Primitive & Proper, Debbie @ ReFresh ReStyle, Jessica @ Stay At Home-ista, Karah @ the space between, Laura @ Top This Top That and Kelly @ View Along the Way.
What have you been working on lately? Tweaking spaces or major overhauls?