Well, it's true that I have not put up one single decoration in my home (gah!), but I HAVE been working on things for the booth, as you know.  🙂 Last night I was busy fluffing and loading in some new pieces and now it's ready for a holiday shopping weekend.  One of the items I added is this guy.  I love to create wreaths and this idea had been rolling around in my head for several weeks…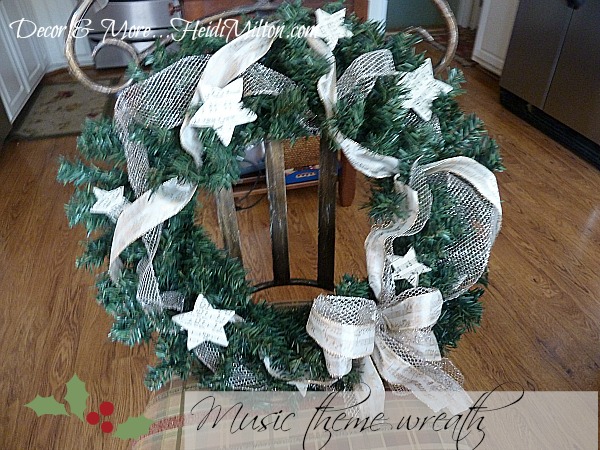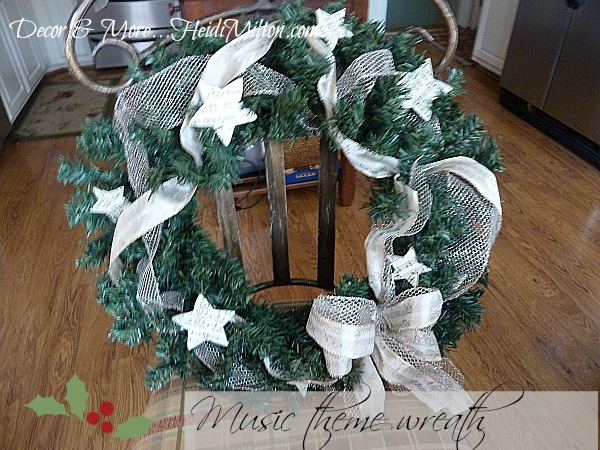 I love sheet music and it's been the crafting staple for me this fall, so when I came across some sheet music ribbon and the silvery mesh ribbon at Michael's, I had all the makings of a music theme wreath.
Evergreen wreaths are easy to find — I usually grab up a few for $5 or less at Old Time Pottery or Garden Ridge.
I put the two ribbons together and wove them through the evergreen sprigs.  Wire edges make this super simple.  Once I had the look I liked, I tacked it to the wire frame in a couple of places on the back using hot glue.  The bow is a simple one — 4 loops twisted and them one shorter piece wrapped around the middle.  I used floral wire to attach it securely to the frame of the wreath.
Then there are these guys…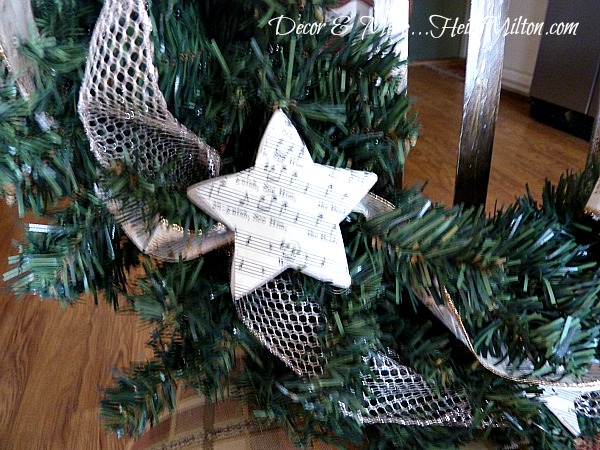 These were a labor of love, I must confess.  I had some wooden star shapes in my craft stash, so I made templates of each size and then used those to cut out the sheet music.    Enter Mod Podge. 🙂  Once both sides had been mod podged with the sheet music stars, I hot glued 7 inch pieces of floral wire to each one and then attached them randomly around the wreath.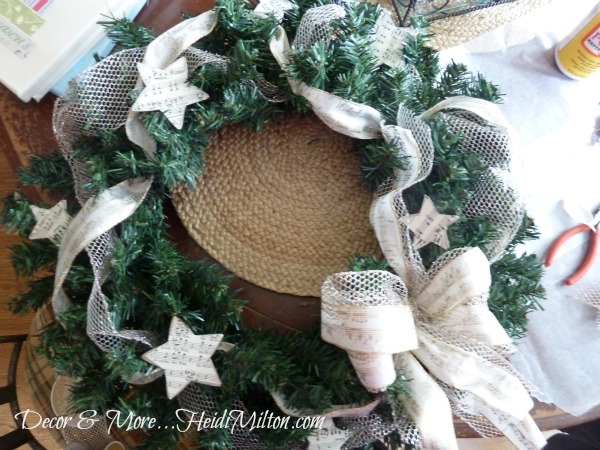 There are two sizes of stars.  I did enough for a couple of wreaths and then hot glued jute loops to the rest and bagged them up as ornaments.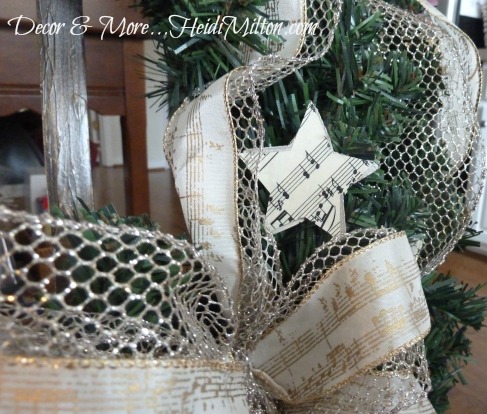 I'm thrilled with how it turned out and it's currently making my booth look glittery, festive, and VERY holiday. 🙂
I'll probably be using one on my front door… I usually hang a door bucket, but I'm feeling a wreath this year.
This morning I had a kick in the butt gentle nudge in my inbox from my friend Bliss at Bliss Ranch…
Now get decorating or I'll petition to have the "decor" part of your blog title removed.
This after I confessed in a comment that I was sipping a glass of wine late last night and reading blogs instead of decorating my house. 🙂  Fortunately, today's the day!  The tree will go up, the mantel will get decorated, outside lights will be strung, and by the end of the weekend, my home will be ready to celebrate the season.  Amazing what you can accomplish when the hubs heads for the hunting camp for the weekend and you have teenagers at your disposal!  Mwah hah hah!!
Tomorrow, I'm sharing my favorite things from November… it's been a doozy!
Have you started your holiday decorating or are you procrastinating with the it's-still-November-I'm-so-busy rationale like me?  Wreath or door bucket for your front door?  Inquiring minds want to know… :).  TGIF!
Crafty Scrappy Happy Hour Link Party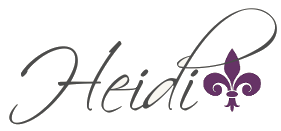 Pin It
&copy Copyright 2012
Heidi
, All rights Reserved. Written For:
Decor & More