I can't believe we're already at the end of January!  I survived all those parent conferences, but did not accomplish everything I'd hoped to do on the home front.  Oh well — there's always February, right? 😉
So here are my favorite things for January… I think it's a pretty good list. 🙂
1.  Atlanta Bloggers get-togethers.
I was sooooo lucky this month!  Our Atlanta bloggers met up for lunch and a business meeting in Woodstock, GA earlier this month.  We all learned a little about SEO and some other techy stuff (which is totally not my strong suit!).  Then the following Saturday, I got to attend Rhoda's HomeGoods party.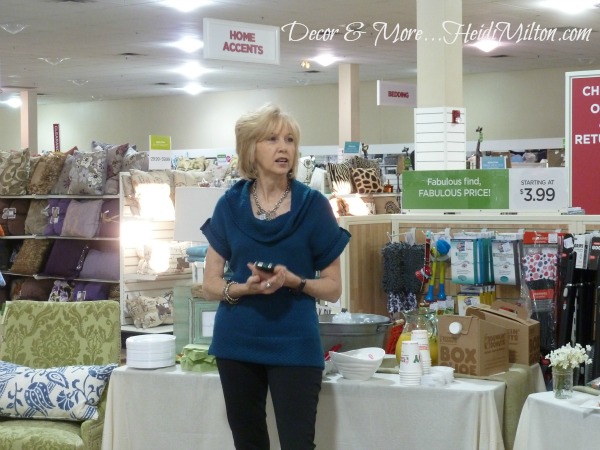 This was such a fun event, and — BONUS!! — I won the $50 gift card Rhoda was giving away for tweeting and sharing pics of our favorite finds at the party!  Woo hoo!  More shopping to come!
THEN, the next week I attended Rhoda's Open House and hob nobbed with some of my favorite area home bloggers…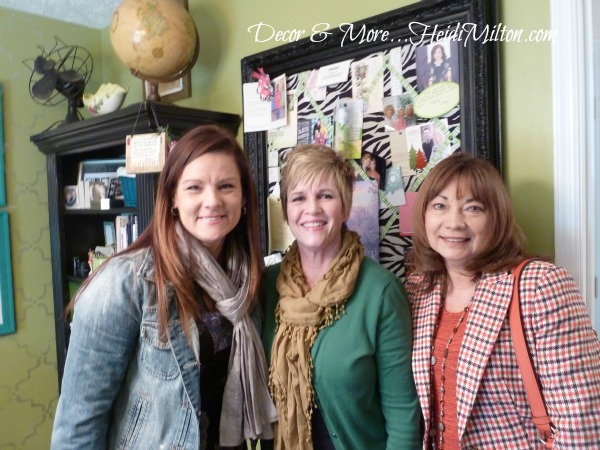 I feel so blessed to be part of the home bloggers community!  These are some of the sweetest, nicest gals you'd ever want to meet and they are UBER talented, too.
2.  That lull in the schedule between the holidays and the 2nd semester crank up of sports and activities.
The additional factor here is that my hubs loves to hunt and will go every weekend until the end of the season… so I get some great time with the big kids and get to watch chick flicks and HGTV and eat popcorn for dinner if I want to. 🙂
3. Winter.
Now, granted, we don't get a lot of winter weather here in Atlanta, but I love to have lots of cold days! How else can I wear my cozy sweaters and boots and cuddle up on the couch in front of the fire? Plus, here in the South, we NEED some cold (freezing weather) to kill off the bugs and whatnot. It's like Nature is able to hit her reset button when there is a true winter. And actually, it lets me hit my reset button, too. Personally and in my home life. Reassess, reorganize, rest up a bit, recharge.
3. Yogi teas.
One of my personal goals for the new year has been to get some more sleep, to pay more attention to when my body says it's tired and seize those moments to rest when I can. I am a notoriously horrible sleeper and as I'm careening toward mid-life, it's gotten worse. This has become my new bedtime staple. I love this tea… very relaxing! And as a testimony to its effectiveness, I brewed a mug by accident one afternoon (intending to brew their Detox tea instead) and within an hour, I could NOT keep my eyes open. Dinner was a slap-dash affair that night. Just saying'.  The big kids thought I'd dipped into the wine at 4pm! 😉
5. A REALLY good book… The House at Riverton by Kate Morton.
Seriously, y'all, I wanted to stay up late to read it. Every night. I found myself bringing it downstairs in the morning, in hopes that at some random point in the afternoon after work I could sneak in a few pages. Beautifully written and a compelling story. If you're a Downton Abbey fan, you will LOVE this one.
So there you have it! Lots of good stuff.
I'm looking forward to February, which is shaping up to be a month filled with DIY's around here! I'll explain why next week, but come back Friday for the latest Inspiring Blogger Interview.
What are your faves from January?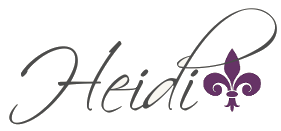 Pin It
&copy Copyright 2013
Heidi
, All rights Reserved. Written For:
Decor & More