One of my favorite things I did last fall was participate in (in)Mercy, the (in)courage project to raise funds for and awareness of the important, life-saving work of Mercy House Kenya.  It was amazing to watch God show up as YOU were His hands and feet!  We far exceeded our fund-raising goals and the good work over there is growing by leaps and bounds.
The wonderful folks at (in)courage sent me a glorious "thank you" in the form of products celebrating (in)Mercy… including a sizable chalkboard print of Micah 6:8.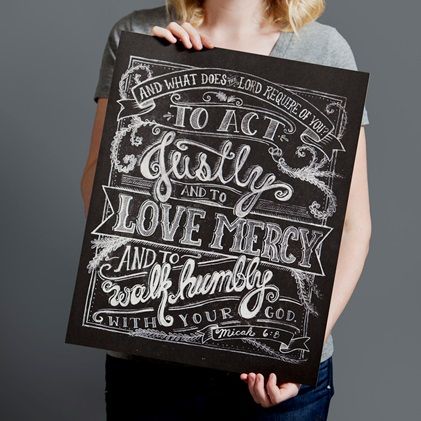 I knew I wanted to display this in my home, but it's taken a bit to figure out where and how.  I initially started hunting for mats and frames, but before the holidays I remembered a garage sale frame I had in my stash.  It needed a little love in the form of paint but it was a great size.  Just no mat.
Time to get creative!
So a couple of days ago, I took to Instagram and posted three options to  used as backing for the print…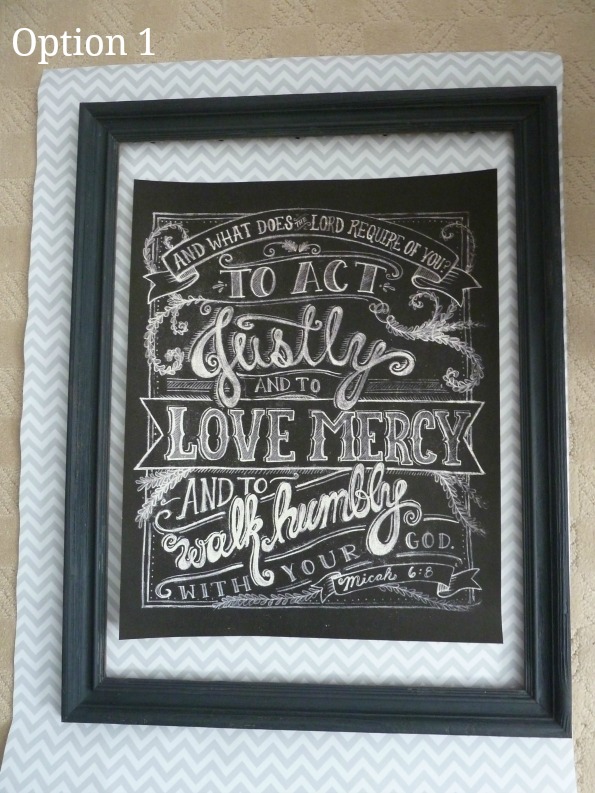 Option 1 was gray chevron gift wrap.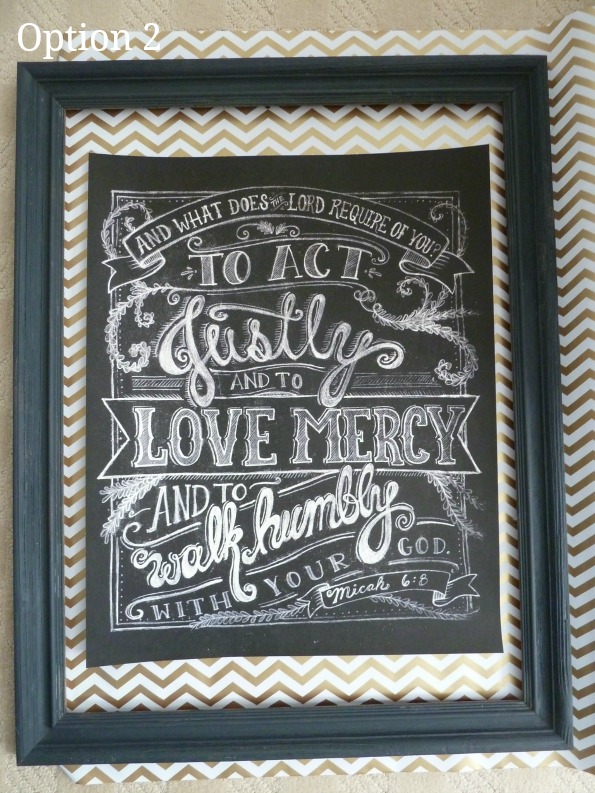 Option 2 was gold chevron gift wrap (scored at Target in their Valentine's stuff!).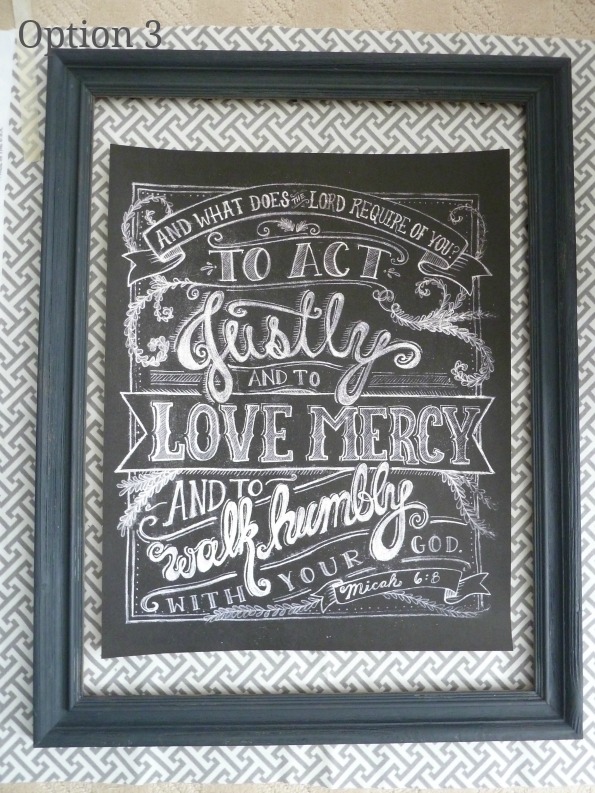 Option 3 was a fabric remnant I had on hand in gray in cream.
Because I was eying a space in my Mom Cave to display it, I was leaning toward Option 3, which coordinated beautifully with the room as is.
But after reading some comments on the three photos and thinking about a couple of other things I'd like to add into that room, I landed here…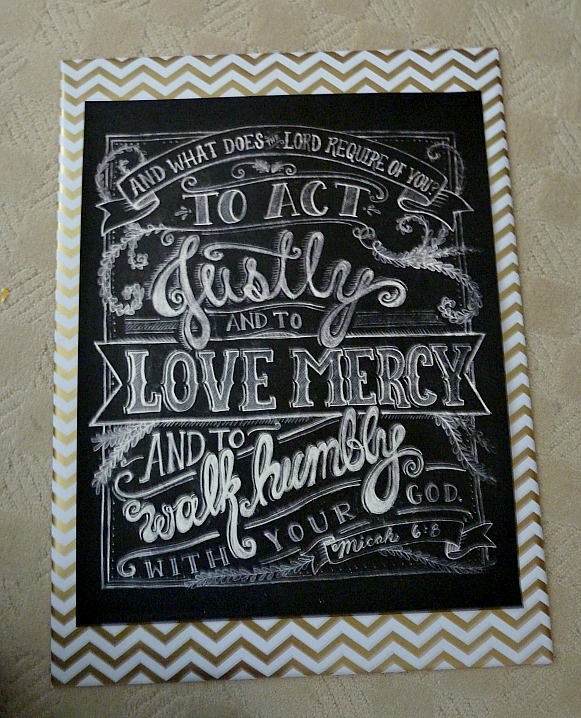 I simply covered the frame's cardboard backing with the gift wrap and then applied the print using double stick tape.
Here she is all framed up and ready to hang…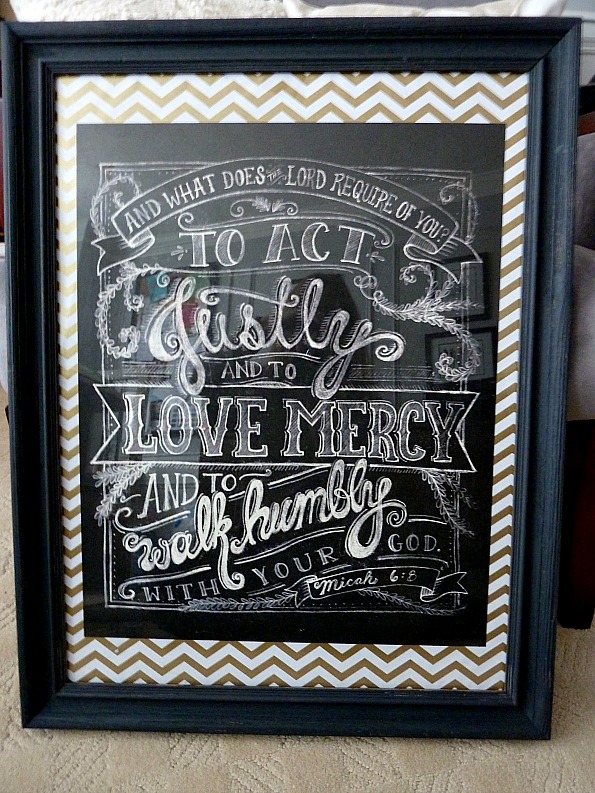 And I'm in love with the gold/black/white/charcoal.
Now, it is hung, but due to (yet another) dark rainy afternoon and glare from the windows opposite, it will be challenge to photograph it properly.  I considered leaving the glass off, but I want to protect the print over the long term.  So here's the best I could do on short notice…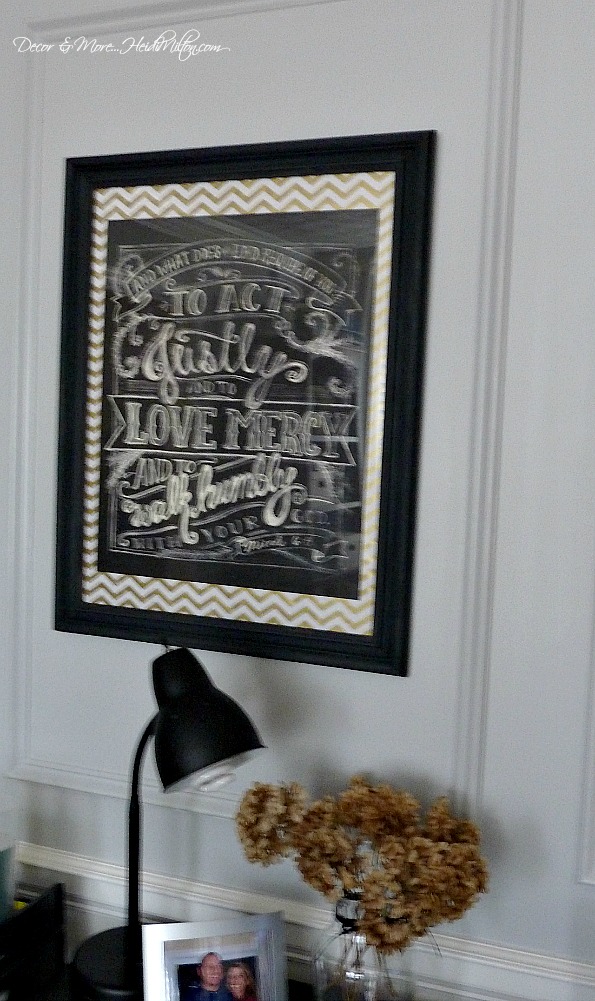 I'll be working on getting a better shot for you. 🙂  In the meantime, the hubs and I will enjoy this daily reminder to "act justly, to love Mercy, and to walk humbly."
I'll be adding a few more gold touches in this room… just itching for a little gold glam in there these days.
Thanks to my IG followers for playing along and encouraging me to take a little risk!
Enjoy the day, friends.
Loving: Hot tea on a chilly afternoon.