Hey there… anyone else tend to let the housekeeping go during busy times??
Please tell me I'm not alone…
My default when things are hectic are go into management mode — i.e. doing the bare minimum to keep things running.  So when things slow down a bit I'm faced with a mountain of housekeeping.  Filing, sorting, organizing, purging, cleaning.  Ugh.  It's so — "un-vacation-y".
Such is my world right now… but I did put my blinders on for a bit earlier this week to do some light housekeeping here at Decor & More.  So much more fun than filing EOB's and sorting through those end-of-school papers. 🙂
So what's new…
I cleaned up my side bar a bit!  You'll now find a list of my tags to help you locate posts on certain topics.  I'm still working on tagging older content that was created when this little ole blog was on Blogger, but I'm whittling away at that task.
You'll also find easy access to my archives under the Past Posts tab AND a search button!  I'd love your feedback on both of those things when or if you have a cause to try them out.
You'll also find a link to my Instagram account added to my Follow Decor & More tab.    I've come to really enjoy Instagram as a quick way to share what's going on AND see what others are doing.  I hope you'll follow along…
More changes will be coming in the weeks ahead, but I'm loving the cleaner look of my side bar!  I'll be re-organizing my Projects page, adding a Recipes page, and fleshing out my Home Tour this summer, too.  Also look for more advertising opportunities soon!  I'm so glad to have a little time to work on these things!
You might notice (or not) the absence of Networked Blogs and Linky Followers… we just weren't growing in those areas and they were taking up some real estate there.  If you followed me via those methods, I invite to you sign up email updates, or like us on Facebook where I share all my new posts.
And when all is said and done, I find myself craving some outside time…
My sponsor Green Acres Outdoor Living has this amazing pergola that's got me thinking about cool drinks and climbing vines…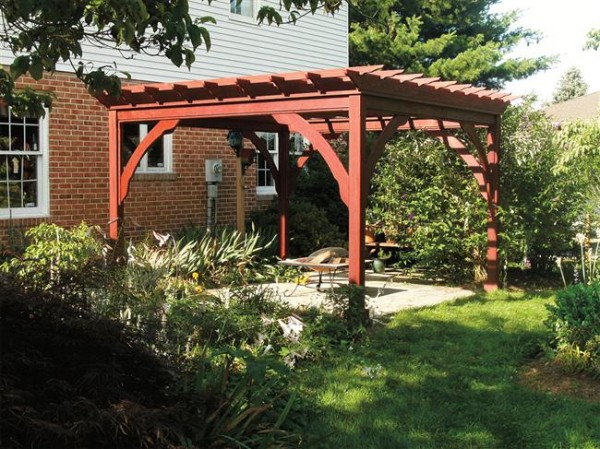 And then there is this poly resin outdoor furniture — made from recycled materials!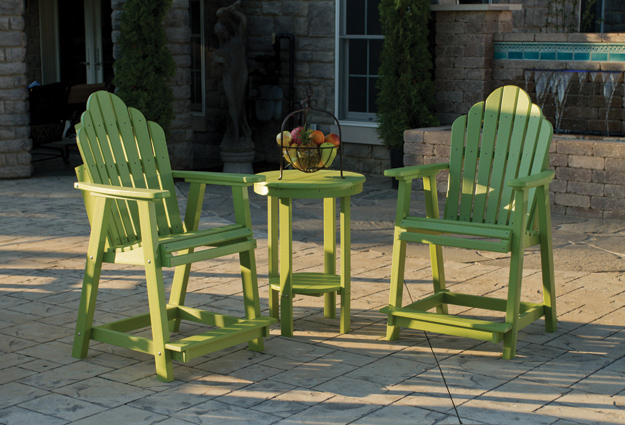 Isn't this the cutest set?  They call it a "chat set"… perfect for a little outdoor chat, don't you think?
If you're in the Marietta area, stop by Green Acres Outdoor Living and prowl through their pergolas, outdoor sets, play sets, and try out a porch swing, too. 🙂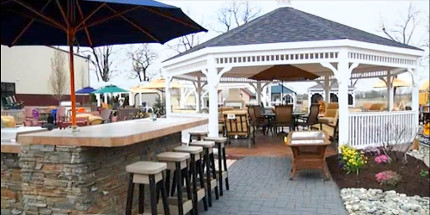 Doesn't this look like a great place for outdoor living inspiration?
Where do you get your inspiration for outdoor spaces?  Enjoy your day!