Hi everyone!  I hope you all took the time to get out and VOTE yesterday!  Here in ATL, our schools were closed for the day so I got a bonus day at home to get some things done after voting… and if you follow me on Instagram, you saw I ended up shoe shopping, too.  Oops. 😉 #sorrynotsorry
I ended up with some to. die. for. smokey taupe wedges.  Thank goodness for a BFF that was available by text to seal the deal. 🙂 And how did we ever shop without smart phones to send photos back and forth??
Anyhoo, a while back a sweet reader had asked for more posts on my booth and how I style it, etc.  Due to the creative funk I was in for a while there, it didn't seem blog-worthy.  But I'm re-energized now and had so much fun on Sunday cleaning, rearranging, and plugging in new holiday pieces.  So I thought it would be fun to show it to you!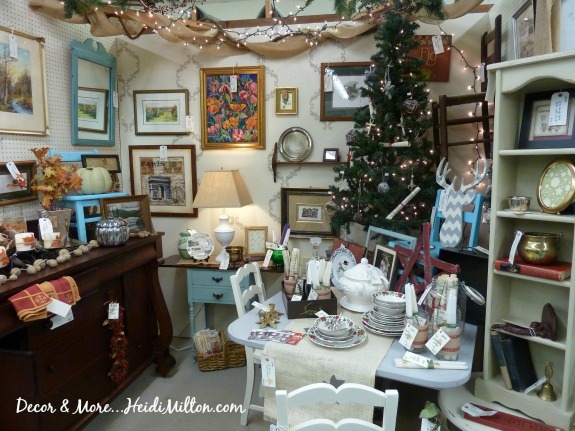 In fact, now that I'm thinking about it, I'd like your input on something… I've been thinking of doing a fresh treatment on that back wall.  After all, I've been looking at that color and stencil for 2 years now!   The simplest thing would be to repaint and I was thinking chalkboard paint would be fun.  I could spotlight pieces and write notes and messages to my customers.  I also thought about covering it with fabric.  Or I could do some combination of the two.  Or… maybe one of you has a brilliant idea?  I think sometimes I look at a space so long and just can't see the forest for the trees, ya know?
Anyway, back to the booth!  I staged the big Empire buffet with what's left of my fall decor…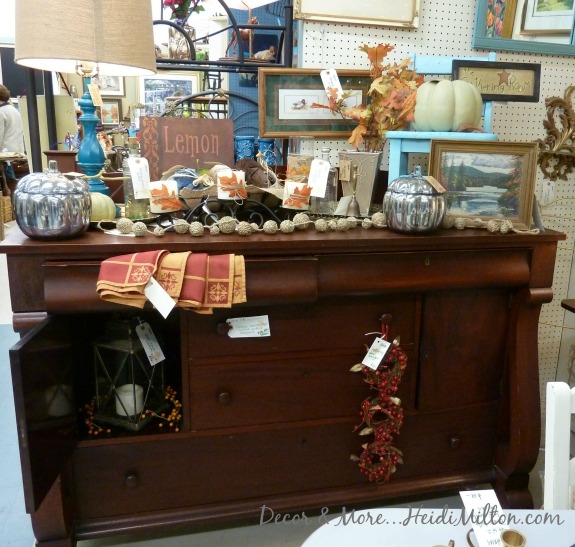 I don't like fall and holiday all jumbled up and this piece just begged for a theme…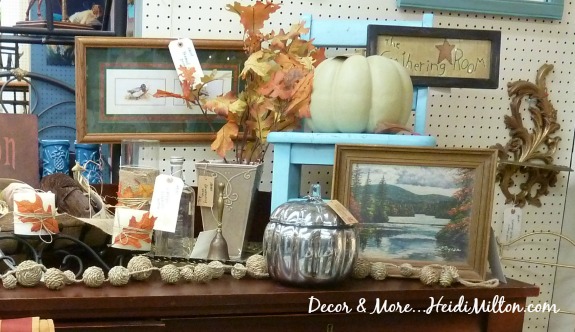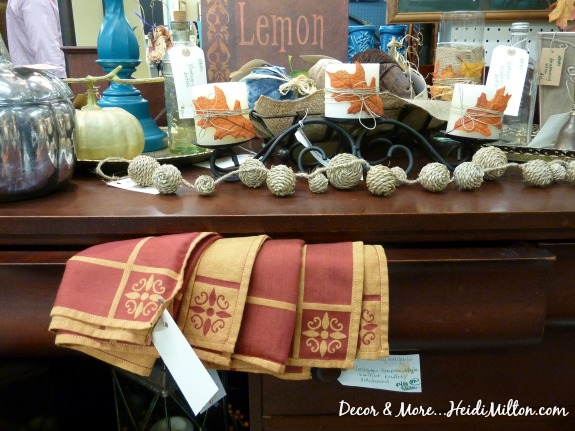 Then I had this amazing dining room table that was perfect for staging all my Christmas stuff, including a small tree that holds ornaments…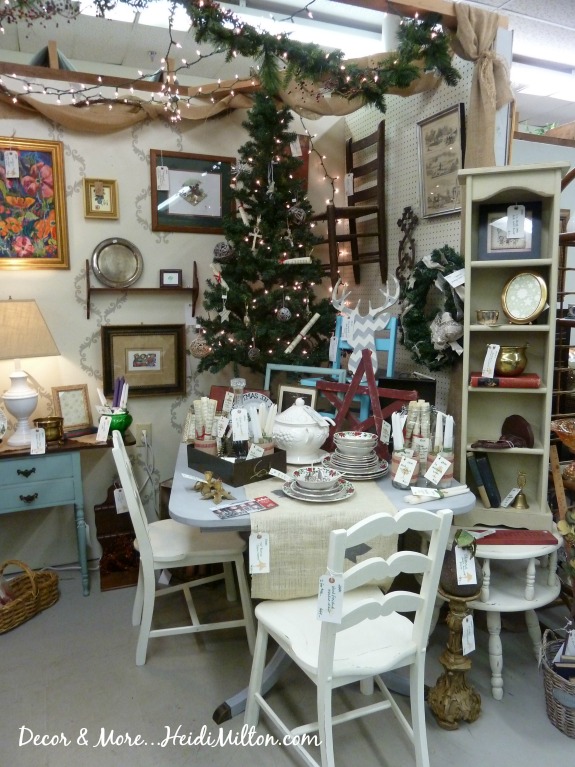 One of my boys helped me string the lights across the top and I love how festive it is!  I knew I wanted to "set" the table with some Christmas dishes, so I did a pseudo place setting at one spot and then stacked the rest of the dishes.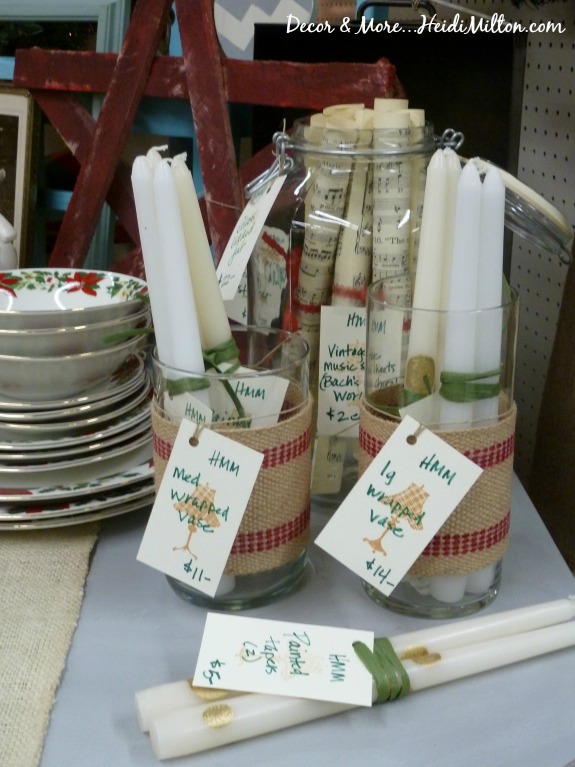 I like to have a few small things folks can decorate with — like these hand-painted tapers and vintage sheet music.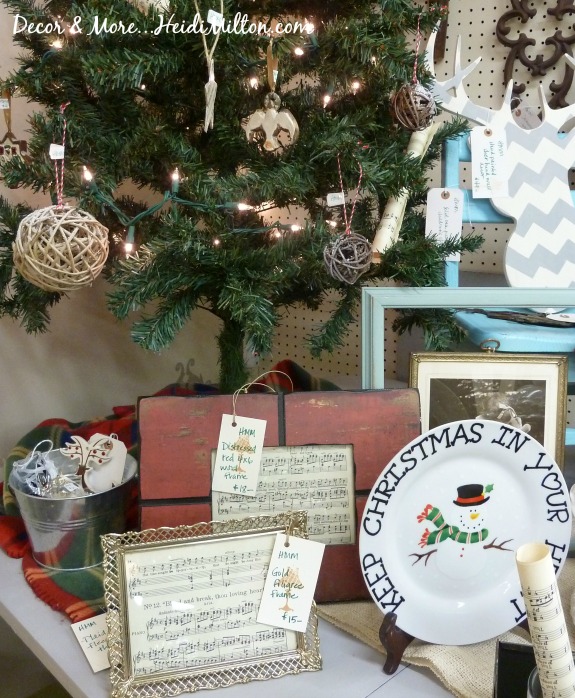 I use the vintage sheet music to pop into frames, too — just for something interesting and it keeps all the different pieces unified.
Tutorial on the chevron deer head coming if you like!  I used these children's chairs on both the buffet and the table to add some height and double up display space.  I scored those for $3 each at a little church thrift store (I have the best luck there!).
To the left of the table against the back wall is that little two-tone drop leaf table I did last year… she's still hanging around, but she's such a versatile piece for display, I don't mind too much!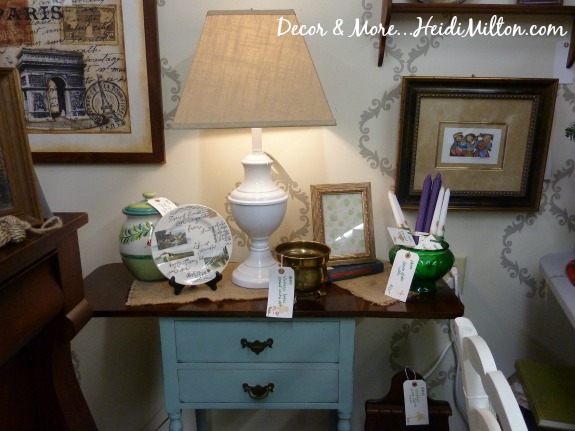 To the right of the table is a tower shelf I painted sitting on top of a round side table.   Gotta use that vertical space, too!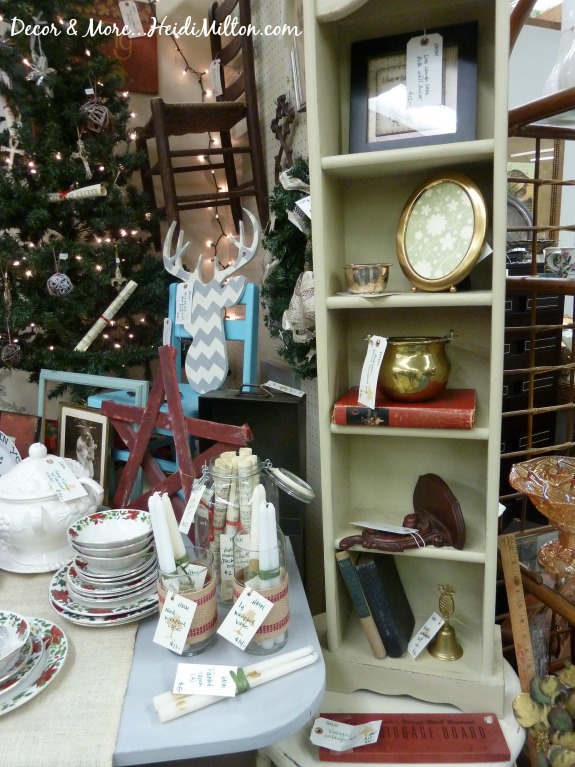 But I use my floor space, too…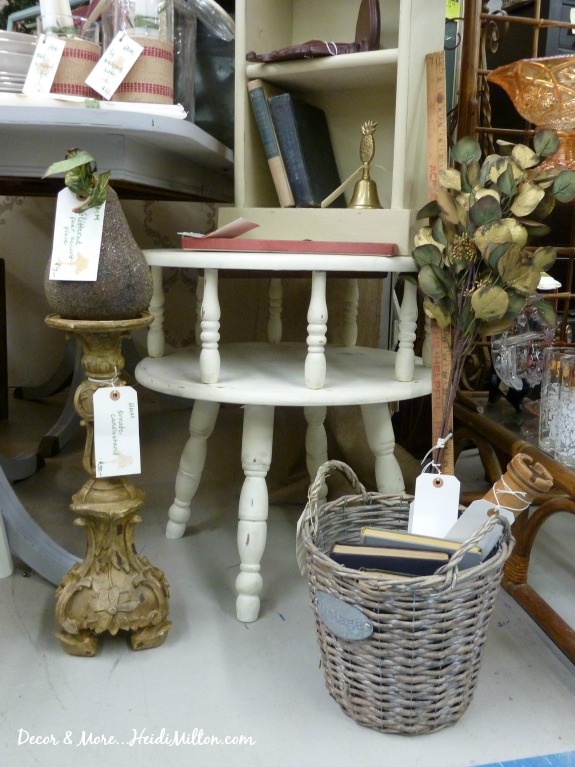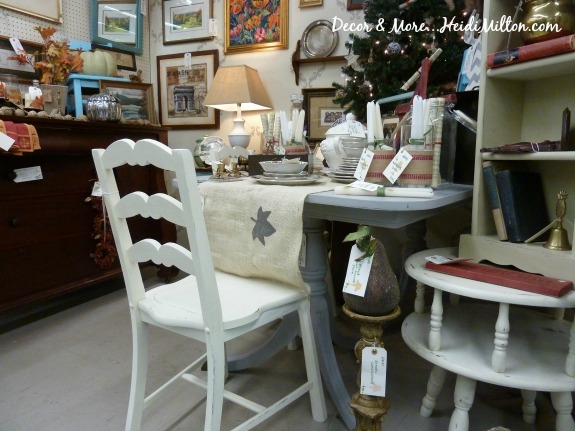 I like a mix of wood and painted finishes in my space.  They both sell pretty well.
It's been so nice to have some time to catch up on at least SOME of the projects that were waiting for me.  More to come!
This Thursday (the 6th) we're having our Holiday Open House from 6-9pm!  All the booths are looking GREAT — refreshed and replenished for the holidays — and it's always a festive time with wine, snacks, and shopping.  If you're local, I'd love for you stop by!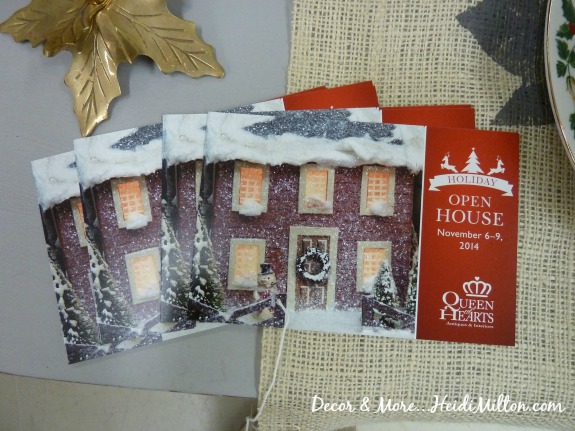 I'm located on East Bay Street in the Marietta location.  If you haven't like my booth Facebook page yet, you can click here.  I post new pieces and any markdowns, so it's good to be in the "know".
I hope you enjoyed your tour!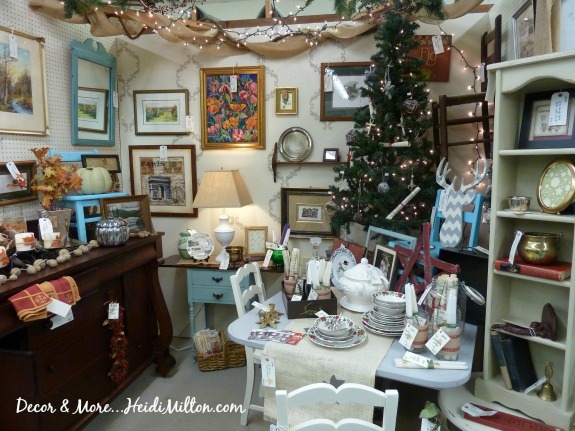 If you have any specific questions, ask away in the comments and I'll answer them there.  Don't forget to weigh in on that back wall!  I'm anxiously awaiting some fresh ideas!!
Have a great day!