Well, THAT title is a mouthful, isn't it!?  Happy Friday, y'all!  Today I'm sharing a fun new project that has me swooning and ready to deck the halls… well, sorta.  What I love about this is that you could use it year round in your decor.  Think "rustic chic" for holiday and everyday. 🙂
I spotted these unfinished wood deer heads online at Unfinished Wood Company.  If you haven't heard of them, click immediately over to their website.  Like NOW.  They have all the mad jigsaw skills I'm too scared to cultivate and some of the coolest wood cutouts for every season!  And for someone like me that likes to paint, stain, and decorate, but not necessarily wield a jigsaw, it's a match made in heaven.
I ordered three of them, knowing I wanted one for a gift, one for my home, and one for the booth.  Provided that they turned out ok. 🙂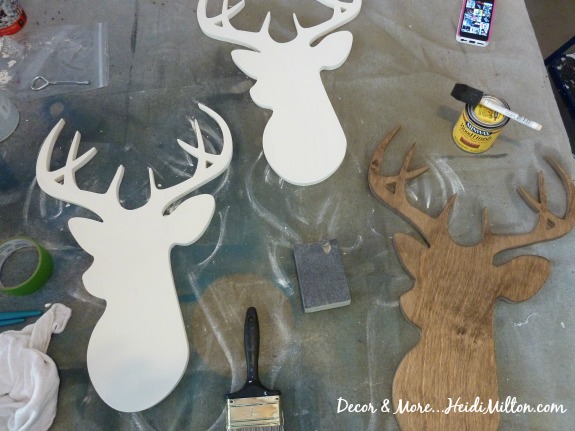 I sanded them all lightly, especially the edges, since they're 3/4 inch plywood.  Then I painted two with two coats of Annie Sloan Old White.  The gift one was stained.  Love the grain, don't you?
When I decided to do a chevron pattern on the painted ones (though I kinda want to do that in a paint/stain combo, too!), I had a decision to make.  I could track down the chevron patterned Frog brand Shape Tape (seriously considered).  Or I could go old school.
The impatient DIYer in me won out, and I decided to use my trusty Scotch Painters Tape and just figure it out.  Truth be told, it might have saved some time tracking down the shape tape, but once I got the hang of it, taping off this pattern wasn't so bad.  And I just eyeballed it.  Because that's what I do.  I did start in the middle of the piece — got the pattern set, then worked my way up the piece and then down the piece from there, mimicking the pattern and spacing as closely as possible without measuring or marking.  Once the first one was done, the second one went much quicker.
Then I chose my colors for the chevron pattern.  I wanted to try the Annie Sloan Cocoa for the one that will be ours and use Paris Gray on the one for the booth.  So I took off painting!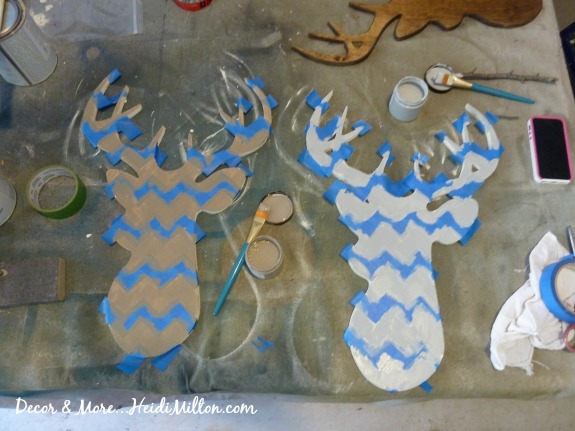 Aaaannnnddd… I skipped one valuable step.  I neglected to paint back over the edges of my carefully placed tape with the base coat color to seal it up tight.  Grrrrr.  Did I mention I can get impatient?
I did two coats of the accents colors and then peeled off the tape before the paint dried completely.  And kept my fingers crossed.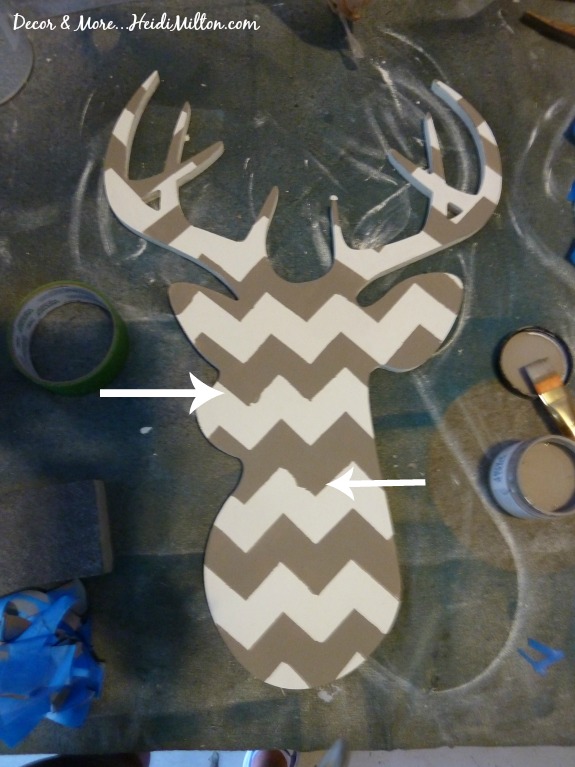 And got lucky.  Seriously.  Only a couple of places that needed touch up on the Cocoa piece and only one on the Paris Gray piece.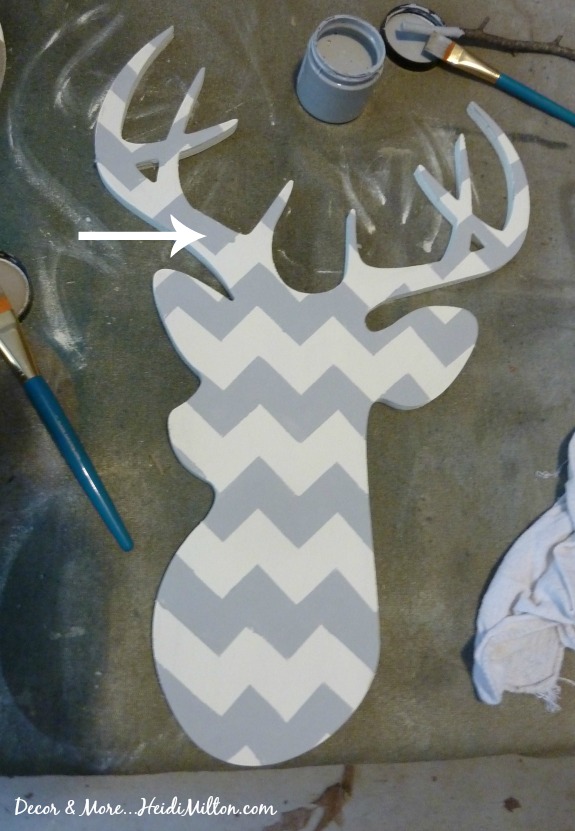 Whew!
So those were super easy to touch up with an artist's brush and my Old White.  After everything was good and dry, I distressed them both a bit.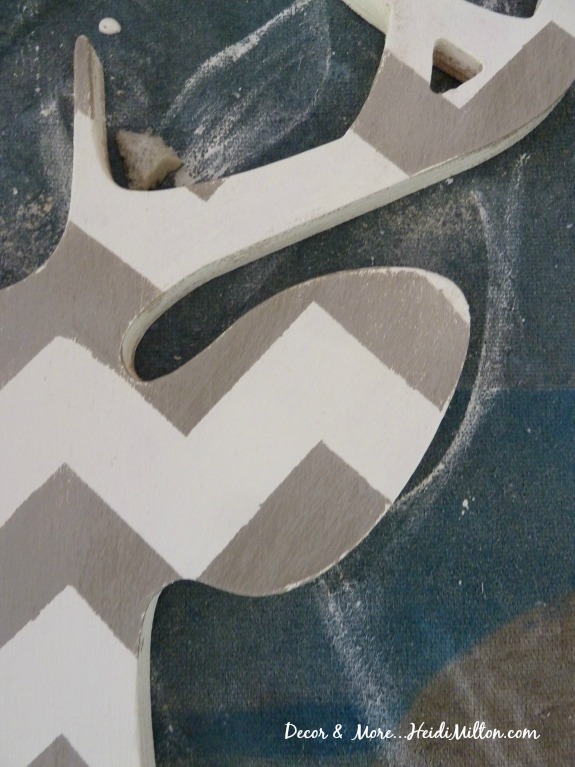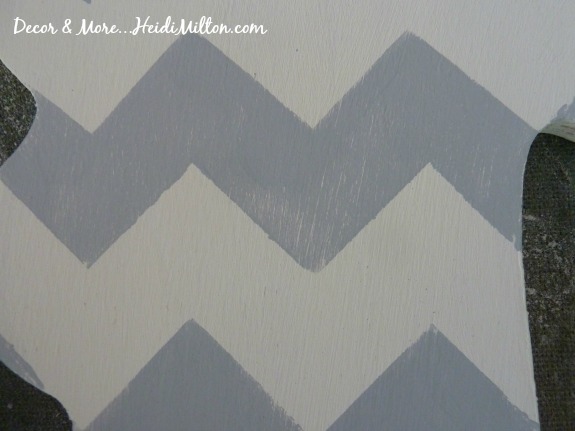 Again — striving for that "rustic chic" look!  And this also camoflauged any of the little overruns of paint in the pattern.  I like how the Old White shows through just a bit.
Our Cocoa piece will be added to my family room gallery wall before the holidays get here, but will be there all year.  I'm in a house full of boys and outdoorsmen and this fits us to a tee!  The Paris Gray piece is situated in my booth… he didn't sell at our Open House last night, but I know a few people that have their eye on him. 🙂
I have to say, I plan on doing more of these projects — easy and fun and soooo many possibilities with unfinished wood.  I just received one of these… so THIS will be next on my list and in a place of honor for the holidays… and maybe beyond.
Just so you know, I wasn't compensated in any way for this post.  I just love to share cool things that make me happy. 🙂  You're welcome!
If you would please take a second to visit my post on my booth from Wednesday and weigh in on what I should do to change out that back wall — repaint? cover with fabric? something else?
Have a great weekend, y'all!  My parents are in town and we're all headed to the Auburn vs. Texas A&M game tomorrow for some SEC tailgating/football fun.  Hope you have something fun planned, too.  See you soon!
*Sharing at Inspiration Monday!
… and at Inspire Me Monday
and at Wow us Wednesday!
and at French Country Cottage.