The past few months have been conflict-ridden and tough tests driven.  I'm really not so great at taking time to pamper myself in little ways when  things are crazy and stressful.  But I'm trying to get better about that… and I'm learning that sometimes it's exactly the little things that make me feel better.  So when I was contacted by Katelynn at Diamond Candles about doing a product review and giveaway, I was immediately drawn to the idea.  I used to burn candles regularly in my home, but that had fallen by the wayside… something about a house full of boys and men made it seem impractical.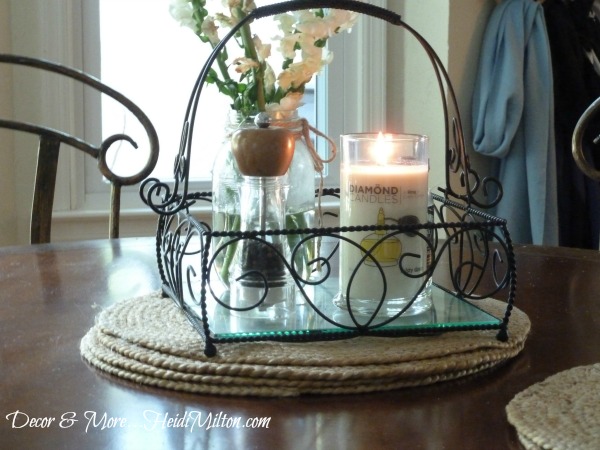 So naturally, I said "yes" in my rebel without a cause fashion, thinking it was time to reclaim some things for ME around my home. 🙂  I love that they are all natural soy candles and am intrigued by the "ring in every candle", so it was a match made in heaven.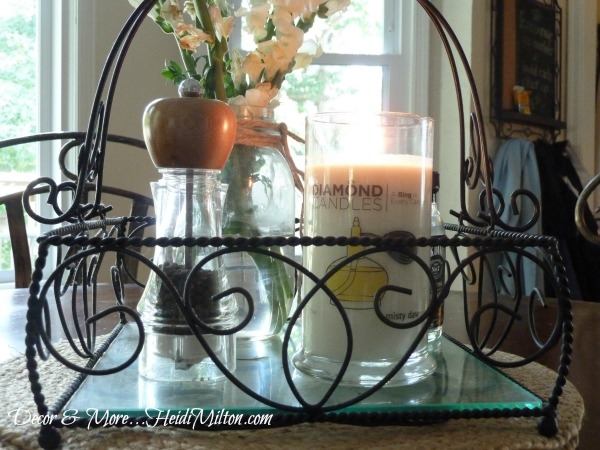 They have so many scents to choose from, I had a hard time narrowing it down.  I usually go for citrus scents, but decided this was a great opportunity to branch out.  I chose their Misty Dawn candle and was amazed by the size of it when it arrived.  These are tall candles that will last you a loooonnnggg time!  And I absolutely love this fresh, slightly sweet scent.  So much that I burn it next to me while I'm watching TV, on my kitchen table while I'm working in the kitchen, and in my office while I'm paying bills and blogging.   Even my boys like the scent… and it sure smells better than teenage boys after soccer practice.  I see hours of fresh scents wafting through my home in my future.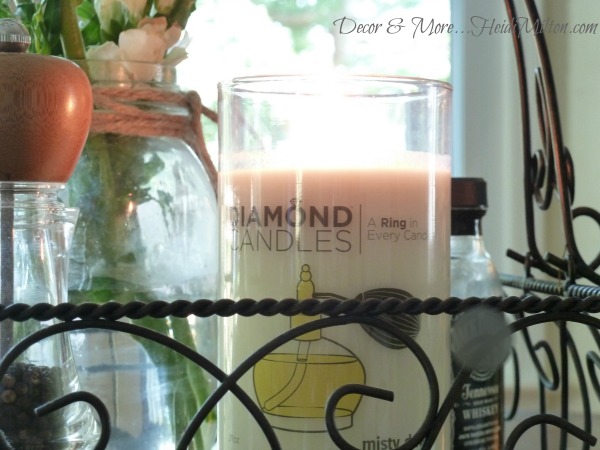 And not only are these eco-friendly soy candles, but Diamond Candles uses soy beans grown right here in the USA.  I love their commitment to our domestic economy and American farmers.  Even their packaging is green. 🙂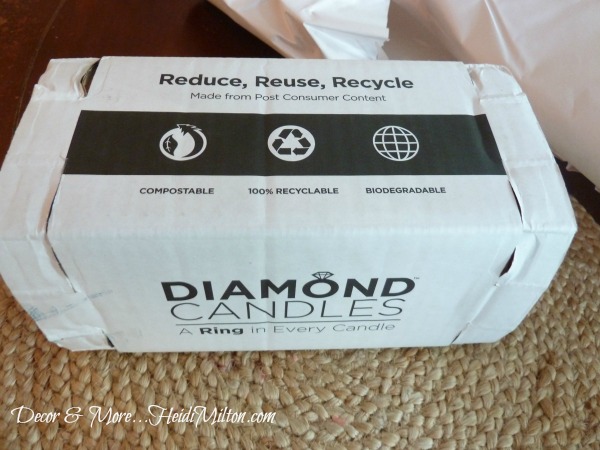 I was enjoying a rare quiet Friday night last weekend, and noticed my ring peeking through the melted soy!  If you follow me on Instagram you got a peek!  I extended my evening a little later than I'd planned so I could retrieve my prize. 🙂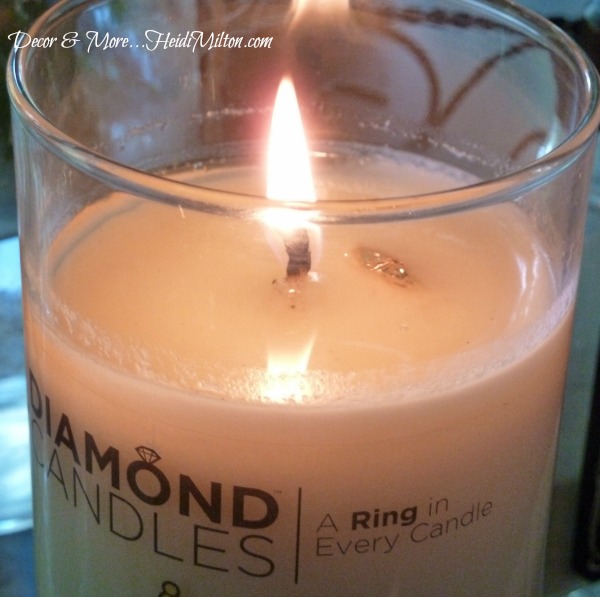 The candle comes with instructions on how to retrieve the ring, so I pulled out the foil wrapped package with tweezers.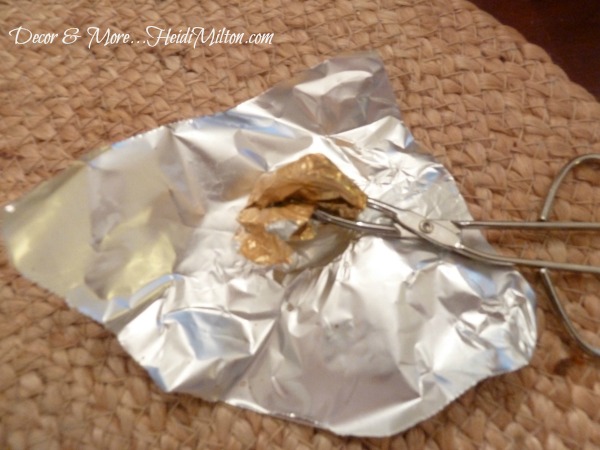 I could hardly wait for it to cool off to unwrap it!  But when I did…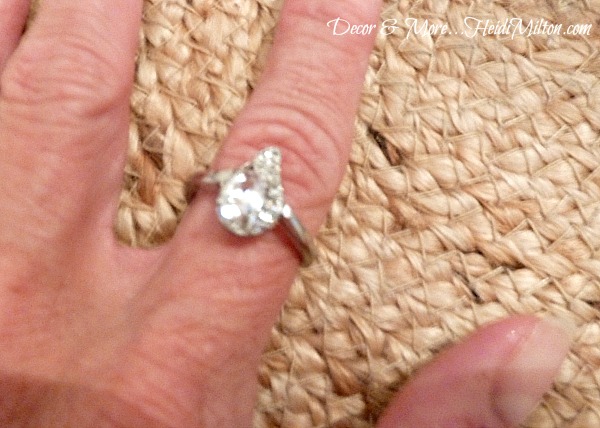 Right??  I was so excited it was hard to get a good photo!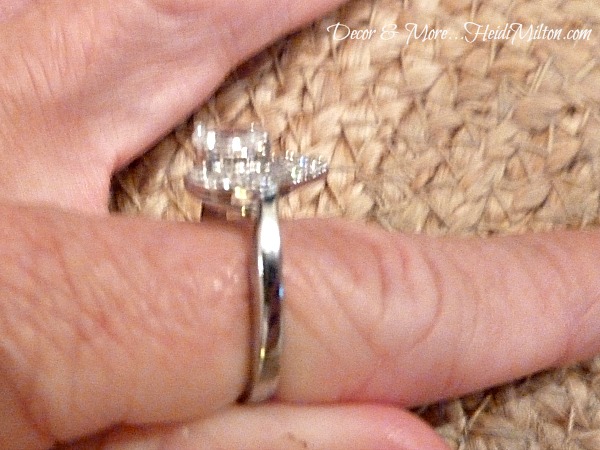 It could be valued at $10,  $100, $1000, or $5000!   It's a tad big for me, so I'm thinking I'll wear it stacked with some simple rings until I can get it sized.  So fun!  And every ring is different.  These would make amazing gifts for your girlfriends, mom, or sister… a quality candle AND a piece of jewelry.  After all, diamonds are a girl's best friend, so why not a Diamond Candle? Such a neat idea, don't you think?
And I have hours of burning time left on my candle to enjoy as the days get cooler and autumn starts to creep in ever so slowly.
I've already scoped out my next candle…
The Lavender Lemon scent… or maybe the Cinnamon Roll?  Pooey… 🙂  There are some wonderful autumn scents available, too.
Find out more about Diamond Candles on Instagram and on their Facebook page, too. It's so fun seeing the different ring reveal photos their customers post!
And now here's the fun part… one of YOU will win a Diamond Candle of your very own!!  Contest ends on Tuesday, September 24.  I'm happy to share the fun, so enter below… imagine a fresh candle for the fall season! Enter below…
Disclosure:  I was provided a candle at no cost in exchange for an honest review.  All opinions are strictly my own.
Enjoy your Tuesday… hope you have a lovely surprise in store!