Good Monday, everyone and Happy Fall at last!  We had a cooler weekend and it finally feels a little "fall-like" outside.  Good thing since I spent a rainy Saturday (after soccer was cancelled) finishing up some fall crafts and trying my hand at a little watercoloring.  Do you ever paint with watercolors?  My class of Littles painted last Thursday and I was inspired to dig mine out and try a couple… very therapeutic!
Sunday morning I made a quick trip to Target before church to pick up a frame and if you follow me on Instagram you know what I spotted!
Hello, Nate Berkus!
I also may have gone home with this…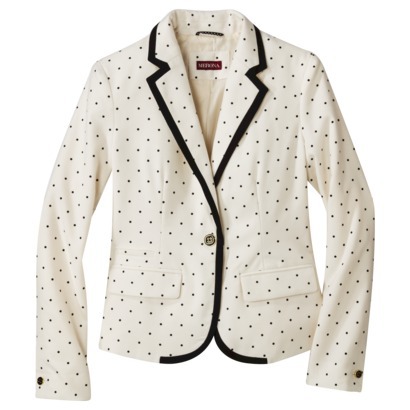 And I still got to church on time!
Anyhoo, today I'm sharing my favorite Banana Bread recipe in honor of the beginning of fall!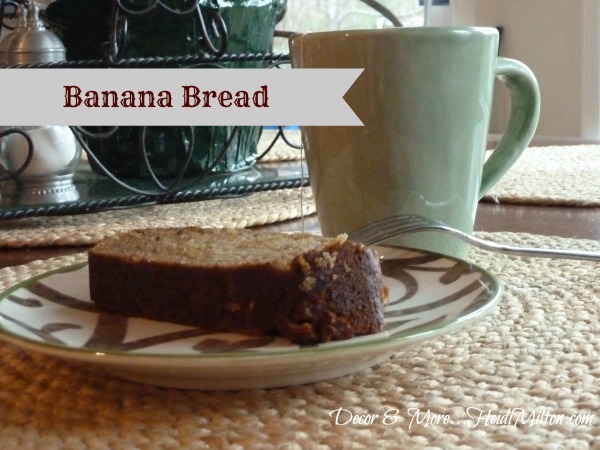 I have a freezer full of bananas and pull them out every couple of weeks to make this family favorite!
The BEST Banana Bread
Here's what you need:
2  1/2 cups all purpose flour
1 1/2 tsp baking soda
1/2 tsp salt
3/4 cup (1 1/2 sticks) butter, softened
1 1/2 cups packed light brown sugar
2 large eggs
3 cups ripe bananas (about 7 medium), mashed
1 tsp vanilla
optional: 1 cup chopped walnuts
Here's what you do:
Preheat oven to 325 degrees.  Grease two 9 x 5 inch loaf pans.  In a medium bowl, combine flour, salt, and baking soda and set aside.  Ina large bowl, cream butter and sugar with electric mixer.  Add eggs, bananas, and vanilla; beat at medium speed until thick, scraping down sides of bowl.  Add flour mixture and walnuts (if you choose) and then blend on low until combined.  Don't overmix!  Pour batter into pans.  Bake on center rack in the oven for 55-60 minutes.  Use a toothpick to test!  Let the bread cool in the pans for 10 minutes before removing.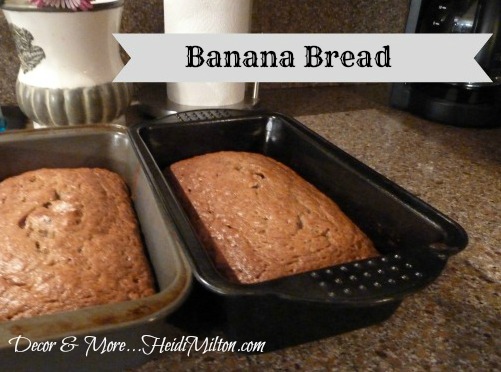 Slice and serve!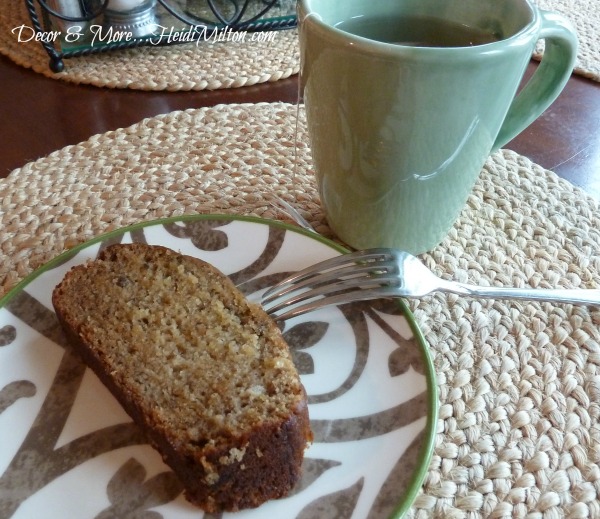 I love mine with a little butter on top and a nice cup of tea!
This recipe freezes very well.   And I love to do it in smaller loaf pans for little gifts around the holidays.
My family loooooovvves this… perfect for a cozy fall breakfast or snack!
Enjoy your Monday, friends… what did you do to celebrate the beginning of fall?
Have you entered my GIVEAWAYS yet??  Click HERE to enter the Diamond Candles giveaway and HERE to enter the $50 NOVICA giveaway.  Good luck!