I can't believe it's September, can you?  It feels like we've already been in school forever, but I'm never quite ready to give up summer.  Plus we inevitably have a heat wave in September that has you bemoaning the fact that the neighborhood pool is closed.  It's one of those weird weather months around here so I'm leery to welcome fall just yet.
Thank you so much for your words of encouragement and love for us and my stepson.  It was wonderful to see him feeling healthy and working hard.  If you have any questions about addiction or the Nar Anon program that's been so beneficial to us, please feel free to email me.
One of the projects I took on over the summer was to refresh the office of our school's director.   Last winter and spring she battled some serious health issues and it seemed she would be forced into an early (for her) retirement.  When she started feeling better right at the end of school and determined she was coming back, I offered to give her office a little makeover so she'd have a fresh look for this school year.  Being the bad/scattered/injured blogger that I am, I failed to take "before" pictures.  But I can set the stage a little for you…
Her office is shared with her assistant, who is currently battling cancer so isn't in the office much.  It's an interior room in the basement of the church… in fact the vast majority of our school is in the basement of the church!  You learn to get creative when you're dealing with cinder block walls, y'all.  Anyway, her previous color scheme was yellow and red, with lots of checks and toile.  Yes, I know.  While it was very cozy, it was very dated.  And our little makeover got her motivated to really edit her accessories to accommodate a fresh look and perspective, while keeping the cozy factor in place.  The cozy factor is critical when your clients are families and children. 🙂
She decided to use gray to replace the red in her office, thinking it would be a refreshing accent color with the yellow… and i think she made a great choice.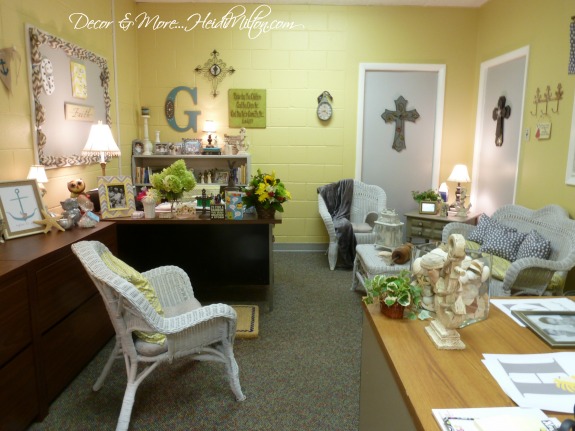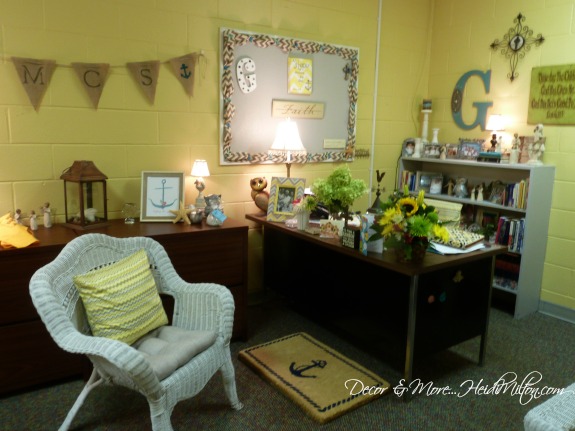 I painted her bookcase behind her desk and her bulletin board to keep everything light and fresh.  Her sweet collection of accessories (edited!) just pops now.  We used some chevron burlap ribbon to create a ruffled look border around her bulletin board.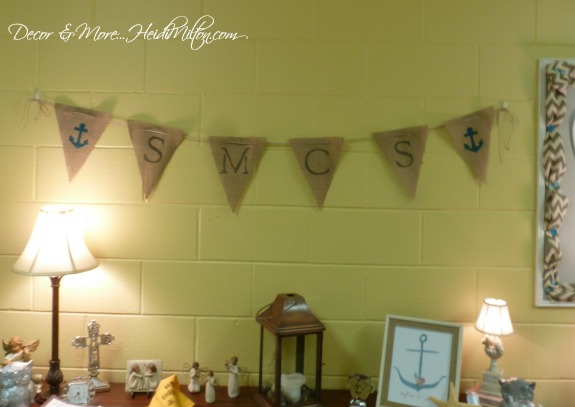 I had this banner in mind from the get-go.    You might notice several anchors in her new decor.   We choose a new theme every school year and this year its Hebrews 6:19.   I've always loved nautical decor and to tie that amazing verse into a fresh new look for us is a gift.
I made this to hang on my own classroom door…. so easy!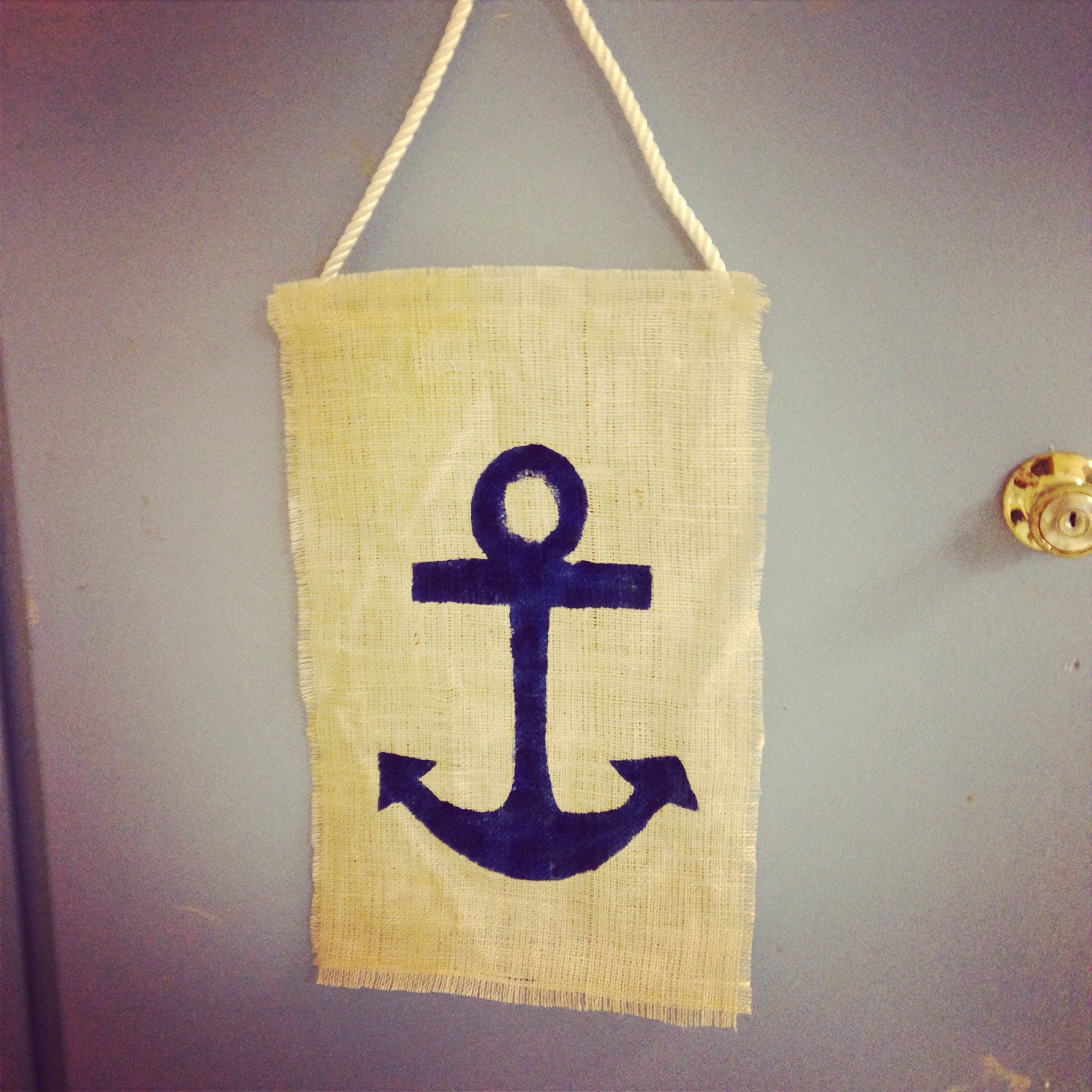 Back to her office, we rearranged her seating nook a bit and gave all of her wicker pieces a fresh coat of light gray paint…
That window is not functional — it used to look into what was the old church nursery.  But we decorate it as a window anyway since the casing is still there.
You might recognize that little side table in the corner…
Remember her?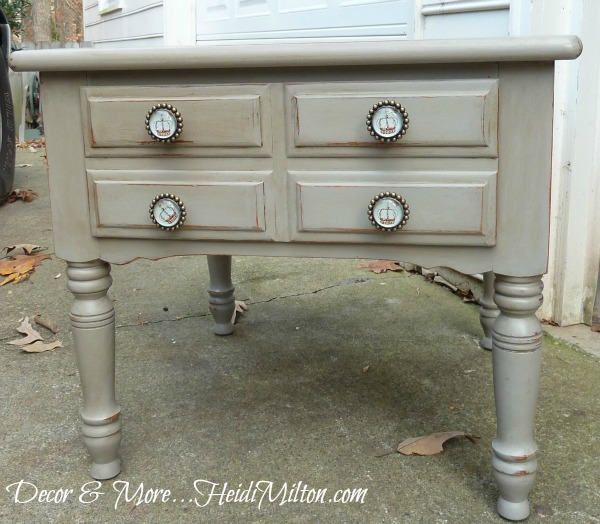 She's been in and out of my booth and I decided to put her to work in the office makeover.  She's super happy and is being appreciated and ooed and ahhed over every day. 🙂
Beside the "window"  I wanted to use another window to showcase photos behind the assistant's desk.  Luckily I had one in my garage, so after a coat of ASCP in Paris Gray…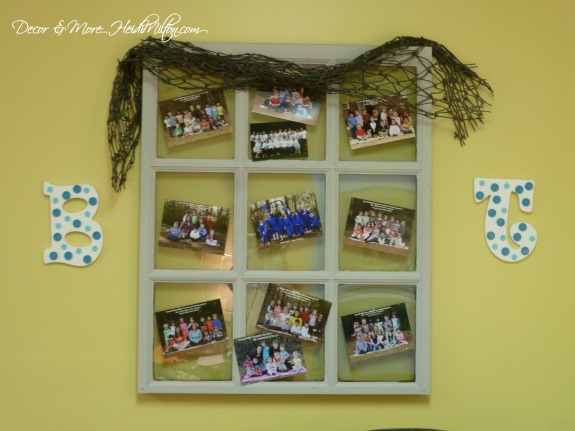 I love that she can change out the photos as the year goes on.  She added the fishnet and the "B" and "T" (initials of her assistant and administrative assistant).  We're going to mount the letters on burlap covered canvases to add another dimension to them.
Another suggestion I had was to use brighter light bulbs in the lamps.  She detests the fluorescent overhead fixture so rarely has it on.  Just ramping up the wattage in some of her lamps made a big difference in how light the space feels.  Small changes but a BIG impact — it just feels fresh, fun, and cozy all at the same time.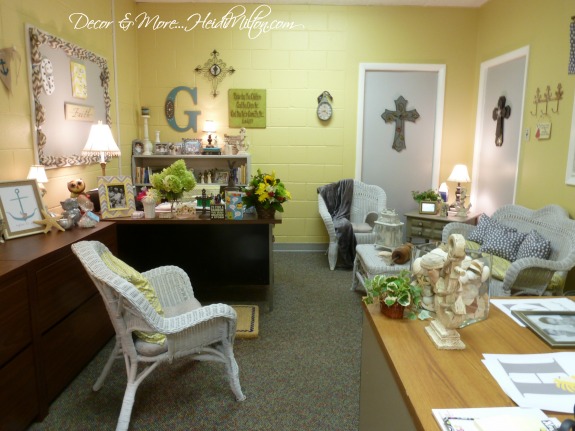 A labor of love for a very special lady…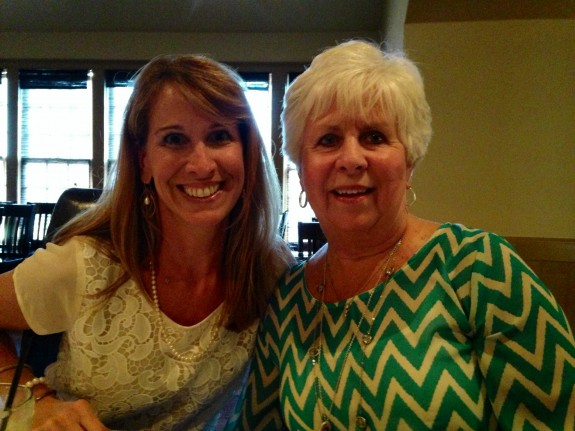 Peace, friends!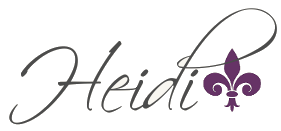 Pin It
&copy Copyright 2014
Heidi
, All rights Reserved. Written For:
Decor & More