Oh, rain, rain, go away… I am in serious need of some sunshine, even if it's of the COLD variety!  We've had so many gray, rainy days lately, it's taking a toll on me.  I live in the South, for heaven's sake, not the Pacific Northwest!
Last weekend, I caught up on some Valentine treat-making, so I thought I'd share it here today, to chase those rainy day blues away!  Anyone else cheered by a sweet and salty treat??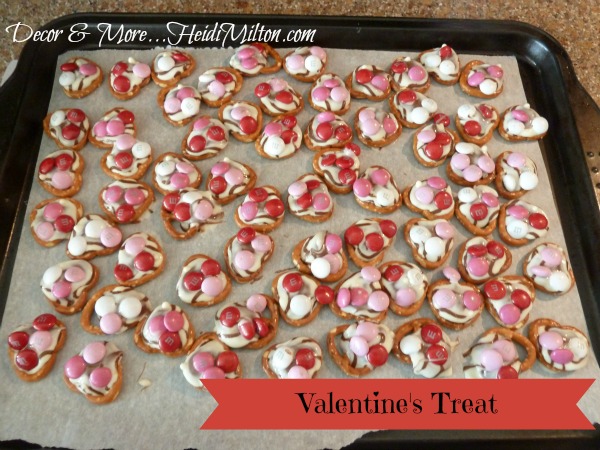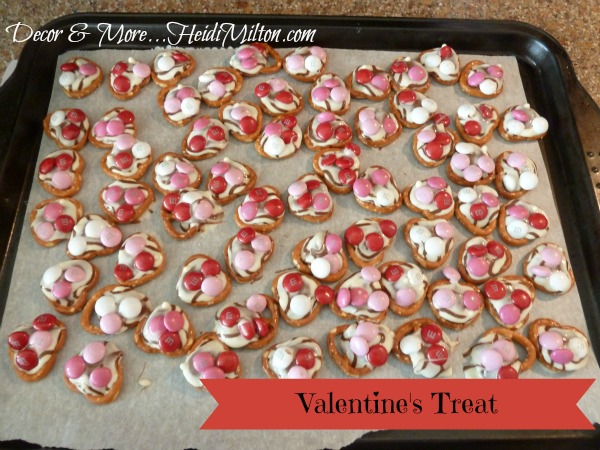 This is as easy as it comes!  What you need:
mini pretzel twists
Hershey Huggs
Valentine M & M's
Preheat your oven to 250 degrees and on parchment paper lined cookie sheet, lay out your pretzels.  Place one Hershey Hugg candy on top of each pretzel.  Pop into the oven and let the Huggs begin to melt.  This took about 5 minutes in my oven, but I think mine tends to run hot.  Before they're completely melted pull them out of the oven and drop M & M's on top of each one.  I did these one or two at a time and then went back and filled in gaps while the Huggs were still soft.  Then I popped the cookie sheet into my fridge for about 20 minutes to completely harden them.  You could just let them sit out to harden, but in my house, things left to cool/harden have a way of disappearing. 🙂  Since these will be a surprise for the kids and hubs on Valentine's Day morning, time was of the essence. 🙂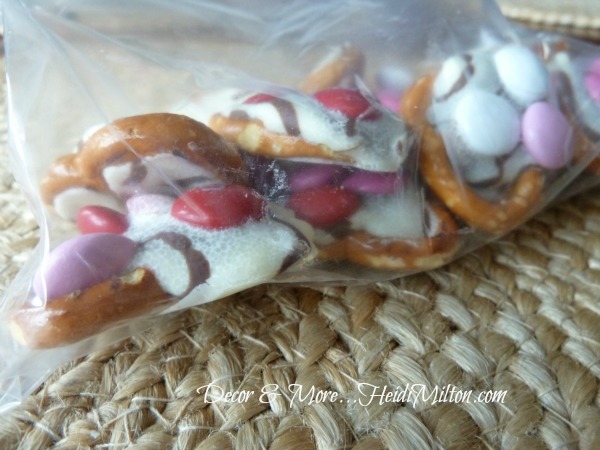 Once they were cool and hardened, I bagged them up and stashed them for the big day.    I still have a few hiding places they haven't discovered yet.  Ha!
In other news (and part of why I'm bemoaning the rainy weather), my class got a little lesson on Mardi Gras yesterday…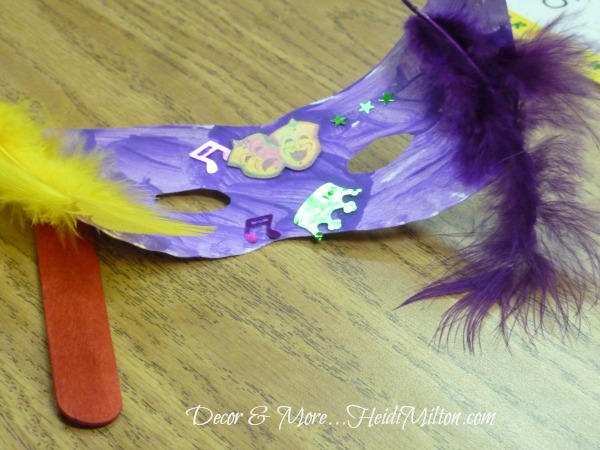 We made Mardi Gras masks, had a parade, read a story, and enjoyed King Cake.
This is always a fun lesson to teach, but once the King Cake kicked in and we couldn't go outside due to the weather, the wheels came off. 😛  Oh well!  Laissez les bons temps roulet!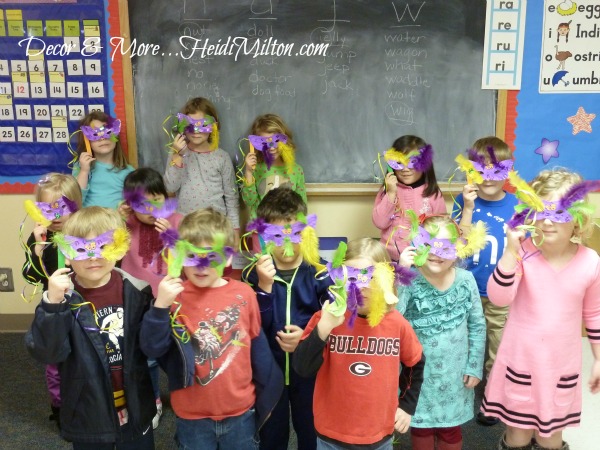 Today, Ash Wednesday, I'll be fasting and reflecting on what sacrifice or resolution I'd like to make this Lenten season.
Do you give up anything for Lent?  Or are you a resolution maker?
Enjoy your day!