Happy Friday, everyone!  I can't believe we're already wrapping up June… *sigh*… why do the summer weeks seem to fly by the fastest?  I'm looking forward to fun weekend IN TOWN, if you can believe it!   My "baby" boy leaves for Spain and Portugal with his church youth group in less than two weeks, so I'll be working on getting him ready to go, hopefully finishing up a booth project or two, and relaxing with some special girl friends (I'll share next week!).
Today, I wanted to share some pics of my family room, all cleaned and fluffed for the time being. 😉  If you have kids, you know this won't last long, so it was fun to capture it in a decent looking state.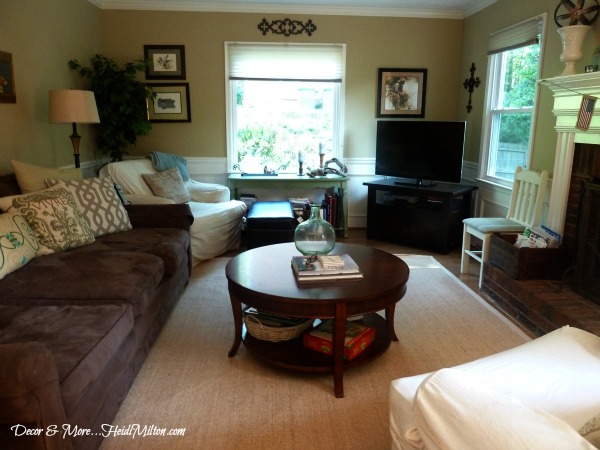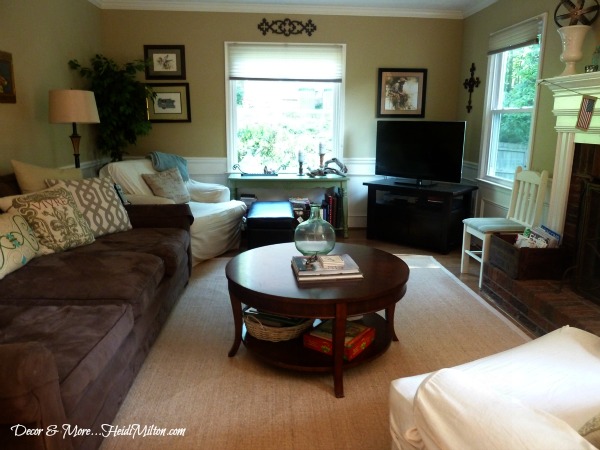 This is the shot I showed you before from the doorway — I had a comment that I should turn the sofa sideways and it actually made me chuckle.  It 's hard to tell from this photo how narrow this room actually is… AND how massive the brown beast sofa is!  We are a family of very tall individuals and they loooovvvve the size of this "napping machine" sofa!  If i were to turn it sideways, it would completely block entrance to the room.  Furniture reconfiguration would have to wait until entirely new pieces are purchased for the room. 🙂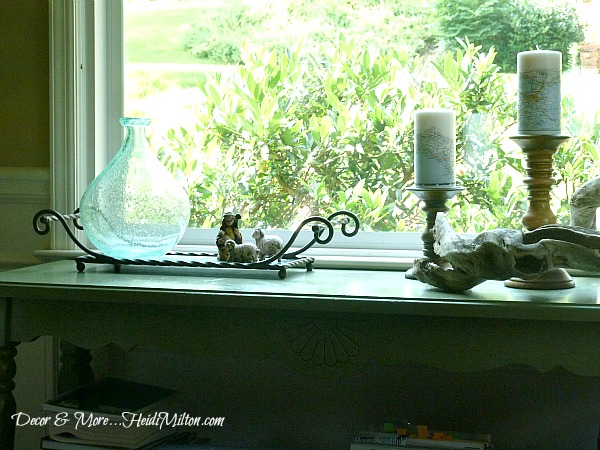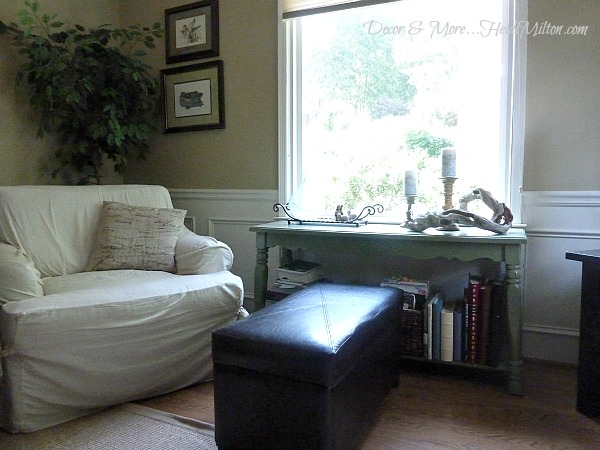 We love our big comfy club chairs, too… after all, it's our family room, not a living room that's only used occasionally. 🙂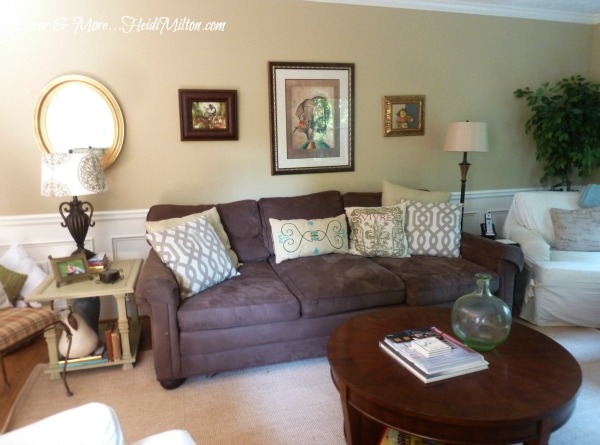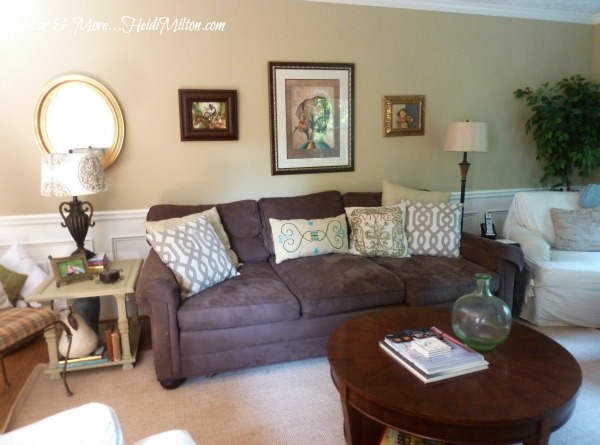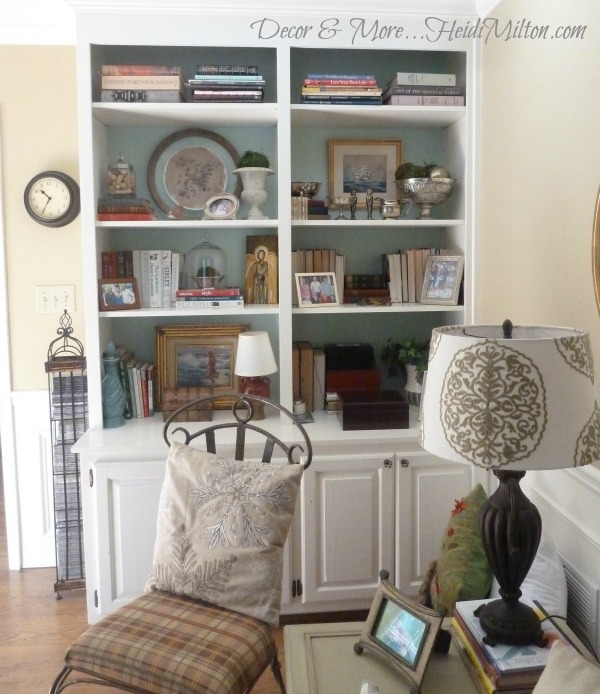 We pull in our extra chair from the kitchen to keep the flow open, but also to give an extra perch, since it's rarely just the five of us in here. 🙂  #teenagerstravelinpacks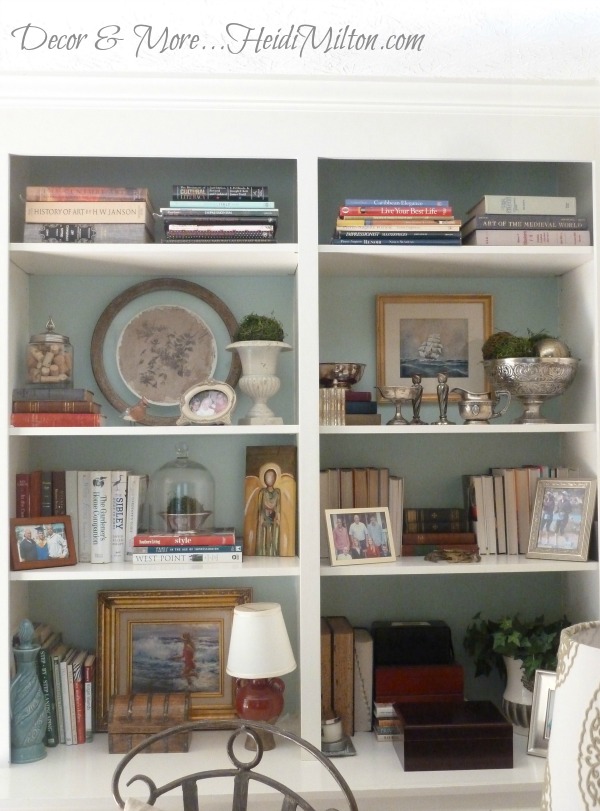 This is always changing… not too dramatically lately, but changing nonetheless!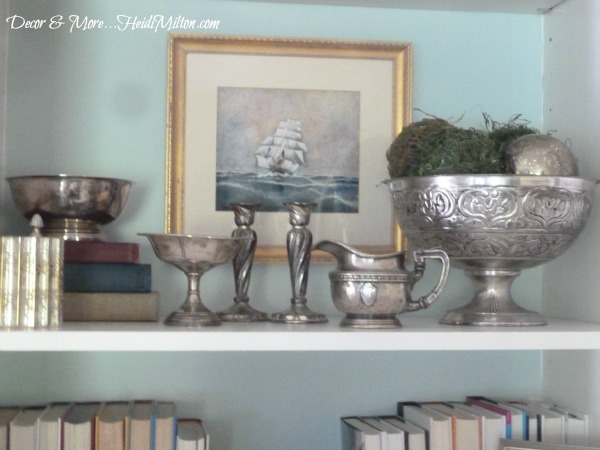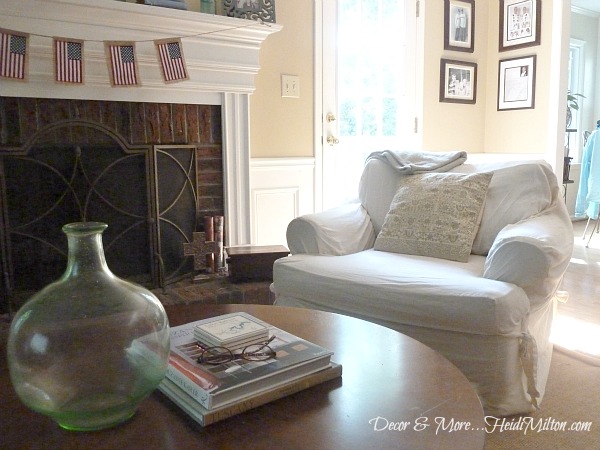 Having the other chair here makes for cozy conversation.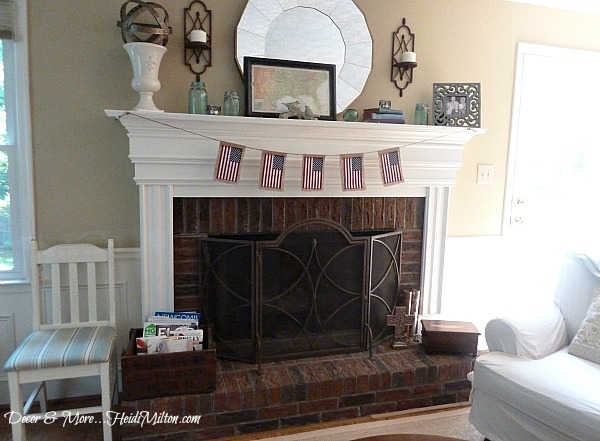 Something else that changes regularly – my mantel.  The DIY Burlap Flag bunting has become a favorite, so it's staying for a while.  The little straight backed chair waits in the wings to be pulled up when needed, too.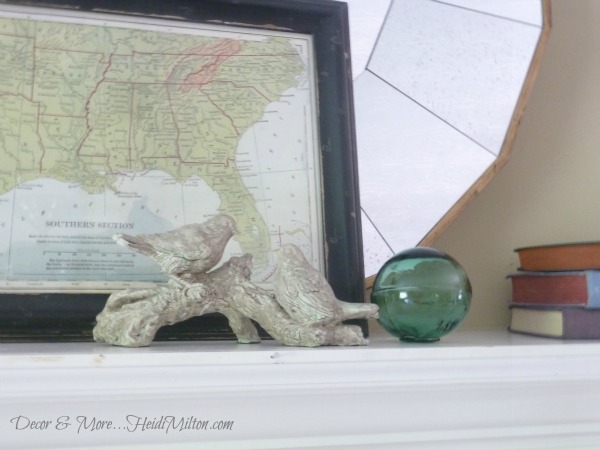 Couldn't resist adding this Japanese fishing float…
And some more details…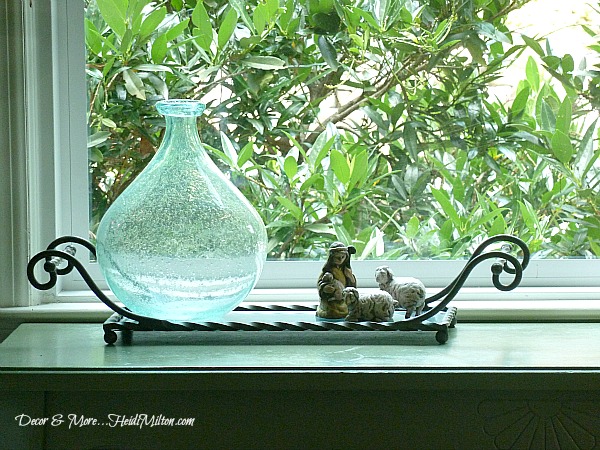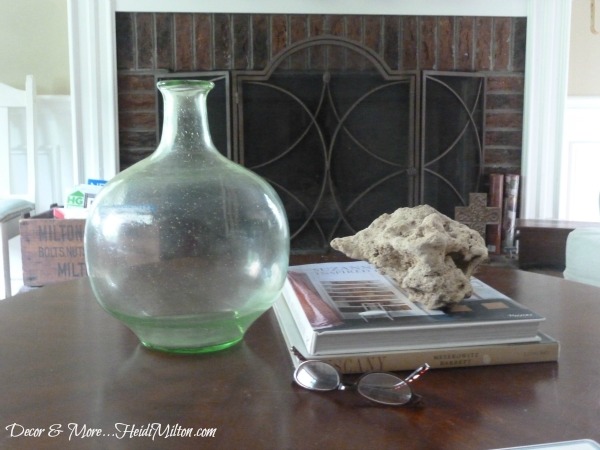 We enjoy this space… but you know there's always a To-Do/Wish List, right?
Here's most of the space again — it's very hard to photograph with my point and shoot and the light streaming in…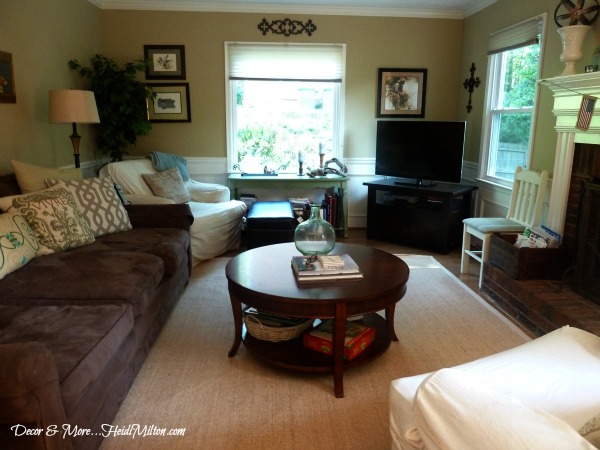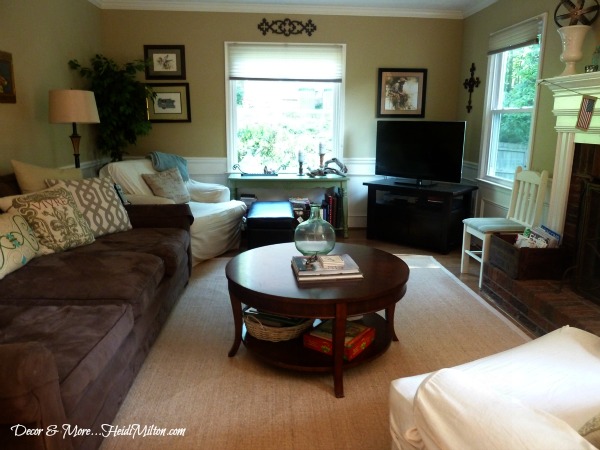 The To-Do/Wish List…
layer another rug over the sisal rug (the family doesn't love how it feels under their feet).
Add simple drapes to both windows.
Lighten up the paint color?  Right now it's Behr Lincoln Home Beige, but as I've taken the adjacent kitchen/breakfast room to Belvedere Cream which is more of a creamy pale gray green, I'm thinking that would freshen the space a bit.
Replace the big club chairs ("chubs" we call them) with something slightly smaller but still loungy and comfy.  These would end up in my basement/game room which is on the list for a makeover, too.
Find an interesting treatment for the far left corner — leaning shutters or a ladder?  Or one of those amazing fiddle leaf fig trees?  Hmmm…
Recover the seat(s) on my kitchen chair(s) — it's time.
Create a display of family photos for over the sofa — I have a specific project in mind!
It's fun to plot and plan, even if the room never feels "finished". 🙂  And there you have it!  I'll link to this post over on my Home Tour page.  If you have specific questions about pieces in this room, I'll try to answer them in the comments.
Coming up soon is more of my home (and probably more To-Do/Wish lists!), a couple of new recipes, and super fun giveaway!  Stay tuned…
What's on your To-Do List for your family room?  Are you a tweaker of bookcases and mantels, too?
Sharing at Karianne's Summer Linky party today. 🙂