First of all:   join me here Friday, if you would be so kind… you see, it's my birthday AND my blogiversary and to celebrate I'm sharing 21 things I love and hosting a fun little giveaway! See you then… now on to my update!
Y'all.  I finally did it.  And I have no idea why it took so long for my vision to gel… after all, it's a very simple one.  Do you ever over-complicate things?
Anyhow, one of my home goals for this year was to add drapes to my family room.  I've mulled and pinned and mused and re-thought for quite some time now.  But I finally bit the bullet last weekend.  My plan was in place and I had a rainy Sunday to pull it off.
In case you forgot what the family room looked like naked…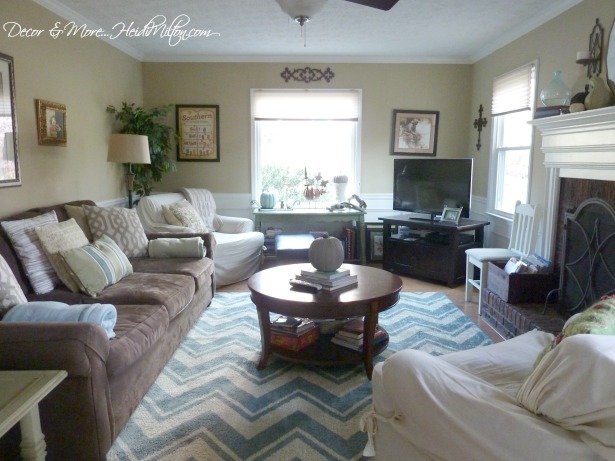 Not so bad, right?
But I wanted to ditch the ficus in the corner (check!) and add drapes to the windows… done!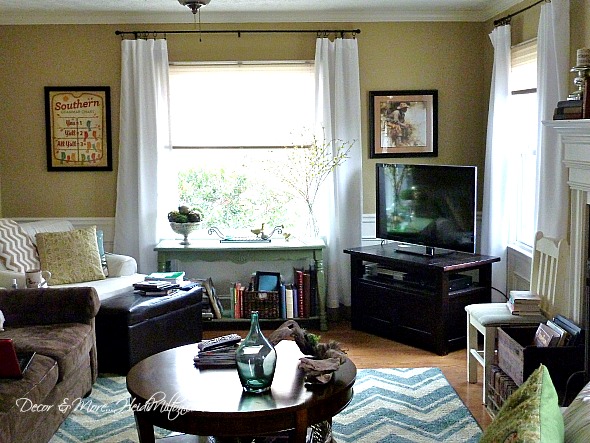 The wall color is not this golden in person — it's been so dark and rainy I've had to fiddle with the exposure a bit.
See how simple?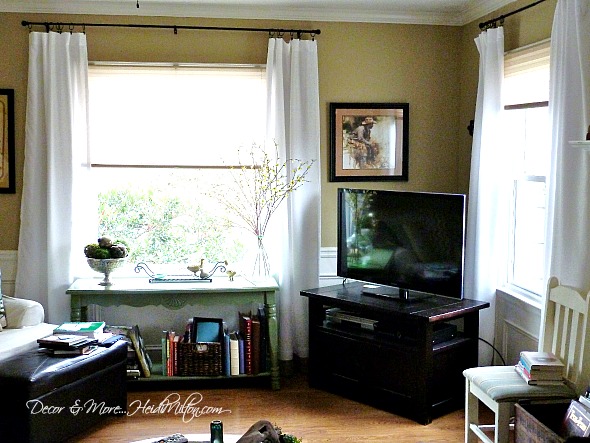 These drapes have a sweet little touch that I'll share in a simple tutorial soon, but for now, we're loving how this has changed the whole feel of the room!  Even the hubs commented on them after turkey hunting all weekend (winning!)
Now, even though the wall color is actually this… I am feeling that it's darker than I'd like.
Can you say "repaint the room??"
Just one of several more changes coming… lighter paint color, fresh gallery wall over the sofa, reupholstered club chairs.
You know… one thing leads to another!
But window treatments really help finish off a space and that's how this is beginning to feel.  Yay for progress!
See you back here Friday for my Birthday/Blogiversary celebration giveaway!!!