TGIF, y'all!  I didn't intend to step away this week, but — Life.  Anyway… our holidays are all about crowds.  I mean, we have five kids.  Who all have friends, girl friends, etc.  So I wanted to share a new Feed a Crowd recipe that's been a lifesaver recently: a Whole30 compliant Beef Vegetable Soup!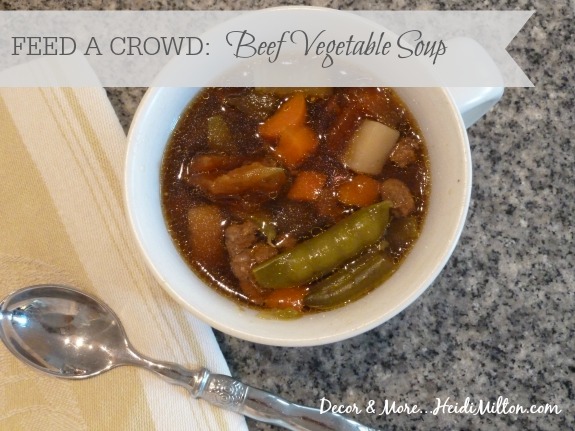 This is not only healthy and delicious, but it's FILLING!  And when you're feeding a crowd that's key!
Here's what you need:
2 lbs beef ground for chili (grass fed if you can get it, don't worry if you can't)
2 32 oz cartons Kitchen Basics unsalted beef stock
2 cups water
1/2 medium onion chopped
2 cups sliced baby portabella mushrooms
2 cups fresh sugar snap peas
2 16 oz packages frozen vegetables for soup (we like the combo packages but you can choose your fave veggies instead if you like).
1 tbsp minced garlic
1 tsp rubbed sage
1 tbsp Mrs. Dash original seasoning
sea salt and black pepper to taste
Here's what you do:
In a large stock pot, brown the beef.  Drain and remove from pot.  I put in on a paper towel covered plate to continue draining for a bit.  In the same stock pot, add beef stock, water, onion, mushrooms, and sugar snap peas.  Bring to a boil and then simmer covered for 20 minutes.  Add frozen vegetables, garlic, sage, Mrs. Dash, sea salt and pepper, and the drained beef to the mix and simmer covered for 1 hour, stirring occasionally.  Serve with corn bread, salad, and/or grilled cheese sandwiches.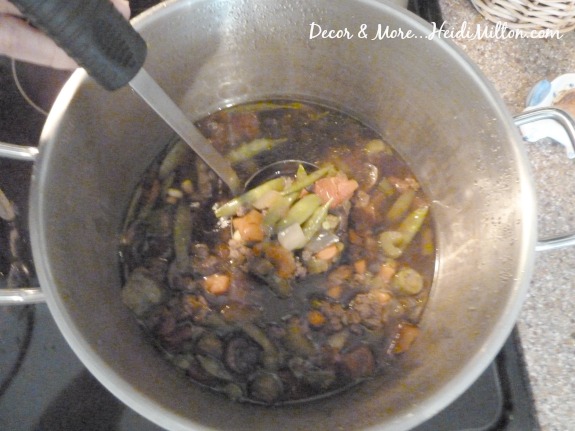 This is one of those soups that tastes even better the next day and freezes well.  I usually try to make it ahead of time, or at least in the morning, so by supper time the flavors have all melded.  Last weekend at the lake, I had a pot of this simmering all day Saturday and all day Sunday.  We didn't have any left over to bring home, but boy did we all enjoy it!!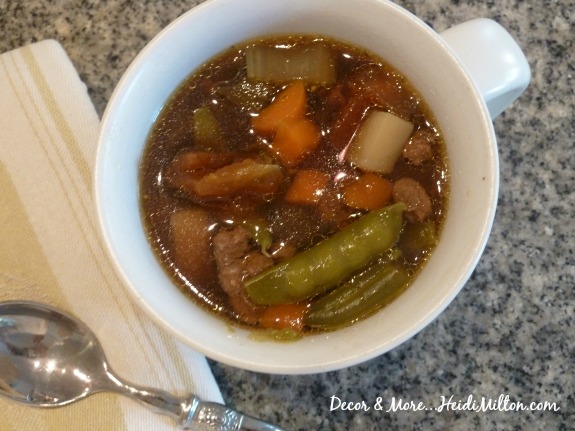 This is such a busy time of year but I intended to be sharing here regularly last week.  God had a different plan though, and my little school is going through much upheaval and change.  If I could ask you to please pray for this situation over the holidays?  Those classrooms full of little ones are such a ministry to us teachers and the families.   I, for one, am working to keep my eyes on Him each day.  What else is there, after all?
Wishing you all a blessed weekend of those last minute holiday preparations!  I know my weekend is full, but I plan to spend some time with feet propped in front of the fire, enjoying the lights on my tree, and watching "Elf".   And smiling.  Because smiling's my favorite.
Cheers!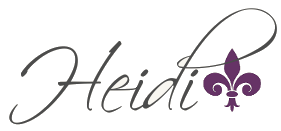 Pin It
&copy Copyright 2014
Heidi
, All rights Reserved. Written For:
Decor & More