T.G.I.F.  And I MEAN that!  I'm ready to wind down this week, but not quite sure I'm ready to say goodbye to April!  #yikes  Thanks for sharing your thoughts on yesterday's porch plans post… I'm ready to get rocking on that bad boy.
Today's Five on Friday is another dose of randomness but all good stuff…
1.  What Should I Read Next podcast. 

Yes, another podcast, but it's another good one!  Anne Bogel from the blog The Modern Mrs. Darcy launched this podcast last fall, after realizing the popularity of her blog series "What Should I Read Next?"  The premise is that a reader shares three books they love, one book they hate, and what they're currently reading.  They also share what they'd like to be different in their reading life.  And then Anne recommends three books for them to read "next" after hearing all of that.  If you are a book lover you will ADORE this podcast!  Anne reads widely and has quite the arsenal of books to recommend.  I particularly love the lively discussions between avid readers.  Warning: your wish list of books to read will grow exponentially. 🙂
2.  The Circle Maker.
This book was recommended to me by a friend, as I've been walking through some trying times recently.  I'm only about half way through, but there are some good takeaways in its pages.  You'll be encouraged to dream big and pray bigger… God's resources and love are infinite and who knows what He can do??

The above is an affiliate link.
3.  These fun spring sales…
Two of my favorite stores are having some great spring sales right now!  I shop at LOFT on a regular basis and their sales are hard to beat.  Right now you can get 40% off spring styles and an additional 60% off sale items.  Woo hoo!
And there's also some sweet deals at Nordstrom right now in the form of new markdowns.  And the free shipping AND free returns means online shopping is always a good deal.
And if you belong to Ebates, you earn cash back on EVERY purchase from both of these stores! Get shopping!  Click HERE to join… it's free!  And it pays. 🙂
4.  Beth Barden at Design Post Interiors.
I first discovered Beth on Instagram and I am in love with her light and bright interiors.  I mean, check out this office space…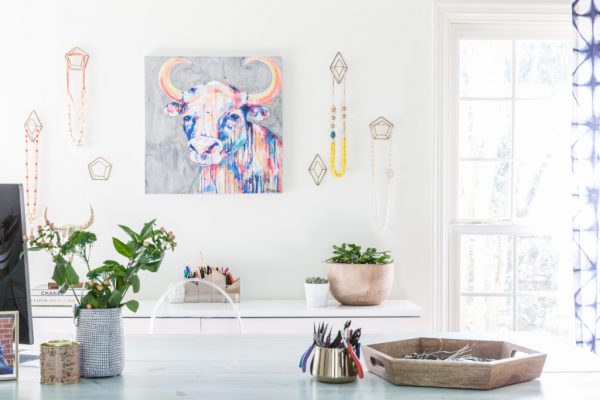 Need I say more?  Her Instagram feed is tons of eye candy and she gives peeks into her creative process and her life in Charlotte, NC.  So happy I discovered her work!
5.  Lake Rabun.
There are no words for how much I love and adore this place.  We've been blessed to have a beloved family member with a home up there and we've created tons of sweet memories there.  Like this one…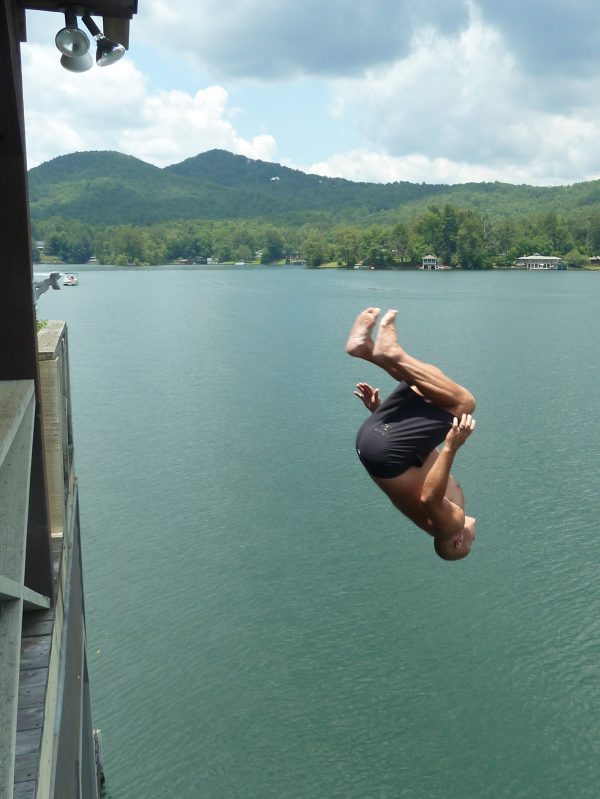 Yes, that's the hubs… he loves to flip off the dock. 🙂  Anyhoo, I'm headed up there today to celebrate my sister-in-law's retirement from teaching.  She's taught for 30 years, both in Georgia and Tennesee, with the bulk of that time spent with special needs kids.  She is one gifted and amazing lady… and a boat load of fun, too.  So thankful to call her "sister" AND "friend"!  For more posts on Lake Rabun click HERE and HERE.
Hoping the weather is fine and I can take my own plunge off the dock this weekend!  Have a good one, y'all!