Hi there!  I'm still working through a little re-entry from my fab birthday weekend in the Big Apple and I can't wait to share my highlights later this week!  Thanks so much to Cassie for stepping in and sharing her Small Space Project on Monday — I am now inspired to tackle my master closet in a big way!  And don't forget to enter my Happy Birthday/Blogiversary Giveaway… your odds are pretty good of winning at this point. 🙂
Today I've got a great little decor "cheat" for you… how to lengthen drapes the no-sew way.   I finally tackled and then shared my family room drapes last week…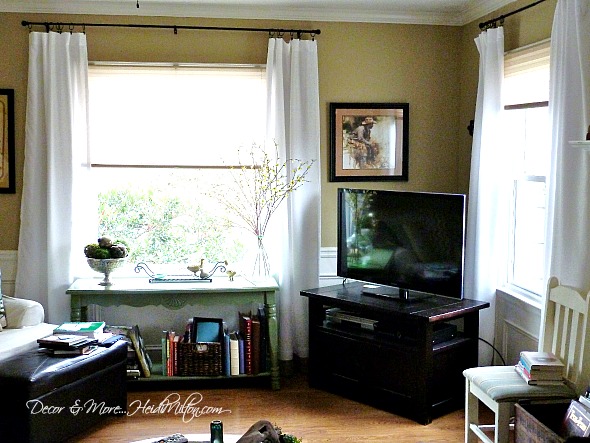 I had a teeny tiny budget for this project and one of the things I noticed while shopping for drapes is that the longer they are, the more expensive they are.  I also knew I wanted to hang them high and wide for maximum effect (have you ever seen this graphic?).    So my dilemma was to figure out how to lengthen the affordable 84 inch drapes, given the fact that I don't sew.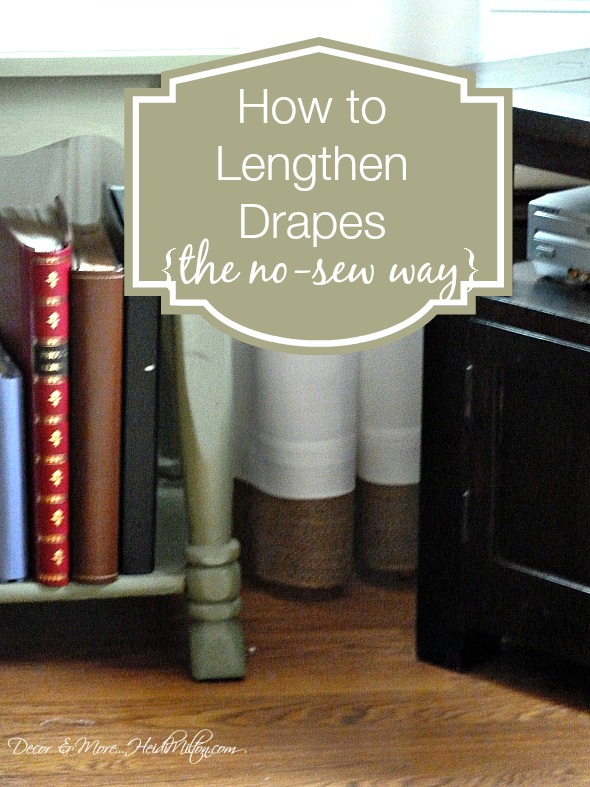 I knew I wanted a simple look — white, no pattern drapes, simple band around the bottom that would give me the added length I needed.  After a trip to Hobby Lobby for some other supplies, I had this brain storm…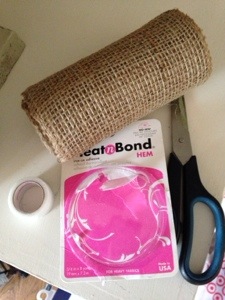 Six inch wide burlap ribbon.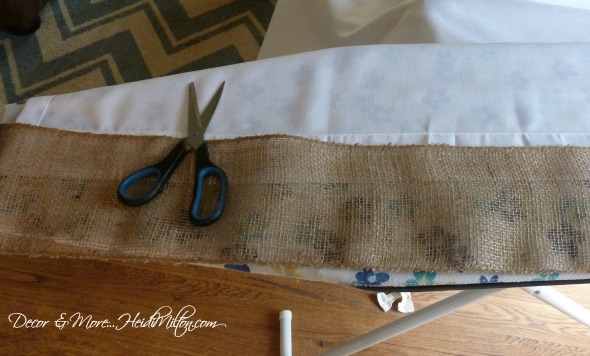 This project literally took me a couple of hours on a rainy Sunday afternoon.
I used hem tape to secure the raw edges of the ribbon (when you cut the length, the top and bottom edges are finished) and then to secure the ribbon to the bottom of the drape.  Lots of ironing involved, but for me it beats battling the sewing machine.  Especially since I don't sew. 🙂  And it beats paying a premium for longer length drapes.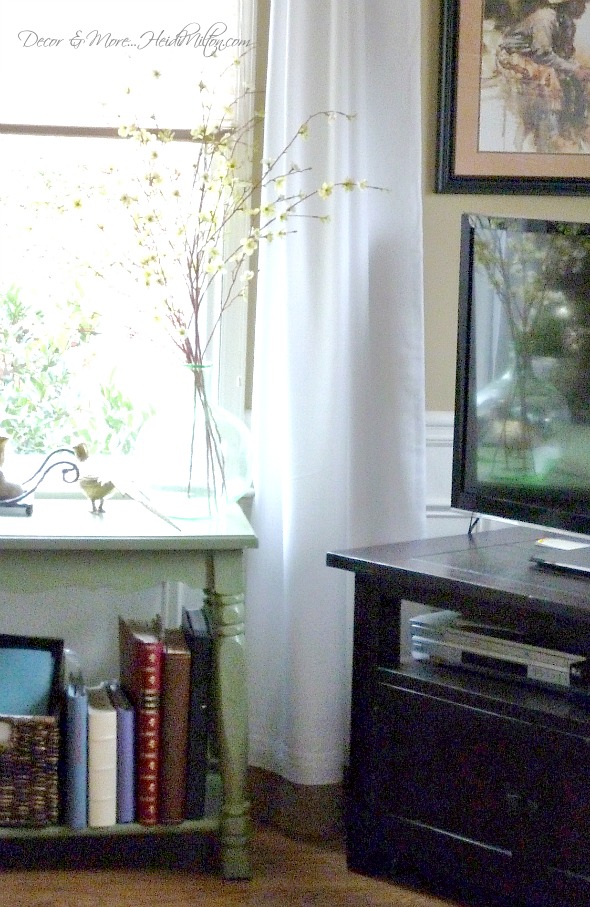 Plus, I have to say, I love the simple rustic touch it adds to very clean white drapes.  I've used hem tape on my dining room drapes and also when I skirted the table in my desk and have had excellent luck with how well it's held up.  The burlap ribbon is a bit of a different animal — more texture and looser construction — but it adhered very well, so I'm optimistic that it will hold up over time.
I just realized how grainy this photo looks… I'll work on getting some better ones for you.  I also realized I need to add that bottom shelf of the console table to my list of small spaces to reorganize and restyle.  I'll get back to you on that!
We're really enjoying how the drapes have helped "finish" the room… lighter paint color to come soon, so stay tuned!
Don't forget the giveaway ends on Friday at midnight, so hop over there and join in the celebration!