Hey there!  TGIF!  I woke up in NYC this morning, ready to spend a weekend of birthday fun with my best girlfriend!  If you've been a reader for long, you know how much I adore coming to NY and all this city has to offer!   Today is my 47th birthday — there.  I said it.  47 y'all.  How did I get here?  I swear there are times I feel like I'm still 27.  But alas, the mirror and the scale don't lie… 🙂
Anyhoo, for something fun on my birthday (the 21st), I thought I'd share 21 Things I Love… some may surprise you and some will be no surprise at all.  But it was a fun exercise coming up with this list… and if you make it to end, I've got a fun giveaway in store for you!  Because no one should celebrate their birthday alone… I much prefer to share the love. 🙂
So here they are in no particular order, but the first one is obvious…
1.  My peeps.  All five of them, plus the hubs.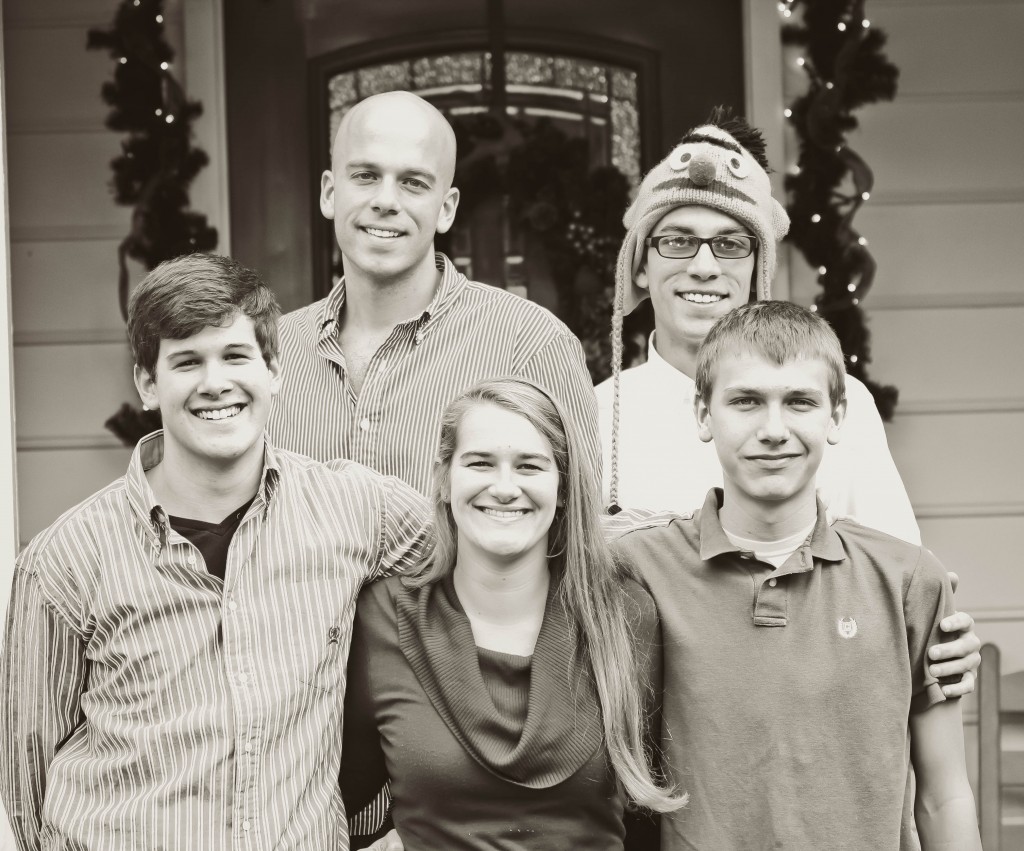 2.  Beach time.  Probably obvious as well… there's just something about where the sand meets the sea that creates room to breathe.
3.  A good book.  I've been a book worm my whole life.  Check out some of my favorite reads HERE, HERE, and HERE.  If you look in my sidebar, you'll also find my Amazon store where you can see my favorite fiction and decor books.  I've also got a Pinterest board of Books Worth Reading.  Books should be shared don't you think?
4.  Yogi teas.  Lifesavers.  I love to keep a variety in my cabinet and I sip on a hot one at least once a day (usually after a crazy day with the Littles!).  When the weather warms up and I'm not craving a hot cuppa, I put them over ice and they're sooooo refreshing!

5.  Vintage silver.  Duh. 🙂  I have several pieces that belonged to my grandmothers, but you know I love to score a new-to-me piece every so often, too.
6.  Toms and their One for One business model.  Not only are these some of my favorite shoes, but to know that you're doing something good when you purchase?  Win – win.  I've heard about their new line of coffee, too, that helps provide water to third world communities.  We'll be giving this a try in our household.
7.  Sleeping in.  Okay, let's just be real.  I'm getting *older* and the days of sleeping past 8-ish are long gone.  But on those weekends when I don't HAVE to get up and run on a schedule, staying in the bed as long as I want is just pure decadence.  Make it a rainy morning and I'm in heaven. 🙂
8.  Traveling with my hubs.  He's a man on the go — loves to dash away for weekends and so forth.  And now that our kids are all old enough to leave in certain combinations (!), we seriously have some fun when we travel together.  Our favorite getaways?  The beach and Lake Rabun.  We're blessed to have opportunities to enjoy both a few times a year.  But we've also been known to head to Texas for the occasional Aggies v. Auburn Tigers game. 🙂
9.  Women of faith.  I had so many wonderful women of faith that have graced my life, especially in the last several years.  I've learned, grown, been humbled, been cherished by them and from my interaction with them.    I'm inspired daily, almost hourly by these gals.  And can't remember what my life was like before them.
10.  NYC.  One of my favorite places in the whole world.  It's different every time I go, and I go a few times a year to spend time with my BFF and soak in the cultural experience.  More to come!
11.  Long walks.  It doesn't matter where I am or what kind of day I've had, if I've gotten a long walk in, I'm better for it.  What better way to experience God's glory, explore a new area, or just regroup mentally?  The hubs and I use these for "sync up sessions", too — uninterrupted quality time with no other sets of ears around.   I can't even count how many things have been talked through or decided or figured out during our walks.
12.  Mexican food.  Y'all.  I could eat it every. single. day.  No lie.  Every day gets better with queso.  Just saying.  Add a margarita and you've got a home run.
13.  Chick flicks.  Oh my gosh.  I watched "Sleepless in Seattle" the other night (for the millionth time?!).  Chick flicks are just feel good entertainment, usually with happy endings.   When the hubs is away on hunting/fishing excursions, you can bet a chick flick is on my agenda.
14.  Making lists.  How do you think I wrote this post?  I seriously have notebooks and note pads in almost every room of the house.  I love writing things down, creating some kind of order to things, and then crossing them off.  I'm not obsessive, but a good list can put my world right in a hurry.  Busy day?  Make a list.  Need groceries?  Make a list.  Want to work on crafts this weekend?  Make a list.  Lists are especially handy when you turn *47* like me and you can't remember what you'd planned to make for dinner tonight.  Just wait.  Your day is coming.  Better start making lists now.
15.  Inspirational Quotes.  Or words or phrases.  I love the written word.  Craft them into a quote that sparks my imagination or speaks to me and I get the warm fuzzies.  I have a whole Pinterest board of such you can check out HERE.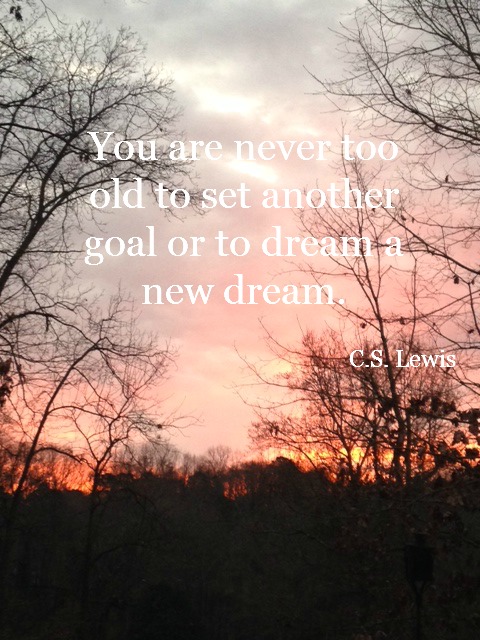 16.  Learning something new.  This seriously drives me, y'all.   I love to learn and the day I stop learning, you might as well stick a fork in me.  My latest thing?  Adobe Illustrator.  May the force be with me. 🙂
17.  Still here??  Ha — The great outdoors.  I'm an outside person.  I thrive on fresh air and sunshine, love to walk (see #11!), work in the yard, or just sit and soak it in.  Give me a comfy chair, something to sip on, and my camera or a book.  Hog heaven.
18.  Starbucks lattes.  Gasp!  I know.  I shouldn't.  But I do.
19.  Watercolors.  Always have, always will.  There's just something loose and lovely about a watercolor painting.  I have some that my grandmother did and some that she started but never finished about 70 years ago.  One day I may just finish them for her.  And I've been known to dabble recently… :).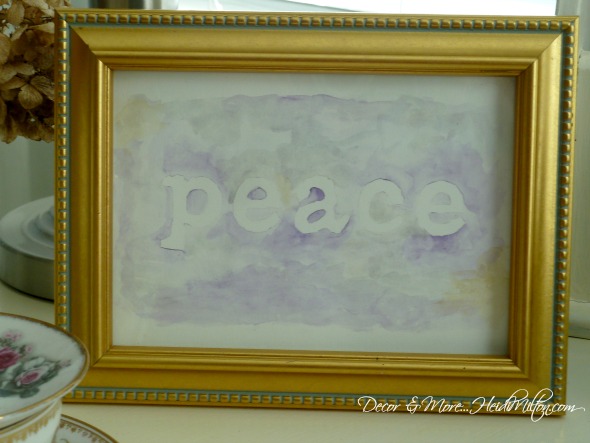 20.  Teaching Littles.  Honestly, if you'd asked me ten years ago I would've told you NO WAY.  But God has a way of letting us know He's in charge and now I find myself the curator of little minds and souls every day.  What an amazing responsibility.  And the most gratifying thing I've done, other than being a mom and step-mom to our brood.  Where else can you earn a paycheck for showing God's love, instilling a love of learning, and trapping leprechauns?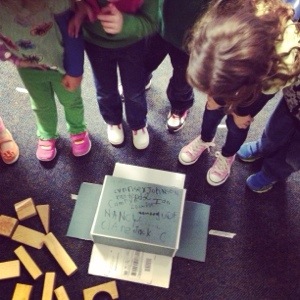 21.  A good project.  Right?  Are there any bad ones?  Well… maybe taxes. 🙂  And that reminds me of the sad state of my Projects page… please bear with me as I figure out how to make it comprehensive and navigable.  Again with the learning something new… 🙂
Whew!  I hope that wasn't too bad for you!  And now let's get to the fun stuff!  The GIVEAWAY!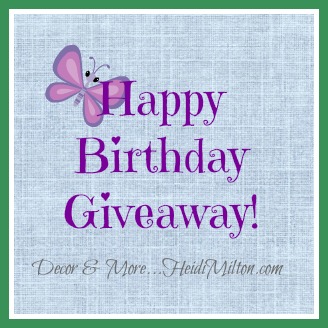 Ok, I thought a fun way to celebrate would be to give away a few of the things I love to one lucky reader!  So, while it's nothing earth shattering, it's good stuff!  And here's your prize package —
$25 Amazon gift card (in case you love a good book as much as I do!)
$25 Starbucks gift card… why, that's a week's worth of tall lattes!
a collection of Yogi teas
a custom 5×7 watercolor word art by yours truly — you pick the word (name? number? whatever you want) and the color scheme and I will paint it for you.
What do you think?
Okay, here's all you have to do enter… Leave a blog post comment telling me what surprised you (if anything!) on my List of Things I Love!  For extra entries you can share on Facebook, tweet about the giveaway, or pin this post on Pinterest.  Just leave me a comment for each one you do.  Maximum of 4 entries.
This giveaway is open until Friday March 28th at midnight Eastern time.  Entries after that time will be excluded.  The winner will be chosen using random.org.  Please make sure your comments include a valid email address.
Okay, y'all — let the fun begin!!