Well, the hubs and I are off to a golf tournament in Eufala, AL today.  My plan is just to ride along in the golf cart, since I'm a total novice and am really just going to support him.  And have some fun.  With the country club set.  Should be interesting!
But I am so thrilled to share my next Inspiring Blogger Interview with you today!   I've been a fan of The Mustard Ceiling for over a year  and just love the variety Elizabeth brings to her posts. She covers design, DIY, photography, and all things creative.  She also made the fabulous suggestion that I paint the moldings in my my Mom Cave the same color as the walls — brilliant!  Elizabeth very graciously agreed to answer my interview questions and I think you'll love what she has to say.
So without further ado… here's Elizabeth from The Mustard Ceiling!
***
Hi Decor and More Readers, I'm Elizabeth from The Mustard Ceiling blog. I am excited to be here today to share a little bit more about The Mustard Ceiling and myself.
How did you get started blogging?
I started blogging on a whim in January, 2011. A few months before I started blogging I was building a website to try and start an e-design business. I stopped 3/4 of the way through because I did not know how to get traffic to the website to start the business. Not long after I stopped working on the website I stumbled onto blogs.
I felt a blog would be the perfect opportunity to share my love of interior design and the projects that my husband and I had completed around our home.
My goal was to start blogging and eventually start an e-design business from my blog. I briefly offered e-designs, but soon found a new passion…blog and graphic design.
Tell us a little bit about your home (how long you've been there, how you found it, any interesting tidbits).
My husband and I purchased our home in January, 2009 and moved in in April. When we moved to Clovis, NM we searched and searched for either an adobe style home or an old home, neither are very common in Clovis. We settled for one of the oldest houses in town, a 1950's brick rancher. Finding a home that was "just right" was really difficult for me. Alfred (my husband) is open to just about anything, but me, I am a very emotional home buyer. We searched and searched, but nothing fit…until we walked into our home.
What I fell in love with first, were the windows. The majority of the older homes in the area have very small windows, making the house really dark. I like a lot of natural light in a home and this one had it. Our home has large windows throughout.

You have a love of blog design as well as interior design. Do you see any overlap in these two passions?
Before I started blogging I was very computer illiterate. I only used the computer to search the internet and write emails. However, soon after I started blogging I was determined to DIY a blog design for myself. I became obsessed with learning photoshop and coding. I could spend hours on the computer learning and playing with designs, I didn't even notice time passing. Blog Design quickly became a passion. I can still get lost for hours designing blogs, which is how I knew I was onto something.
I do see an overlap between blog design and interior design. I am trained as an interior designer, but I feel that once you are trained in design you can cross over into other avenues of design, the basic elements and principles are the same. It took me a long time to understand this concept. I used to feel that I as an "interior designer," I could only practice interior design. However, that changed a couple summers ago when I went to Pennsylvania to study classical design and color theory at The Barnstone Studios. It was an amazing experience.
One very important thing I took away from Barnstone Studios is that if you are an artist or a designer you can practice design across the avenues, not just in the area in which you were trained. The majority of the artists/designers up until fairly recently practiced art, architecture, interior design, furniture design and graphic design simultaneously.
In the end, it is all a creative process and I love both interior design and blog design.

How would you describe your home decor style?
My design style is classic with a modern edge, a little glam and a touch of the unexpected. I prefer to design in a style that is timeless, accenting with modern elements to keep it fresh.
What inspires your style and projects around the home?
Inspiration can come from anywhere. I am inspired a lot by pinterest and other blogs :). I am also often inspired by a pattern, color or texture.
For example, our dining room Ikat chairs. I really wanted an ikat print for our dining chairs, but could not find a print reasonably priced, so I decided to make my own.
The same thing with our wooden kitchen counter tops. I love the warmth wooden counter tops add to a kitchen, but new counter tops were out of the question because of the expense.
To get the look I wanted, we had to be creative. We were able to redo all of the counter tops in our kitchen, and provide the warmth I was looking for, for $100.
Good design does not have to be expensive, you just have to get a little creative…and have a lot of patience.
Do you have a favorite DIY?
We have transformed our home over the past three years with DIY projects. It is really hard to choose a favorite.
I think the three DIY's that have really transformed our home into what it is today are: Our Dining Room Wainscoating, The Cloffice, and Our Wooden Kitchen Counter tops.
Any DIY fails?
We have had some really close calls :). I can't think of a flat out fail at the moment. My roman shades were almost a big fail, but I was able to make them work in the end.
Secret DIY weapon?
My husband, Alfred. I usually jump in head first without thinking the project through completely, I jump in head first and try to figure it out as I go. Alfred on the other hand plans everything out to the last detail. He is left brained, I am right.
He spent three days working out the measurements for our wainscoating in the dining room. I thought the project should be finished in three days. In the long run it was successful because he took the time to plan it out. I usually come up with the idea and he figures out the best way to make it happen.
What is your favorite shopping source for home decor?
I can't think of just one favorite shopping source for the home. I love T.J. Maxx, Homegoods (we don't have them around here), Target, Ikea, World Market, thrift stores and of course Lowe's. I don't necessarily go to Lowe's for home decor, but I do shop there more than any other store. We don't have great shopping in Clovis, which is one reason I DIY a lot of our projects.
What is your favorite space in your home?

Our living room. It has a large bay window that let's in a lot of light into our home. Of all of the rooms in our house, it has always been my favorite. We painted it when we first moved in, but other than that I have not touched it. I have always been happy with the way it turned out. Most of the other rooms in our home have been remodeled a couple times since we have lived here.
What is one piece of advice you would give to those of us on the journey to making a house into a home?
Be patient. It is really hard for me to give that piece of advice, because it is hard for me to follow, but it is true. A home is not created in a day, it takes time to make it your own. You will be happier in the long run if you take the time to do it right the first time.
Thank you Heidi for having me today. I enjoyed stopping by to share a little more about our home with your readers.
***
See??  I think I've read through this interview about twenty times, there's so many great nuggets in it!  And you gotta love her Secret DIY weapon — what DIY gal wouldn't love to have that??
Thanks so much, Elizabeth, for taking the time to share your insights and talents!
Happy Weekend, everyone!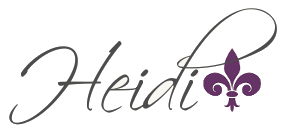 &copy Copyright
Heidi
, All rights Reserved. Written For:
Decor & More