I have a real treat for y'all today!  The fabulous Kelly from View Along the Way is here to chat for our latest installment of the Inspiring Blogger Interview series!  If you don't know Kelly, be prepared to be amazed at her humor, her mad DIY skills, and what a sweetheart she is…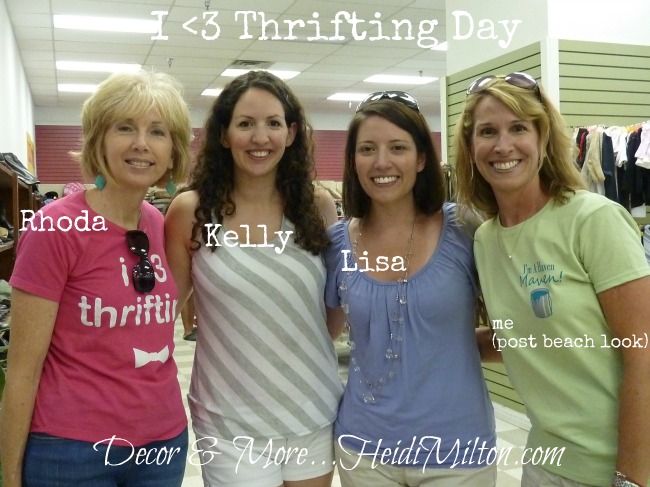 Here we are thrifting with Rhoda and Lisa last summer.  Is she gorgeous, or what?  And wait till you read what she's sharing…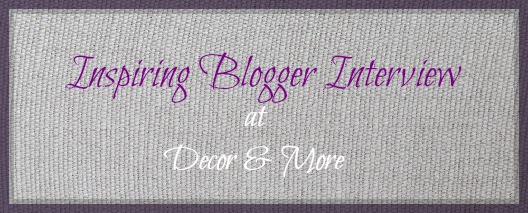 Take it away, Kelly!!
***
Wow, what an honor it is to be here on Heidi's blog sharing with you today! I've been lucky enough to meet Heidi in real life and she's the real deal. So sweet and so inspiring! Heidi, thanks for letting me jump in and share!
I'm Kelly and I blog about our DIY home decorating and renovating projects at View Along the Way.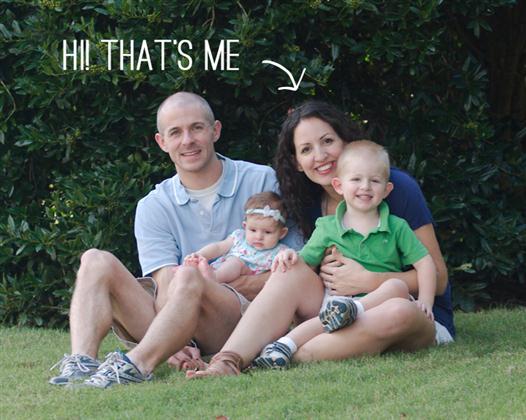 1. How did you get started blogging?
I didn't start blogging about home and DIY projects until the blog was a year or two old; before that, it was all family stuff and useless silliness. I started my blog as a creative outlet. I was working for a large corporation in a job that allowed me to do lots of writing, but it was all buttoned-up corporate-speak, and I was looking for a place to have fun with my writing and say things that didn't have to be approved my multiple layers of management.
(Now, looking at some of the things I've written in my blog, I often think maybe someone should have to approve this junk before I send it out to the whole wide interweb.)
2. Tell us a little bit about your home. (how long you've lived there, how you found it, any interesting tid bits)
My job was transferring me from Florida to the area near Atlanta where my parents lived. At the time, my mom was a realtor and dad was a home inspector, so they made the perfect team to scout out homes for us. I found this house – a foreclosure in pretty rough shape – online.

I sent my parents to check it out and we all thought it was the perfect fixer-upper. We put in an offer (sight unseen!) but the bank had a higher offer they accepted instead. On the drive to move to Atlanta, we got the phone call: the other buyers' financing had fallen through and the house was ours! We drove STRAIGHT there to see it and loved it just as much as we expected. We've been here 4 1/2 years and couldn't be more grateful for the blessing this house has been to us.
3. How would you describe your home décor style?
A mish-mash of sparkly hollywood regency, and clean and comfortable, built on a traditional base. (See? THIS is why I have such a hard time making decisions!) It's changing all the time and rarely does any room in my house fully represent my current style.
4. What inspires your style and projects around the home?
I'm hugely inspired by the thrill of the hunt and by making expensive items attainable through DIY.
5. Do you have a favorite DIY project?
I'm a sucker for sentimentality, so my favorite project is our DIY upholstered bed, because it's something that my husband and I built together and sleep in every night, plus it's the project that kind of kickstarted my blog.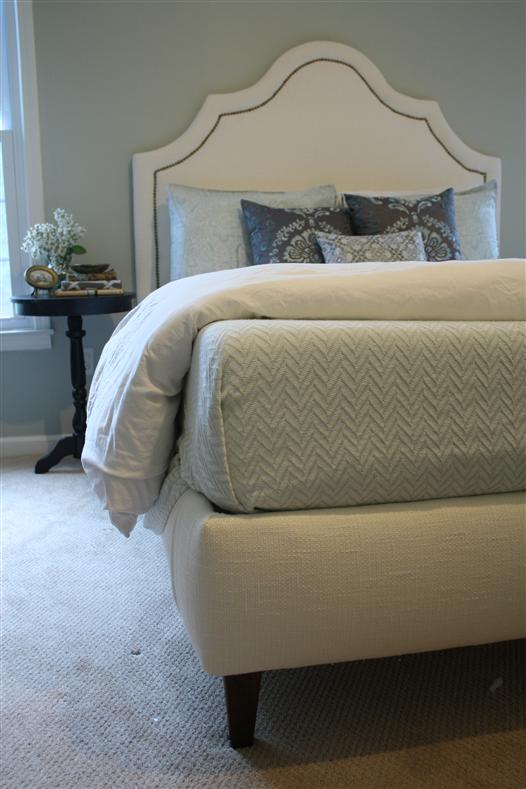 But my most popular project – by a landslide – has been my tutorial for how to make any lamp run on batteries. I still can't believe how much that little post took off.
6. What is your secret DIY weapon?
This guy.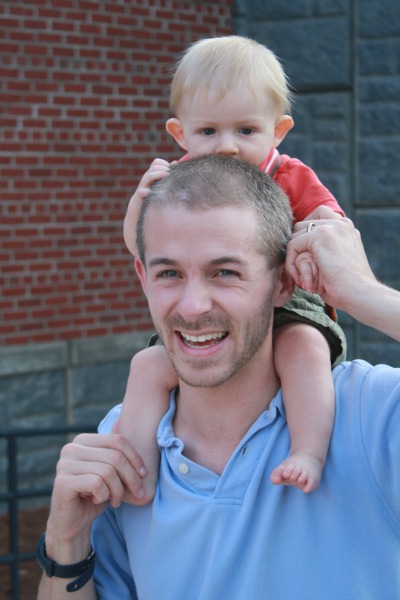 (That's my husband, Andy.) He's super handy – with construction and DIY projects, with car repairs, with technology, with the worst-of-the-worst diaper destruction, you name it. Even if I hadn't been head-over-heels for him, it still would've been a strategically awesome move to marry him. Mostly the way our projects work is that I come up with some crazy harebrained idea, and he finds ways to make it happen. I wish I could bottle him up and share him with DIYers everywhere.
7. Any DIY fails?
A MILLION, especially when I get overconfident and think I can sew something without being attacked by my sewing machine. (Exhibit A.) DIY fails just come with the territory. But usually, there are lessons to be learned, and if nothing else, a ridiculous blog post to be written.
8. What is your favorite shopping source for home décor?
TJ Maxx/Homegoods: how do I love thee? Let me count the ways… I wish the TJ Maxx people would just let me set up camp in their store. I could make a nice little living space in the back corner filled with some pretty nailhead chairs and a trove of brass animal figures under cloches, and live happily ever after therein.
9. What is your favorite space in your home? (please share a photo!)
Hands-down, my baby girl's nursery.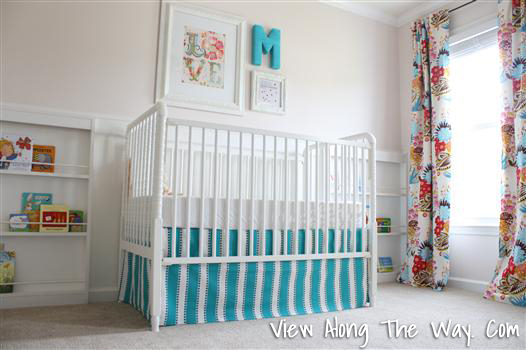 It was completely DIY-ed, from the lined curtains which I sewed myself to the pinwheel wall and everything in between.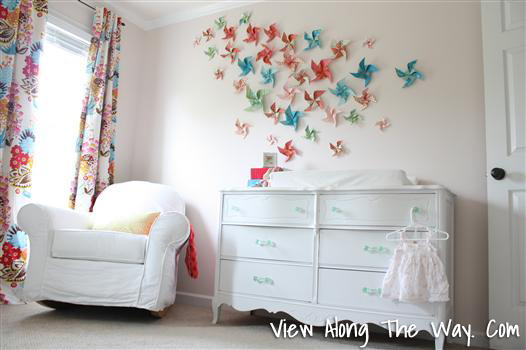 It doesn't hurt that the time I spend there is usually spent cuddling a sweet tiny babe either!
10.What is one piece of advice you would share for those on the journey of making a house into a home?
Don't be afraid to try new projects you've never done before. Neither my husband or I had ever tiled a wall before we tiled our slate backsplash together.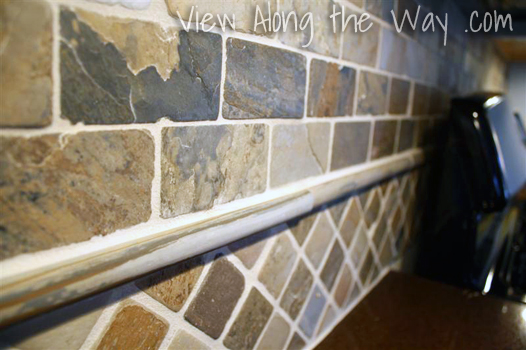 We installed the iron balusters in the foyer after googling how to do it.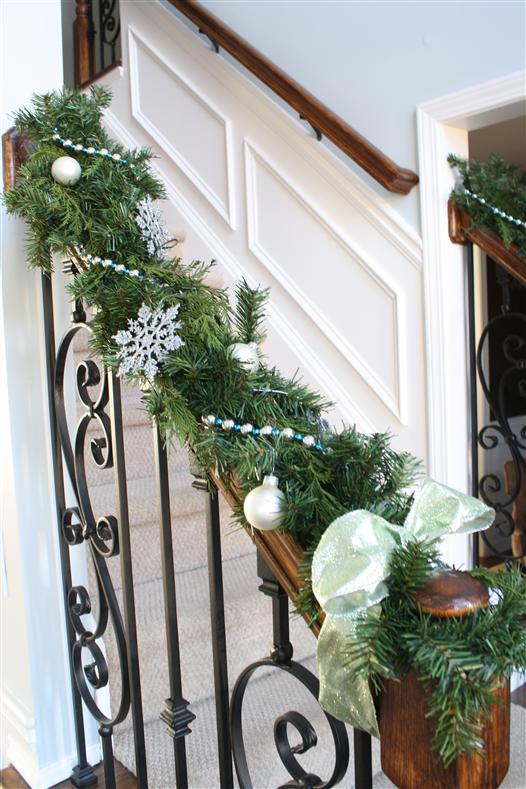 And one more thing: don't take any of this too seriously. Stuff is just stuff. Rooms are just rooms. And nothing about a home is more important than the people in it.
That said: we have so much DIY goodness to share coming up, and I'd love for you to join me! Follow our adventures on the blog, or subscribe to the posts via email or RSS. I'd love to connect with you on facebook, twitter or pinterest too!
***
WoW, is all I can say!  Is she the bomb-diggety or what??  I'm lucky enough to see her IRL occasionally as well since we live fairly near each other… don't hate me!  Just check her out!
Thanks for sharing, Kelly!