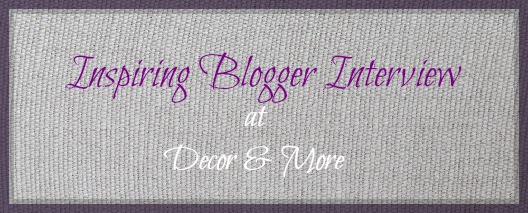 YAY!   I am so excited that I'm at last able to bring you a fabulous interview from Laura at Top This Top That!  I won't even go into the details of the lengths we went to get this to you, but suffice to say Laura is the bomb-diggety.  And I'm so blessed to call her "friend", too.
So without, further ado, here is one of my fave ladies dishing on DIY, her fabulous home, and what inspires her… take it away, Laura!
***
How did you get started blogging?
I   I have been blogging for one year and actually had no intentions to start a blog, in fact I had only started following blogs a few months prior, but was encouraged by my husband who thought I would enjoy chronicling all of my many projects I do around our home, to create my own blog and that's how Top This Top That got started . 
    My  Home Office
Tell us a little bit about your home. (how long you've lived there, how you found it, any interesting tid bits)
    12 years ago out on a Sunday drive, my husband and I found a perfect piece of land in the country in the middle of nowhere. Seriously, the population in my town is less then 500 and I live on a dirt road. We dreamed of raising our family on that land and in our dream home that we would build. The dream came true and three kids, 3 dogs, 1 pony, 2 donkeys, 2 cats, 6 fish and all the white tail deer you want later, we are happily at home.
.   How would you describe your home décor style?
I think my style is traditional with a hint of french county topped with rustic glam. Throw in tons of missing legos,  hard play-dough stuck to the floor and hot wheels tucked in couch cushions and you've got my decor style.
What inspires your style and projects around the home?
     I think it's my family and the outside environment that inspires my projects. I try to make our home as functional and comfortable as I can while still incorporating design elements that are important to me but that can withstand 
3 kids under the age of 6.
 My style is also inspired by the beauty of nature that I wake up to everyday.
Do you have a favorite DIY project?
      I love every project that I do but would have to say that I 
prefer
 painting walls to most DIY projects that I get involved with. I have acquired a high degree of balance and no fear of heights!
.

  
What is your secret DIY weapon?
     Chalk! 
Any DIY fails?
     Funny, I just recently attempted to apply some maps to a board using mod podge.  For what ever reason I could not smooth out the map properly and it began to tear and eventually Texas was right next to New Hampshire. No a good outcome.
What is your favorite shopping source for home décor?
    I tend to navigate to local or small decor shops. I like to find things that are different or that you can not typically find at big retail shops. I love to shop Estate sales when I get the time. If I do shop retail, I typically will 
catalog
 shop from Ballards or Home Decorators Collection since getting to any store around here is a day trip!
What is your favorite space in your home? (please share a photo!) 
    I  truly love all the spaces in my home but most enjoy our outdoor spaces.  We are primarily outside from Spring to late Fall so we have created outdoor rooms so that we are comfortable whether we are relaxing with the family or entertaining friends.
What is one piece of advice you would share for those on the journey of making a house into a home .
    I 
would say make it your own. Love where you live and enjoy every moment you have in the space that you have created called Home. I would love it if you would come over for a visit anytime at Top This Top That.
***
Isn't she amazing?  I'm determined to enjoy some lemonade or a glass of wine on her fabulous front porch or out by the lake with her this year!  Thank you so much, Laura, for stopping by to inspire all of us!
HHave a great weekend, everyone!