It's back!  My Inspiring Blogger series resumes today with one of my favorite new bloggy friends, Linda from It All Started With Paint.  Sometimes you get connected with someone online and you just know you'd be friends IRL.  That's how I feel about Linda!  She's funny, enormously talented with a paint brush and drop cloths, but she's also REAL.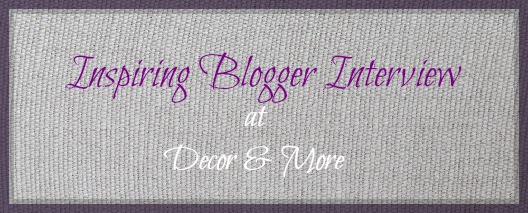 See for yourself!!  Here's Linda…
How did you get started blogging?
Let's just say I'm way more than fashionably late to this blogging party.  As in I had to sweet talk the bouncer and then slip him a Benjamin to let me in …
Up until about a year-and-a-half ago, I had no idea there was this whole diy blogging community.  I think I first learned of it while watching Nate Berkus.  And when I found those diy blogs, I was hooked.  Soaking up their words.  Copying their tutorials.  Adding some of my own twists and turns.  I felt such a sense of empowerment.  And it felt good to take all those stay-at-home-mom hours when the kids were in school and fill them with real, tangible work.  And it dawned on me … "hey, I should blog about this as I go along" …
I love to create and be creative.  And I love to write.  And my home is in some serious need of updating … and that's how it all came together.  And I launched on October 29, 2011 with this very first post …
Tell us a little bit about your current house – how you found it, how long you've been there, any interesting tidbits.
Our 2,500 square foot "charming" home sits on a standard (and over-priced and over-taxed) Chicago city lot.  The foundation is over 100 years old … but much of any old charm that it may have had was torn out before we became its owners.  The mouldings were all painted over with outdoor paint … and I suspect it was an attempt to cover lead-based paint.  We fell in love immediately and declared this house our starter home.  Our 5-to-7-year plan home.  Seventeen years later and we're still here …
How would you describe your home décor style?
This is the question that makes me break out in a cold sweat …
I'm not sure what my style is … does just winging it count?  Or I see it in a store or on a blog or a magazine or Pottery Barn catalogue and I just like it and try to copy it and then it doesn't turn out the way it started but I like it in the end work?  Right now my main goal is to banish any and all signs of my early 2000 Pottery Barn reds and greens and burgundies style …
What inspires your style and projects around the home?
Does eradicating all signs of hunter green count as inspiration?  That's when and where it all started.  In the builder-grade kitchen.  But I have to say the biggest influencers and inspiration are blogs and bloggers.  Because it's one thing to see a beautiful room in a magazine or catalogue … and quite another when a blogger gives you step-by-step instructions on how to create that beautiful room.
Do you have a favorite diy?
I think I would have to say the board and batten projects.  Well, faux board and batten.  And it's not just because I get to use a nail gun … and using the nail gun is super cool … but it makes such a huge dramatic impact for so very little money.
A secret diy weapon?
Caulk.  It hides a multitude of sins.  Turns me into a rock star carpenter.  And painter …
Any diy fails?
Where to start.  Where to start?  I've had a bunch of little fails, like when my sunburst mirror came crashing down because I tried to attach the picture hanger using liquid nails.  I'm terrible at cutting in along the ceilings (and I blame that on my house not being level or square).
🙂
And when I tore out the wallpaper in my powder room I took the lazy way out and didn't remove the moulding … not a good idea.
What is your go-to shopping source for home décor?
I'm a huge on-line shopper.  I'll Google what I want and then search around until I find a price I like.  Oh, and I just started to experience the joys of Salvation Army.  And Etsy.  Etsy is awesome.  And I took my first trip to IKEA a few months back …and I will be returning …
What is your favorite space in your home?
I'm going to have to pick my entry.  It was an amazing transformation.  My first major diy.  And I'm so proud to show it off.  I tease that if I could fit a Queen size bed in there I would claim it as my master bedroom …

What is one piece of advice you'd offer to those on the journey to making a house a home?
I'm going to give you two.  Fill it with love.  And always remember …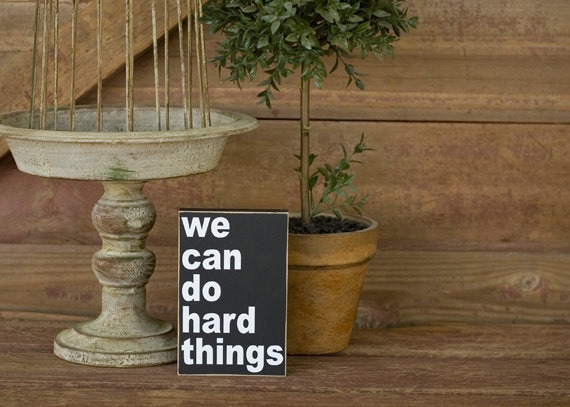 ***
See what I mean??  How cool is she?  And humble… She neglected to tell you about her fabulous Etsy shop, Drop Cloth Designs, where she showcases her masterpieces!  Here's a sneak peek at one my favorites…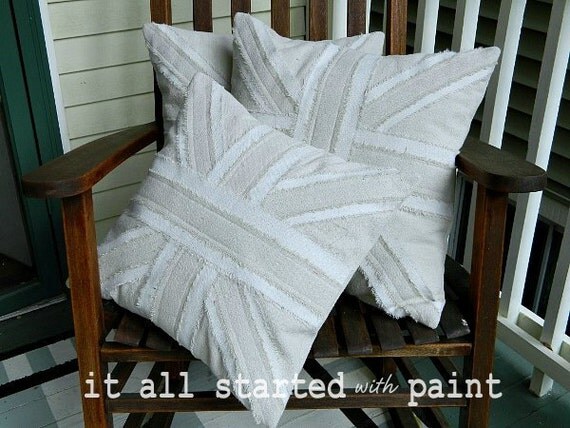 Yes, Linda, I hijacked that image right off your Etsy shop page!   Don't you just love it?
Thanks so much for taking the time to answer our burning questions, Linda!
Monday, it's the Blogging Without Borders big reveal of the Ugly Duckling Dining Room — eeekkk!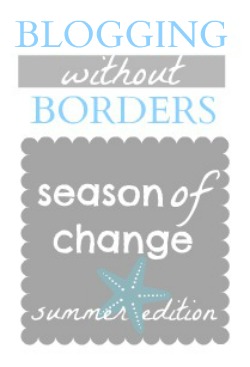 You have no idea how happy I am with this project… and to be DONE with this project. 🙂
Have a fabulous weekend, everyone!